Years before you bought it on a street corner, parking lot, or a holiday market, your Christmas tree was just a seed in the dirt. After suitable growth, it was cut down and shipped to you along with millions of others—a massive undertaking from operations like the Noble Mountain Tree Farm in Salem, Oregon.
The farm plants Noble, Douglass, Grand, and Nordman Firs in tidy, regular rows. The harvest of this massive man-made forest can been seen from space:
As you can see, large areas that were once filled with bushy green trees are left barren, at least until new saplings can be planted.
While it may not look like much, the scale is massive. Let's zoom in to get a better sense of just how many trees are involved. Here's a high-resolution image from Google Maps of just a small part of the circled area.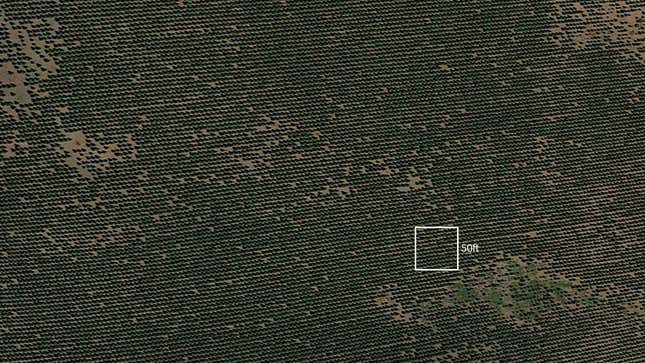 That 50 ft² box contains more than 100 trees.
Christmas tree growing and selling is a multi-billion dollar industry that takes long-term planning and forecasting. Trees take between seven and 12 years to reach a standard height of six feet (1.8 meters). That means big up-front costs and substantial risk for farmers who only have about a month each year to recoup their costs.
Many parts of the United States are experiencing shortages and high prices this year, in part because of cutbacks in planting during the Great Recession. According to the National Christmas Tree Association, total US revenues were $2.04 billion in 2016—just ahead of the $1.86 billion in sales of artificial trees.
Germany, which originated the idea of using trees to celebrate Christmas, is the largest producer in Europe, followed by Denmark, Austria, France, Belgium and the UK. The EU market is estimated to bring in about €2.4 billion ($3.2 billion) a year harvesting 75 million trees.