The Chinese mall best known for its statue of a rooster modeled after Donald Trump has done it again. Brace yourself for #TrumpDog.
To ring in the Lunar New Year in February, FashionWalk, a shopping mall in Taiyuan, Shanxi province, has erected a massive Trump-inspired dog statue at its entrance (link in Chinese). Aside from sporting the US president's signature hairdo and golden eyebrows, the statue is depicted with its index finger (if dogs have fingers, that is) pointing upward—a "well-recognized pose" of Trump during the US presidential debates, reports Newsweek.
No doubt, #TrumpDog is a ploy, just like #TrumpRooster before it, to draw international attention, but this year's depiction is especially poignant since Trump was born in 1946, the year of the dog, according to the Chinese zodiac. But that's no reason to celebrate.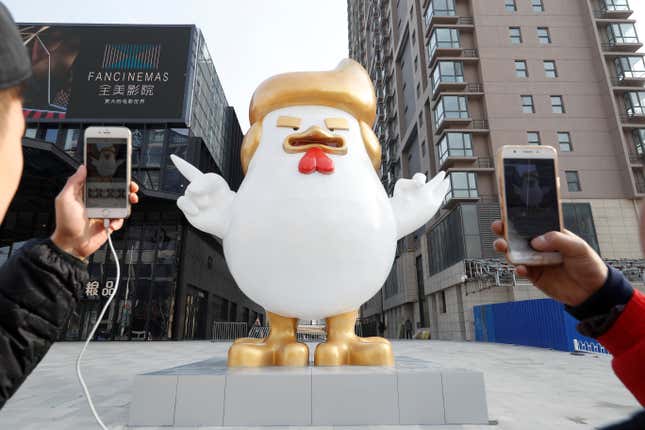 In Chinese culture, it's generally believed to be bad luck if the zodiac animal of the current year is the same as the year you were born in, something that happens every 12 years. For example, if it's the year of the dog, bad luck will befall all those who were born on prior years of the dog.