We don't write about politics on Wamda, but we do write about humanity. Two of Egypt's leading lights in technology and entrepreneurship were extinguished by the constructed chaos engulfing Egypt in the past week and I am close to despair.
Silminds co-founder Assem El-Gamal and MiMV's Managing Director Amr Abd El-Rahman were both shot at the Rabaa protest. The first is dead and the latter is in critical condition with his chances of a full recovery slim at best, as he was shot in the head.
People have asked me to write this tribute to both men. They were visionaries and examples for us all to look up to, even those of us like me, who were older than both of them.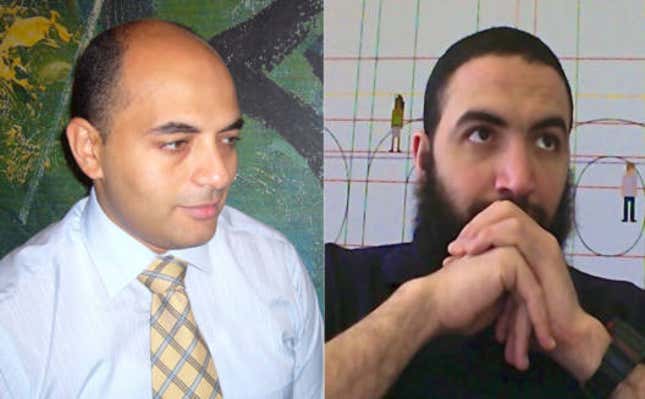 Assem El-Gamal (on the left in the photo) was only one of three or four microchip design managers in Egypt. He graduated from Cairo University in 1999 and decided to stay in Egypt while gaining international experience to help the development of his country. He worked up to co-founder at Silminds, an Egyptian startup with eight patents that is working in the semi-conductor field of standard floating point arithmetic; this field contains only one other company of note, called IBM.
I spoke to friend and peer Mohammed Omara about the news. "Assem's been my friend for years, he was one of the politest people I've ever met, I never even heard him swear once.  If I'm ever blessed with a boy I want him to be like Assem," he said. "When I heard he'd been murdered, I was distraught; I still am. Forget that he was my friend, Egypt has lost 25% of its talent in semi-conductor design, we won't be able to get someone of his caliber for 15 years at least."
CEO Mostafa El-Khouly added, "He was so dedicated in his work and loyal to it. He had a dream of building Egypt, a new Egypt where technology and science have the most attention. He always encouraged me in my downfalls by saying, 'we will change Egypt'. They killed his dream."
Amr Abd ElRahman is the managing director of MiMV, best known for iPhoneIslam.  He and MiMV practically forced Apple to Arabize iOS, and they were the only company worldwide that enabled the first iPad to function as a phone.
MiMV is one of the most successful app makers in the region; they're cutting edge while respecting the local culture, and he was a driving force. I had the pleasure of meeting him and getting to know him a little a couple of months ago. He was obviously a geek with a good head for business and focused on his work, yet he was also very personable and approachable. He was a nice guy.
While writing this article I also found out that Ahmad Shalaby was attacked with machetes at a funeral a few days ago and is in critical condition in hospital. He's a top engineer who quit his job at SysDSoft to look after his sick father. He'd just finished his PhD at the Japanese University in Alexandria a month ago.
Whatever your political view is, it's irrelevant now. What's happening is a brain drain in the literal sense. I implore everyone to calm down before tributes like this become the norm. These men dared to be different, to forge their own path, to make this country and this world better. These entrepreneurs are our real heroes, they're forming the future. We need more of them, not less.