At the annual Consumer Electronics Show in Las Vegas, where tech companies from all over the world gathered this week to show off, traces of the automotive ambitions of some of China's biggest tech companies were on display too.
China's three most important internet companies, Baidu, Tencent, and Alibaba—known collectively as BAT—are pushing into high-tech mobility, moving in tandem with policies from China's government. Beijing has offered various incentives to boost its domestic EV sector in order to battle deadly air pollution, helping the country surpass the US as the world's largest EV market. Meanwhile, in 2016, China's Ministry of Industry and Information Technology (MIIT), one of the country's tech regulators, called for (link in Chinese) "partially autonomous" vehicles to account for 50% of car sales by 2020, and "highly autonomous" vehicles to account for 15% by 2025.
BAT are entering the sector with broadly similar strategies, using some combination of investment in EV companies, partnerships with existing Chinese and foreign companies, as well as putting their tech know-how into under-the-hood technology development.
Baidu
On Jan. 8 at CES, Baidu, China's equivalent of Google, demonstrated the latest iteration of its Apollo self-driving platform, capable of autonomous driving even at night. It also announced it would open a $200 million transport-centric fund with a company called Asia Mobility Industries (AMI) to spread Apollo across Southeast Asia, and that it was partnering with a Los Angeles public agency to launch a pilot program to provide the disabled and elderly with autonomous ride options.
Baidu has been making forays into China's auto market as it faces sinking sales from its core advertising business. It began developing technology for self-driving cars around 2013, well before its peers but years after Google, which started around 2009. It hit a major milestone in 2015 when a modified BMW completed an 18.6 mile route in Beijing using its self-driving technology. The company has since completed similar tests in China using models from domestic brands like BYD and Chery. As part of China's efforts to support the development of self-driven cars, authorities in capital Beijing said last month the city would allow road tests of the technology.
A Baidu-powered self-driving car could hit the mass market very soon. In July 2017 the company announced it would make its autonomous vehicle technology platform available to any company that wants to use it, similar to how Google offered up its Android mobile operating system to phone makers. So far, it has secured partnerships with over 90 companies to provide support for Apollo, including Nvidia, Intel, NXP, and Renesas.
In EVs, Baidu has invested at least $100 million (paywall) in NIO, an electric vehicle startup once known (paywall) as NextEV, through its Baidu Capital investment fund. In December, NIO began selling its first mass-produced model, the ES8, a seven-seat EV priced at about half the cost of a Tesla Model X in China.
Baidu Capital is also reportedly leading a $1 billion investment in WM Motor, a Shanghai-based car marker founded in 2015. The company plans to introduce its first car in the second half of 2018 priced under 200,000 yuan (about $30,000), and expects to have three vehicles on the market by 2020. Founder Freeman Shen told China Money Network that the company will introduce an Uber-esque car sharing system that would allow a WM vehicle owner in Beijing to easily access another WM vehicle while traveling in Shanghai.
Alibaba
In 2015, China's e-commerce giant Alibaba announced the launch of a $1 billion yuan (then about $160 million) fund to develop internet-connected cars with state-owned automaker SAIC, with which it also formed a joint venture. About a year later, Alibaba and SAIC unveiled the first fruits of their partnership—the Roewe RX5 SUV. A plug-in hybrid vehicle, the RX5 advertises that it can sync up with other Alibaba services such as payments and music recommendations. Alibaba chief technology officer Wang Jian stated that the vehicle's underlying software, AliOS (then known as YunOS) would eventually be used to power autonomous vehicles. The company expects to release a vehicle similar to the Roewe RX5 this year with Dongfeng Peugeot Citroën Automobile Company, a Chinese JV between French automaker Peugeot Citroën and China's Dongfeng Automobile.
Since then, Alibaba has formed more partnerships with foreign and domestic brands. It has also formed a "strategic collaboration" with Ford, as the American carmaker prepares for a China push. And in December 2017 the company disclosed it had taken a 10% stake in Guangzhou-based  Xiaopeng Motors, an EV company financed by a former Alibaba executive. On Jan. 9 at CES, Xiaopeng Motors unveiled the G3, an all-electric SUV. The car features a 360-degree camera on its roof that can take photos and videos, and a PM2.5 pollution monitor.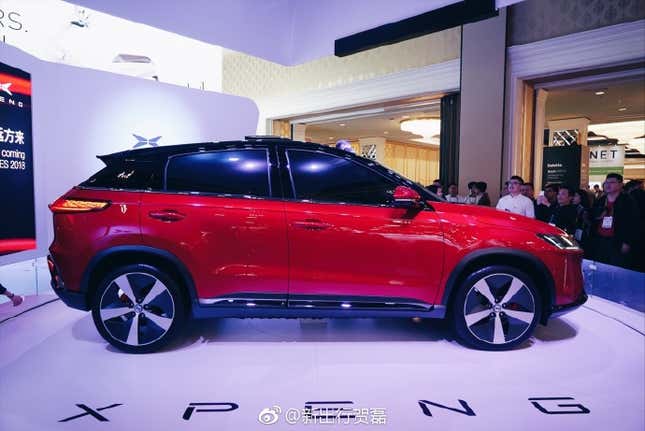 Tencent
Like Baidu, Tencent, the parent company of the messaging app WeChat, has also invested in NIO and WM Motors. More importantly, Tencent owns a 5% stake in Tesla, which currently occupies about 8.6% of China's EV market. In October, Tesla secured a deal to set up a manufacturing hub in Shanghai—a milestone for a foreign automaker. At present, all of Tesla's cars sold in China are imported and taxed accordingly. If the company starts producing vehicles within Chinese borders, its share of China's EV market might surge.
Tencent is also reportedly developing its own self-driving technology, which places it directly in competition with Baidu. In addition, Tencent owns a stake in Chinese ride-hailing giant Didi Chuxing, which too is developing technology for self-driving vehicles and building a network of EV charging stations across China.
Tencent very nearly owned a stake in a company behind one of the most attention-getting electric car unveilings at CES—Byton. On Sunday (Jan. 7), Nanjing-based Byton, earlier known as Future Mobility Group and founded in 2016, raised the curtains on an all-electric SUV concept car expected to go into production next year. The car touts a touchscreen placed at the center of the steering wheel and a 49-inch visual display atop the entire dashboard.