As global tensions around nuclear war continue to ebb and flow, Pope Francis is offering a sobering perspective.
The pope, currently on an official visit to Chile, has been handing out small prints of a 1945 image taken by a US Marine photographer, a grim reminder of what he calls the "fruit of war."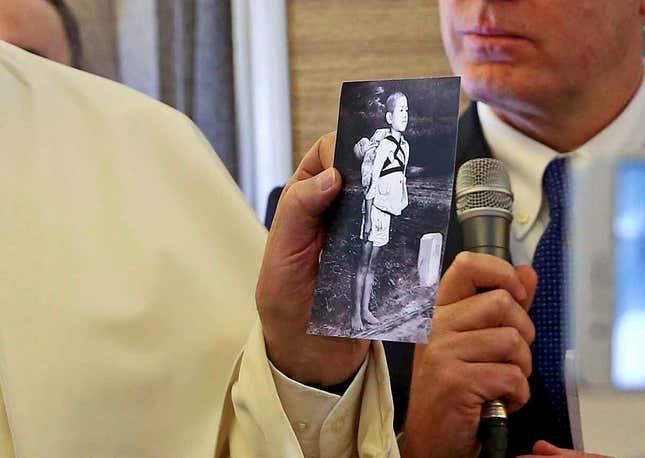 The photo, taken by Joe O'Donnell, then a photographer for the US Marines, shows a young Japanese boy carrying his dead younger brother on his back, after the nuclear bombing of Nagasaki in 1945. CNN reports that the Pope had the picture printed at the end of 2017. On the reverse side of the print is the Pope's supplied caption.
When asked about the photo on his flight on Jan. 15, the Pope noted:
 I found this by chance.  It was taken in 1945; on the back is the information.  It is a boy carrying his dead brother, standing in line before the crematorium in Nagasaki, after the bombing.  I was moved when I saw this [picture], and I dared write only "the fruits of war".  And I thought of reprinting it and giving it, because a picture like this says more than a thousand words.  So I wanted to share it with you.