Rumor has it that Google has an ulterior motive behind the viral feature of its Arts & Culture app, which uses machine learning to match selfies with their museum doppelgängers.
The sheer popularity of this feature has raised privacy concerns:  What is Google doing with all these photos? Could it be an elaborate front for improving its facial recognition?
Short answer: No. Longer answer: The way the app is set up makes this impossible.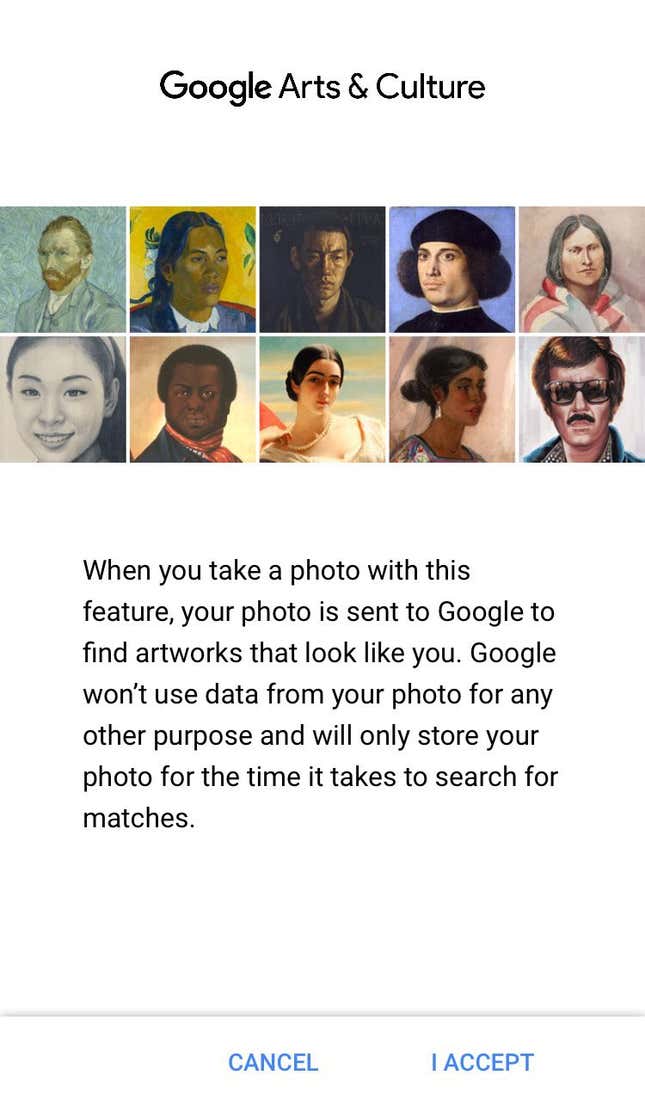 When you download the app, you are prompted with a dialogue box that assures you "Google won't use data from your photo for any other purpose" than to "find artworks that look like you." It also won't store your photo any longer than "the time it takes to search for matches." Patrick Lenihan, a company spokesperson, reiterated in a statement that "Google is not using these selfies for anything other than art matches."
Even if Google wasn't acting in good faith, technically, it can't use your selfie to train its algorithms.
Computers learn to recognize patterns by being shown a data set and guessing the correct pattern. Like any good student, it needs a feedback loop to improve. If it is shown 500 images of apples, it can only learn how to recognize a brand new image of an apple if it is told when its pattern-guessing is right.  Without such feedback, it aimlessly changes its guesses in no particular direction, making it no better at recognizing apples than a brick.
Google's selfie-matching feature does not have a built-in feedback loop. It could theoretically derive one from whether or not you share your matches. But that would be risky considering that people seem to share terrible matches as much as they share excellent ones.
So really, this app isn't secretly evil. It's just using the facial recognition capabilities that Google already has to entertain you and your friends.