Last summer, hip-hop finally went mainstream in China thanks to a singing competition, The Rap of China, becoming an unexpected sensation. Problem: The government, not just fans, began paying more attention to the lyrics of Chinese rappers. 
The show, a 12-episode series on the online platform iQiyi, garnered some 2.7 billion views (paywall) and turned dozens of young contestants into stars.
Among the celebrities it created is 30-year-old Zhou Yan, better known by his stage name Gai. His soaring popularity led to a recent appearance on The Singer—a music-contest show on one of China's most popular TV channels—where Gai came in a solid third place competing against British pop star Jessie J and a lineup of veteran Chinese singers. His remake of the theme song to The Swordsman, a 1990 kung-fu flick, became an instant hit on China's internet after he sang it on the show. "When his voice came out, I felt numbness in my head," one viewer marveled on Weibo, a Twitter-like social network.
But reports emerged last night that Gai will no longer participate in the show, with the Chinese Communist Party (CCP) believed to have escalated its crackdown on vulgar rap lyrics. Gai's staffers confirmed his departure to the news portal Netease (link in Chinese) without providing an explanation. Hunan TV, which airs The Singer, has yet to comment on the matter. Meanwhile the show has pulled Gai's clips from various platforms, including YouTube.
The incident follows the CCP slamming another well-known rapper over vulgar lyrics earlier this month. In his song "Christmas Eve," artist PG One (real name Wang Hao) raps about forcing himself onto a woman while mentioning "pure white powder walking on the board." The track was actually released back in 2015, but it wasn't until this month that the CCP's youth league (along with state-run news outlets) criticized the song for insulting women and promoting drug use.
PG One issued an apology, but he earned more criticism by blaming the offensive lyrics on the influence of "black music," drawing accusations of racism from fans. Soon all of his songs were removed from China's major music-streaming platforms, including QQ Music, Netease Music, and Xiami. Even more surprising, every song by a group he belongs to, Red Flower Society—not known for offensive lyrics—was also pulled.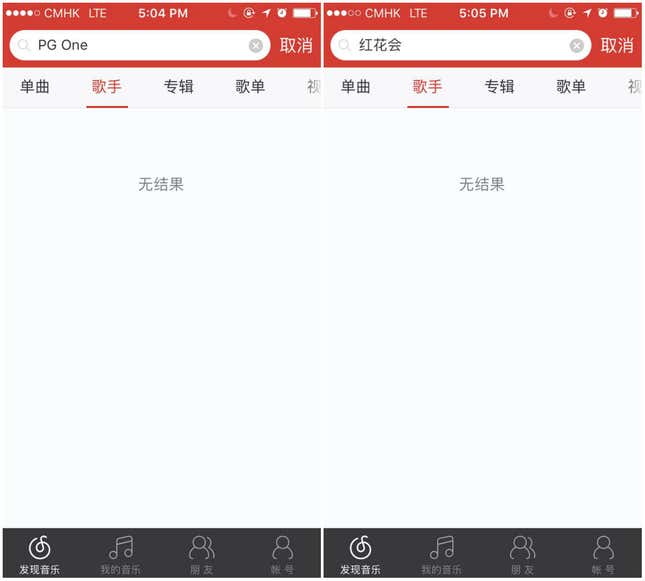 Writing about PG One in a Weibo post, state newswire Xinhua commented: "Vulgarity cannot be branded as a characteristic, and infamy cannot get you money. This kind of singer disrespects the industry and the audience… and doesn't deserve to own the hip-hop stage."
Chinese authorities yanked individual rap songs in years past for promoting violence or using obscenities. But they now appear to be taking it to a new level by banning entire artist catalogs. That's having a chilling effect on top rappers, who seem to be cleaning up their lyrics in response—one tweaked "bitch is trouble" to "beach is trouble," according to Chinese media reports (link in Chinese).
"PG One sucks… but he should never be banned," one blogger wrote on Chinese Q&A site Zhihu. "Today we lost PG One, tomorrow it's Gai, and the day after tomorrow the entire hip-hop circle will disappear. Moving forward, even rock music will be in question."
Gai is an unlikely victim of the clean-up campaign—some argue he's collateral damage. A Chongqing native, he is best known for borrowing lines from Chinese classic literature, and rapping about everyday struggles in the local dialect. After rising to fame, he stopped performing his gangster rap songs and even freestyled "Long Live Our Motherland" in a show on China's national broadcaster. Fans jokingly called him "Socialist Gai."
The CCP does welcome rap music as a propaganda tool. In 2015, state newswire Xinhua published a rap song—along with a slick animated video—about president Xi Jinping's anti-corruption campaign. This year, the party's youth league recruited young rappers from across the country to create a song entitled "This Is Our Generation," with one line reading, "I could never have imagined 20 years ago that Hangzhou would host the G20."
One of the most straightforward "socialist" songs comes from Rap of China contestant Sun Bayi. While he typically sings about things like Lamborghinis and champagne, his latest single, "Brilliant China," is basically a roundup of party doctrine. The song opens, "Everyone knows the Chinese Communist Party's mission is to seek happiness for the people and to seek great rejuvenation for the nation."