A sweet potato is not a work of art, but growing one can be. A Chinese artist is out to prove it.
"Urbanization and gentrification have taken over China," says Zijie, a 34-year-old Guangxi native. "Old houses and old towns are torn down. Urban villages are demolished to make ways for new, organized towns full of high rises. It is impossible to grow your own food anymore."
Unless, that is, you plant sweet potatoes, which are known for being absurdly easy to grow.
"You can just plant them and leave them, and they will grow," says Zijie, born as Li Jun. "They can be grown any time, anywhere."
For several years now, Zijie has been running a sporadic public art project promoting guerrilla farming of sweet potatoes. The effort's most recent manifestation is an exhibit at the Redtory Museum of Contemporary Art in Guangzhou, running until early May.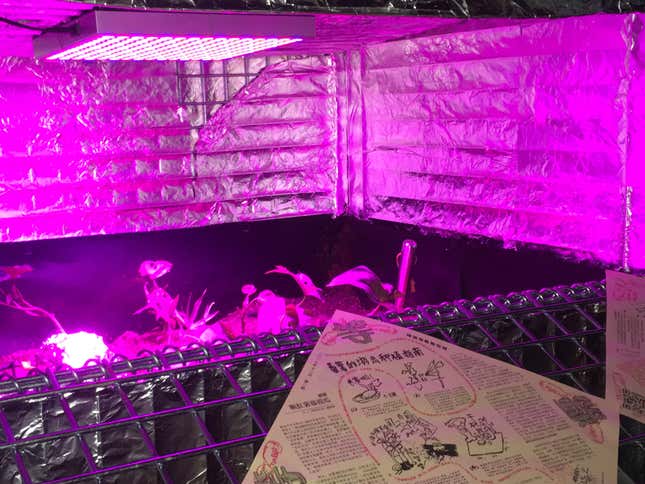 The project began in Shanghai in 2015, when Zijie snuck into the former site of the 2010 World Expo, the grounds of which had become a weed-ridden wasteland. By planting sweet potatoes there, he figured, people could reclaim their rights to the land.
Zijie was inspired by The Art of Not Being Governed, a book by Yale professor James C. Scott about ethnic groups in Southeast Asia who fled from being ruled by the state. "They escaped to the mountains and grew their own food, leading a very different way of life than those living in the flat land," Zijie says.
Rice, he notes, has a "very structured cycle of farming. There are only two harvests each year, and you are grounded in order to grow the crops. It's easy for the government to collect tax from you, and in that way, you are under control. But growing sweet potatoes sets you free."
The tubers, though associated with the poor in China, are in fact a nutritious superfood.
Last month in Guangzhou, Zijie and a group of friends had a picnic and planted sweet potatoes in public spaces directly across from the Fortune Global Forum site. But he denied it was a protest.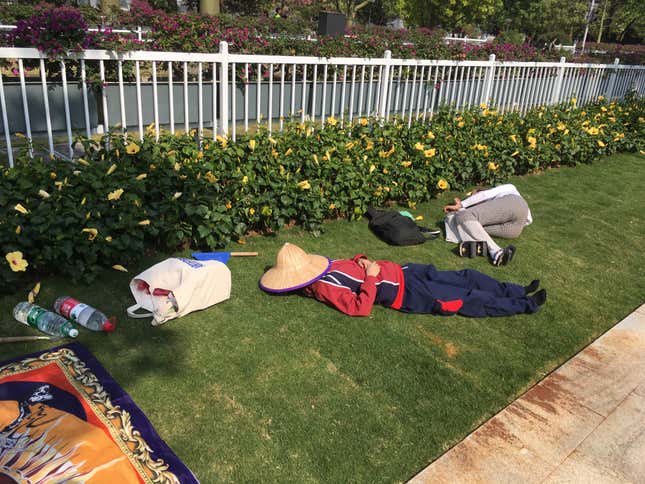 "A lot of wealthy capitalists, leaders, and government officials were in town, and all the roads were blocked," Zijie says. "It was not normal. We only gathered outside the venue and did what we thought was a normal part of our daily lives."
A video of that fun day out is now part of his exhibit at the Redtory Museum, which is part of a larger exhibition called Future Life Handbook, guided by Berlin-based curator Rachel Rits-Volloch.
Zijie's installation comes complete with a miniature sweet potato farm, and visitors are encouraged to take a tuber home—and plant some projects of their own.