The year since Donald Trump and his family walked into the White House has been a rollercoaster ride. In addition to unprecedented conflicts of interest and styles of communication, the US president brought with him an extraordinary succession of characters and world-views.
From far-right ideologues to pro-Kremlin advisors embroiled in suspected election-meddling, fringe thinkers have slipped into America's political spotlight. Most vanished just as suddenly. The administration has set a record for staff turnover with 34% of Trump's decision-makers changed just the past year. As Brookings Institute researcher Kathryn Dunn Tenpas points out, the previous highest turnover rate was 17%, during the Reagan administration.
Remember Gorka and Goldstone? On the one-year anniversary of his inauguration, here's a look back at Trump's most memorable supporters, whose stars so publicly rose and fell.
Sebastian Gorka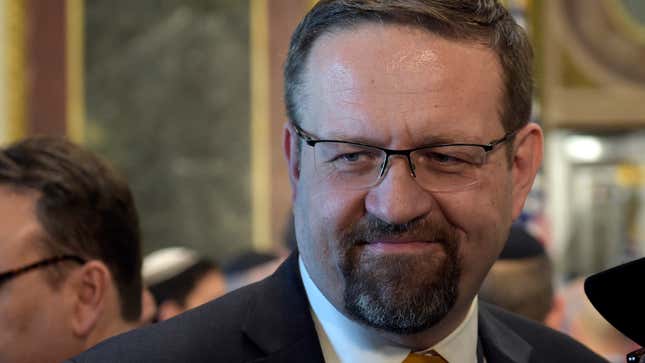 Claims (paywall) Islam is inherently violent, refused to comment on whether Trump thought Islam was a religion.
Cable news watchers will be all-too-familiar with Sebastian Gorka, former White House deputy national security assistant. The former Breitbart national security editor brandishes his academic credentials every chance he gets, but one Georgetown professor who reviewed Gorka's doctorate thesis described it as "part smoke and mirrors, part testament to self-importance, and not at all serious scholarship." Gorka doesn't speak Arabic and has never lived in a Muslim-majority country, but claims to be an expert on radical Jihadism.
He sometimes publicly wears the medal of allegiance to a Nazi-allied Hungarian elite order, which he says belonged to his father. After leaving the White House in unclear circumstances, he found a home at Fox News.
Currently: Wanted by the Hungarian police over "firearm and ammunition abuse."
Steve Bannon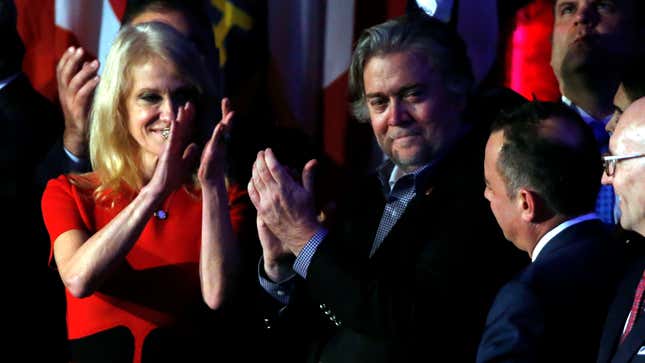 Believes he's fighting a "global existential war" against "Islamic fascism."
Conspiracy theorist, autocrat admirer and Breitbart founder Steve Bannon was key to bringing Trump into the political limelight. After the president's November inauguration, Bannon spent a few months as his senior advisor before being ousted on suspicion of leaking to the press. Trump himself made those suspicions public following Bannon's revelations about the White House's internal dysfunction in Michael Wolff's Fire and Fury.
Bannon has described himself as a "Leninist" who wants to "bring everything crashing down, and destroy all of today's establishment"—though the only thing he seems to have crashed in the past year is himself.
Currently: Unemployed; abandoned by all his major backers after publicly criticizing Trump and his family. Subpoenaed by special investigator Robert Mueller in the Russia investigation.
Anthony Scaramucci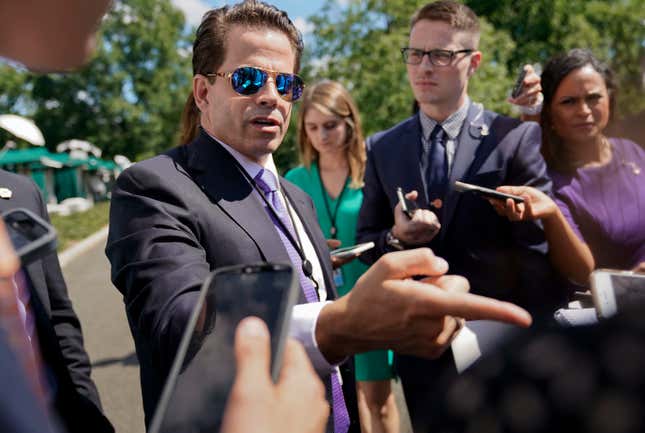 Threatened to "eliminate everyone" in the White House communications team over a minor leak. Unclear that he has any firm beliefs.
Scaramucci's ten glorious days in the White House will be a dream for whoever ends up writing the Trump miniseries. From the outset, things didn't look good for the former financier: He was the third White House communications director in six months, arrived with zero experience in PR or politics, and had previously described Trump as a "hack," "anti-American," and an "inherited money dude from Queens County."
Unfortunately for Scaramucci, two loudmouths in the White House turned out to be one too many. The "Mooch" was fired after an expletive-filled phone call (paywall) with the New Yorker, in which he called then-chief of staff Reince Priebus "a fucking paranoid schizophrenic" and said, "I'm not Steve Bannon, I'm not trying to suck my own cock."
Currently: Defending Trump's smarts on television. To the disappointment of the literary world, Scaramucci hasn't found a buyer for his 60,000-word memoir on his week and a half at 1600 Pennsylvania Avenue.
Carter Page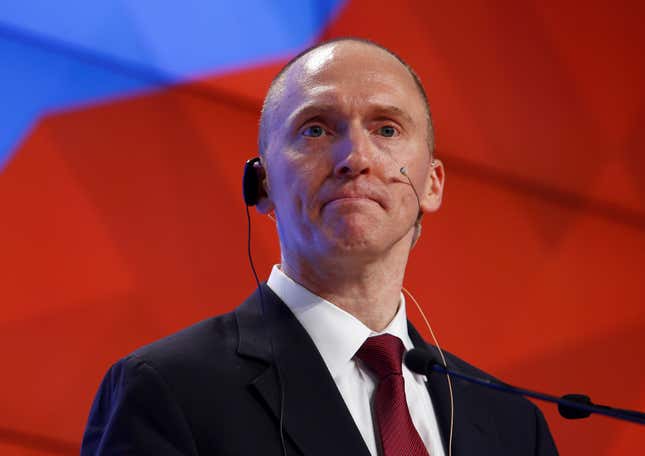 Believes Russia's annexation of Crimea was a "relatively minor" action.  Once compared the argument for sanctions on Russia to an 1850 manual on creating "the ideal slave."
In March 2016, out of nowhere, Trump listed Carter Page (paywall) as one of his campaign's few foreign policy advisors. He was an odd choice: supposedly an expert on Russia, it was near-impossible to find a Kremlin-watcher who had heard of him.
A three-month stint at Eurasia Group was enough for CEO Ian Bremmer to remember him as the company's "most wackadoodle alumnus," known for fiercely pro-Kremlin views. After that came a few years as a mid-ranking employee at Merrill Lynch in Moscow, where boss Sergei Aleksashenko described Page as a "gray spot" and "in no way exceptional."
When the infamous "Steele dossier" alleged that Page visited Moscow during the 2016 campaign for a clandestine meeting with top Putin ally Igor Sechin (Page denies this), this "gray spot" wandered into the center of a sprawling political investigations. More heads turned in November when he gave an six-hour, bombshell-filled testimony to Congress without a lawyer because he was "undergoing personal legal training."
Currently: Giving media interviews with abandon, despite scrutiny by the FBI.
George Papadopoulos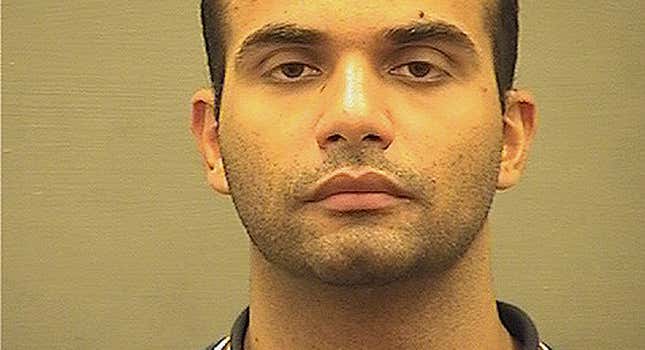 Thought he had the inside line to Putin's niece, and that Kremlin ties were a good idea.
"George Papadopoulos, he's an energy and oil consultant. Excellent guy," once said Trump of the then-29-year-old campaign aide. In reality, most of his CV "was either exaggerated or false," the Washington Post reports (paywall).
Papadopoulos tried to build links between the Trump campaign and the Kremlin, notably through obscure professor Joseph Mifsud (see below) whom he (incorrectly) believed had introduced him to Putin's niece. According to the New York Times (paywall), US authorities first got wind of Russians hacking Clinton's emails after Papadopoulos let it slip during a boozy evening.
Currently: Pled guilty to lying to the FBI.
Rob Goldstone
Fears being stabbed by a poison-tipped umbrella, according to a friend.
Surely the most colorful character to have emerged out of the Russia probe. Goldstone, a British music promoter and former tabloid journalist, set up the notorious meeting between Donald Trump Jr, Jared Kushner, Paul Manafort, and a Russian lawyer who they believed would give them dirt on Hillary Clinton.
We'll let his social media presence do the describing for us.
Currently: Reportedly writing a book, last reported to be in Thailand. Has agreed to meet special investigator Mueller's team.
Roy Moore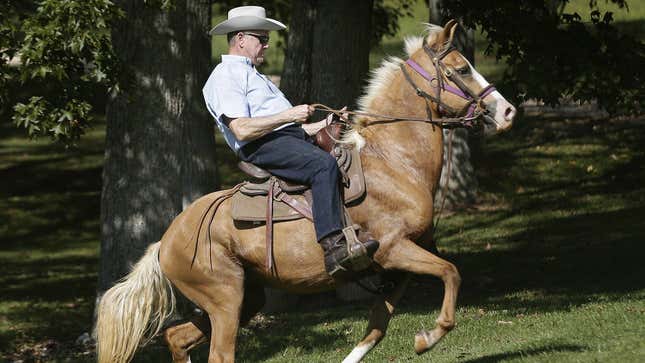 Believes Muslims shouldn't sit in Congress, likened the Koran to Mein Kampf. Believes the 9/11 attacks happened because America was becoming "godless."
Sexual harassment allegations? Check. Accusations of sexual misconduct towards minors? Check. A professed belief that the US would be better without the constitutional amendments that abolished slavery, recognized women's and minorities' right to work, and got rid of poll taxes? Check. Roy Moore, the first Republican in 25 years to lose a senate seat in Alabama, was the definition of an unpresentable candidate, but he got a hearty endorsement from the President himself.
Moore showed up to the polls on horseback, and basked in the camera attention—letting the world know that not only was he a bad candidate, he is also not much of an equestrian.
Currently: Mulling his historic loss of the Alabama senate seat.
Richard Spencer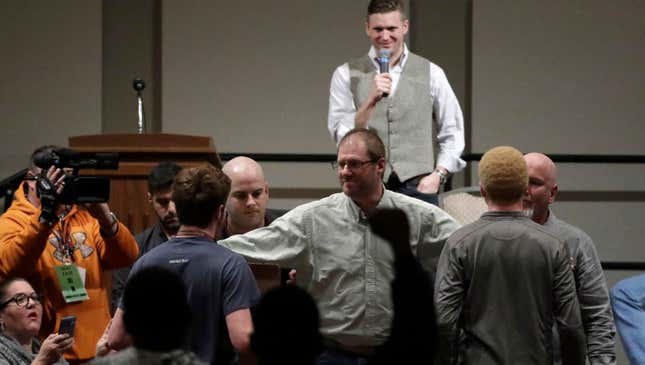 Believes America should be a white "ethno-state."
Few would have predicted that a white supremacist like Richard Spencer would become a national figure, just a year after America's first black president left office. But thanks in part to Trump's public pooh-poohing of fears about resurgent racism, Spencer has gained prominence while white supremacists marched in Charlottesville and Tennessee—leaving the country wondering if this is just the beginning.
The president of think tank National Policy Institute is also remembered for a different kind of ideological violence: being punched on camera by a protester in a video that has been watched 3.4 million times.
Currently: Continuing his tour of speaking engagements.