One of Asia's most familiar food, mung beans, is being reintroduced to the region in a completely reinvented form by a Silicon Valley startup.
This week (Jan 22), San Francisco-based JUST (formerly known as Hampton Creek) debuted its new plant-derived scrambled "eggs" for the Asian markets in Hong Kong. The product—which the company had been promising since its inception in December 2011—is called "Just Scramble."
When the product is poured into a heated pan, it quickly spreads and begins to cook much like real eggs. The company says Just Scramble has a shelf life of eight to 10 days right now, though its food scientists are working to extend that time.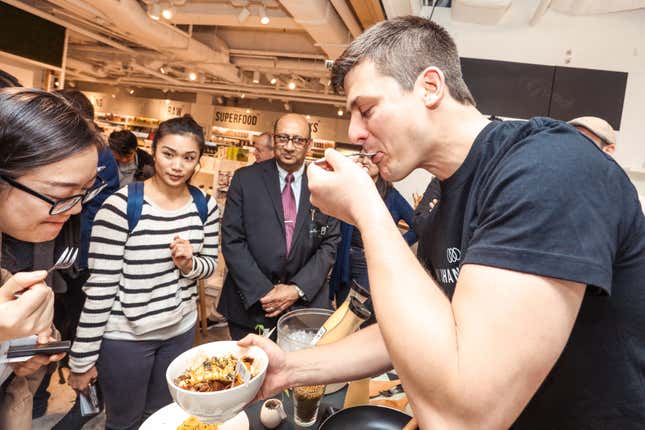 JUST has sourced and tested mung beans from China, India, Thailand, Myanmar, Australia, Tanzania, Peru and Argentina, where it has direct relationships with farmers and suppliers. The beans are then shipped to the US, where they are processed and manufactured. In taking its eggless egg-scramble product to Hong Kong, the company is showing off the fruits of a half-decade of labor in the backyard of two of its more influential investors, Li Ka-shing and Solina Chau, the billionaire tycoons behind the venture-capital firm Horizons Ventures.
In February 2014, Horizons Ventures put $15.5 million (paywall) into the company. Later that same year, Horizons was the biggest investor in another fundraising round that totalled $90 million. (Horizon's investment in that round was undisclosed.) Japan's Mitsui & Co., one of the world's largest trading and investment companies, invested $15 million in September 2015. Singapore's biggest state-owned fund was also an investor.
The company is looking to get Just Scramble into mainland China, Japan, and India as their next launching markets following Hong Kong, according to the food technology's spokesperson.
The plant-based egg product was a real coup for the scientists in the startup's food laboratory. As described by the company, it's been tough to figure out how to mass produce an egg-replacement product that looks, cooks, and tastes like the real thing. There was one particularly persnickety problem: figuring out how the product would respond the same way as real eggs do to various heat levels.
The introduction of Just Scramble to the Asian market comes at a pivotal moment for JUST, which is also working to get a cell-cultured meat product—called "clean meat"—to American markets sometime this year. The company likely wants to get that product to the Asian market, as well, and governments in the region have expressed interest in reducing meat consumption in their countries in order to limit the negative environmental impacts of factory farming. Scientists behind cell-cultured meat production say they're able to grow the same meat product in bioreactors, without the environmental hangups.
Correction, Jan. 23: This post was updated to reflect the company's new name, and to clarify details about the company's sourcing of mung beans.