May 2018 be the year to break out of creative bubbles. Finding founts of inspiration can be challenging for anyone, and arguably much more for designers who are constantly challenged to come up with the next newest and greatest thing. There's a long list of worthwhile design conferences around the world, but after a few years of going to the same industry events, things can get old quickly.
In the spirit of discovering new territories, we've tweaked the format of Quartz's annual guide to the best design conferences and turned to some of the most informed design minds we knew. These are architects, design leaders, writers, curators and scholars. We asked them to cite one design event they're most looking forward to in 2018, other than the ones they're organizing or promoting. As generous, rule-breaking designers are apt to do, several respondents deviated from our instructions and gave two or more suggestions.
The prize for the most diligent informant goes to 88-year old design legend Gere Kavanaugh. A polymathic designer and a member of the pioneering coterie of American female designers collectively known as "Damsels of Design," Kavanaugh says it's important for designers to be attentive to unexpected sources of inspiration—no matter what stage they are in their careers. "It makes me think more! It gets you out of your own bubble and realize that there are many more interesting bubbles in the world. And it opens so many doors for you," explains Kavanaugh who's currently finishing her very first monograph.
This year we've also defined "design event" broadly. The list below contains conferences, new books, plays, exhibitions around the world—from Ålesund to Zagreb.
January
Frau Architekt symposium and exhibition
Frankfurt, Germany
Jan 17–19, Exhibition through March 8
"A conference on 20th-century women architects to accompany an exhibition on the same theme at the German Architecture Museum in Frankfurt. It's only the second major museum to hold an exhibition focused on women in architecture, and it is the only design museum to ever do so. The show, which opened in October, has provoked a lot of debate—some very positive in terms of uncovering unknown histories, but also some quite negative . [Some say] that such women-only shows are passé—something I find interesting since they've never happened in the first place."—Despina Stratigakos, architecture historian and author of Hitler at Home
Golden Kingdom: Luxury and Legacy in Ancient Americas exhibit
Los Angeles, California and New York, NY, US
The J. Paul Getty Museum through Jan. 28, Opening at the Metropolitan Museum of Art, New York City on Feb 28
"The most blockbuster, gold show emanating from the Getty Museum going to the MET!"—Gere Kavanaugh, design legend
Laterna Magika
Prague, Czech Republic
Year-round
"They're so far out in visual presentations of plays. It's an incredible theater—all the imaginative essentials you can put into it. You have to see it, if I were you I would get myself to Prague!"—Gere Kavanaugh
Lecture Series: Frank-Ratchye STUDIO for Creative Inquiry at Carnegie Mellon University
Pittsburgh, Pennsylvania, US
Year-round
"The free, open to the public lecture series at Carnegie Mellon University looks really great this year. It is more 'non-disciplinary' than design, per se, but that is kind of the bleeding edge of design. Some are artists who use the internet,  some are using physical materials to build interactive things. All of them are thinking about human's relationship to technology philosophically and are making work from it."—Kelli Anderson, graphic designer and author of This Book is a Planetarium
February
Salzburg Global Seminar –The Shock of the New: Arts, Technology and Making Sense of the Future
Salzburg, Austria
Feb 20–25
"For more than 70 years now, the Salzburg Global Seminar has been a locus for inspiring programming a number of critical issues of global concern ranging from the arts and education, to economics, governance, health, the environment, social justice and more."—Mariana Amatullo, associate professor, strategic design and management, Parsons School of Design, The New School
Design Indaba Festival
Cape Town, South Africa
Feb 21–24
"Ravi Naidoo and the Design Indaba team have built a powerhouse conference in Cape Town. To see design through their curatorial lens and to experience a conference that comes from an African perspective is especially compelling in this divisive moment. It's a conference I've wanted to go to for ages, and this will be the year!"—Chee Pearlman, deign curator, TED
March
Brainstorm Design Conference
Singapore
March 6–8
"It is a small, rather exclusive gathering of design thinkers and business leaders from around the world. We are going to be talking about the intersection of design and business, or as the organizers describe the 'crucial nexus between business and design.' The conference will be held in parallel with Singapore's annual Design Week and is being organized by Time, Fortune and Wallpaper which is a mind-expanding combination that reflects the goal of the event. Always great food in Singapore too."—Harry West, CEO of frog
"Design as an Attitude" by Alice Rawsthorn
UK book release,  US release is in June
"There are ore people talking about 'design' than ever before—from 'design thinking' to 'design-driven' companies, 'community design' to 'systems design' — that's it's starting to feel like the word has lost its meaning, becoming just another cultural buzzword. If anyone can navigate this new terrain, it's Alice Rawsthorn. I can't wait to read her new book and hear one of the smartest critics working today demystify this ever-changing, ever-growing field."—Jarrett Fuller, graphic designer and host of the weekly podcast Scratching the Surface.
IDSA South District Design Conference: Listen & Empower
Raleigh, North Carolina, US
March 23–24
"The event is being held at NC State's James B. Hunt Library, a $150 million showcase of contemporary architecture with one of the finest collections of modern furniture accessible to the public."—Russell Flinchum, associate professor, department of graphic design & industrial design, NC State University College of Design
April
Salone del Mobile
Milan, Italy
April 17–22
"The conference is a blend of speakers, installations, product introductions, and civic events that never disappoint. Having gone to Milan for many years – there is never a better time to visit this vibrant world city. The conference is a magnet for designers and big thinkers from around the world – and has evolved well beyond interior design and architecture. By the end of the week the conference is a street festival bringing all of the attendees together in celebration of great design."—Todd Heiser, creative director and principal, Gensler
Fontstand International Typography Conference 2018
Zagreb, Croatia
April 21
"The Fontstand conference is a great opportunity to 'talk shop' with other independent type foundries, for instance about ideas how we can bring more contemporary, high-end typefaces to people who previously couldn't or didn't want to afford new fonts for every project. Something I think about at as professor every day. And I am especially excited to meet local designers and discuss this with them as well as I have never been to Croatia."—Indra Kupferschmid, typographer and professor at Hochschule der Bildenden Künste Saar
May
OFFF Barcelona
Barcelona, Spain
May 24–26
"The three day festival that started 17 years ago in Barcelona deals with innovation and creativity in the field of visual communication—branding, advertising, user interface UI / UX, illustration, etc. OFFF has expanded over the past decade to major cities around the world, including London, Tel Aviv and Milan. The event not only manages to bring the latest issues of the world of visual design, but also brings together influential international figures in the world of visual design."—Oded Ben Yehuda, art director and design writer
By Design Conference
Bratislava, Slovakia
May 28
"One conference that I am planning to attend is the By Design Conference which is smaller by most but very well produced and organized,"—Peter Biľak, type designer and publisher of seminal design journals Dot Dot Dot and Works That Work.
InnoTown Innovation Conference
Ålesund, Norway
May 29–30
"While not strictly a 'design'conference, this jam-packed one-day event [in 2017] was infused with an ethos of design. The international slate of speakers included the world land-speed record holder, and Norway's top architect. Oh, and all of this in one of the most breathtakingly beautiful settings imaginable.'—Doug Powell, IBM Distinguished Designer
The Substation
Various, May–Oct
Singapore
"Singapore's pioneering independent contemporary art centre recently ventured into architecture and design with 'Discipline the City', a program of exhibitions talks and workshops that looks at who has the right to the city. It was an ambitious project that brought together very different groups of people. I'm curious what else they will bring to the table in this new year."—Justin Zhuang, design writer and researcher
June
Los Angeles Design Festival
Los Angeles, California, US
June 7-10
"I'm particularly excited about LA Design Festival this year. The Los Angeles market has a rich design culture and LADF is bringing this richness to light each summer with a weekend-long Fair."—Petrus Palmér, founder of Swedish design furniture start-up Hem
Munsell Centennial Color Symposium
Boston, Massachusetts, US
June 10–15
"While under the radar for the broader design world, the Symposium could provide some exposure to those curious to learn more about the world of color and the professional organization that work closely with it."—Jennifer Cohlman Bracchi, Smithsonian Libraries librarian and co-curator of an upcoming color-themed exhibition that will open at Cooper Hewitt, Smithsonian Design Museum
AIA Conference on Architecture
New York City, US
June 21–23
"This is the first time in 30 years that the AIA National Conference has been in New York City, and the speaker line up for this event, still to be announced for 2018, is usually stellar. (Michelle Obama headlined 2017 speakers and Bill Clinton was the keynote for 2015). This year's event, themed "Blueprint for a Better City," will draw 20,000-30,000 architects, designers, and arch-o-philes."—Molly Heintz, program chair, School of Visual Arts MA Design Research and co-founder of Superscript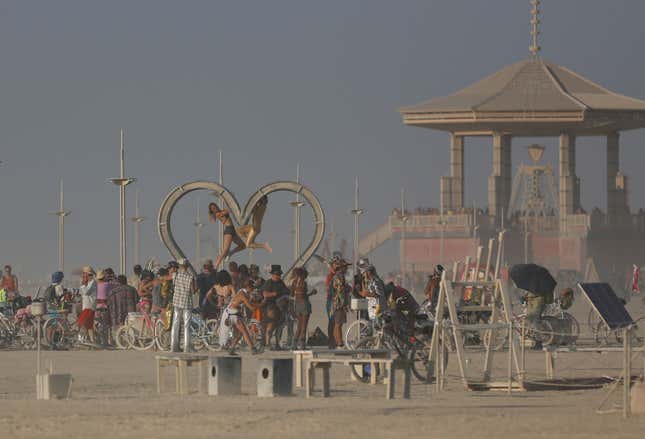 August
Burning Man Festival
Black Rock Desert, Nevada, US
Aug. 26–Sept. 3
"Architectural extravaganza! Instant city!  Weird structures galore!  Dream world! Not to mention sex, drugs, and rock and roll! (firmness, commodity, and delight in arch-speak)."—Michael Sorkin, architect, Urban Research (UR) books founder and first time "Burner"
September
A Design Film Festival
Singapore
Oct. 27–29
"One of the world's first festivals dedicated to design films, and also one of the few regular design events in the Singapore calendar! The genre is still underdeveloped—most design films are simply tributes of design icons or a collection of talking heads—but this festival organized and curated by design studio Anonymous—has done a fine job of curating films that expand the lens of designers to adjacent creative cultures and pressing social issues too."—Justin Zhuang
October
Bangkok International Typographic Symposium
Bangkok, Thailand
Oct. 27–29
"I've yet to check this out, but type nerds tell me this is the place to be. Sure, you get to hear from the rockstars of type, but alongside them is a good mix of Southeast Asian talent working on local projects and non-Latin script like Thai type!"—Justin Zhuang
November
DesignUp
Bangalore, India
Nov. 2–3
"Last November I attended Design Up in Bangalore, India. I'm not sure I can attend again this year but I had such a great time last year that I would be happy to go again. They are doing a great job of helping to catalyze the growing design community in India."—Khoi Vinh, Principal Designer, Adobe
WeMake Conference
Portland, Oregon
Nov., dates to be announced
"They attract great speakers and have a good sense of community, and the tickets are inexpensive. The organizers are less interested in trends than they are in seeking out creatives that have developed sustainable careers. But there was also one nail-art artist, so there is a good range."—Kelli Anderson
Us By Night
Antwerp, Belgium
Nov., dates to be announced
"By the time Us By Night rolls around, the words  'design conference' will no doubt induce nightmares set in dark, window-less caverns lit only by the glow of keynotes presentations. Which is precisely why Us By Night, an after-hours design conference/party that kicks off at 5pm each day and runs till midnight, is such a welcome change of pace. The refreshing format and speaker line-up includes main stage, workshops, a night market, and plenty of downtime to actually see the city you're traveling to."—Perrin Drum, Executive editor, 99u