With the price of airfares dropping, 2017 may be the year to search for creative inspiration beyond your city. For veteran or jaded conference goers, challenge yourself to step outside your usual creative circuit and head to a new destination to learn skills, encounter new ideas and meet people. Sometimes attending a forum that's not entirely about your specialization can be revelatory too, offering a fuller picture of the various interdisciplinary forces that shape design.
And if you're short on funds or vacation days this year, many events offer a free livestream or video archive of presentations. Universities, museums, embassies and local bookstores also often offer free design events throughout the year.
In chronological order, here's a list of design conferences, fairs, and festivals we're looking forward to in 2017:
January
Creative Mornings
Worldwide
Jan 6 through Dec 30
Start the work day with a shot of inspiration through this community-led breakfast series featuring local artists and visiting geniuses. This year, 158 cities—from Jeddah, Saudi Arabia to Vilnius, Lithuania—are convening Creative Morning events. Every 90-minute session (typically from 8:30–10 am) spotlights one speaker and includes a breakfast spread.
DLD17 
Munich, Germany
Jan 15–17
Networking is a big part of this jam-packed conference organized by the German media company Herbert Burda. This year, 150 speakers from the world of design, art, science, politics, and start-ups are slated to give brief presentations at the DLD (Design Life Digital) conference in Munich. One must submit an application or be invited to attend. DLD is also convening in New York City in May.
Maison & Objet
Paris, France
Jan 20–24; Sept 8–12
This semi-annual interior trade fair is a mecca for fans of European furniture and product design. January's program explores the theme of "silence" and includes an intriguing conference about creating a "haven from the roaring crash of words and images." To enter the fair, you must prove that you're a professional designer or student from an accredited school working in interior design or fashion.
February
Interaction 17
New York City, US
Feb 3–8
Screens, virtual reality, user experience, and usability will be the hot topics in this weeklong gathering organized by the US-based Interaction Design Association. Presenters from Google, IBM, Facebook, Microsoft, Netflix and LinkedIn will share the spotlight with independent designers, and researchers and professors.
Off Grid 17
Auckland, Christchurch, Brisbane, Sydney, Wellington
Feb 16–21
A design conference for those who can't stand windowless conference rooms. Attendees will hop through five cities to ruminate on billboards, buttons, way-finding systems in this adventurous "unconference" convened by the Society for Experiential Graphic Design and the Designers Institute of New Zealand. "Happenings" are planned in each location but participants are encouraged go on side adventures, which organizers say will enrich the conversations.
OFFSET Dublin
Dublin, Ireland
Feb 17–19
Graphic design, photography, animation, illustration, fashion, film, and industrial design are represented in this well-curated and comparatively affordable conference. A bonus for architecture lovers: OFFSET will be held in a theater designed by the World Trade Center's architect Daniel Libeskind.
March
Design Indaba Conference
Cape Town, South Africa
March 1–3
Design Indaba is the largest creative industry event held in Africa. This year Senegalese fashion designer and Beyonce favorite Selly Raby Kane will serve as guest creative director for the 22-year old conference. Main stage presentations will be simulcast in Johannesburg, Port Elizabeth, Durban, Potchefstroom, Windhoek, Lagos, and Nairobi. AirBnB's co-founder Joe Gebbia and artist Olafur Eliasson are scheduled to speak.
SXSW
Austin, Texas
March 10–14
President Barack Obama was so inspired by South by Southwest's format that he replicated it in the White House lawn last October. Brave the huge crowds and the litter of corporate-sponsored swag for the festival's unique design track. This year's schedule includes workshops on hand lettering, emoji design, data viz for presentations, and a talk on mixing architecture and hip-hop.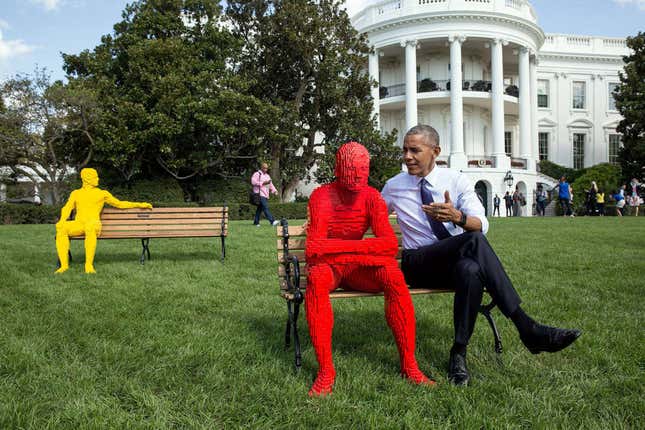 TEI  
Yokohama, Japan
March 20–23
TEI (Tangible, Embedded and Embodied Interaction) is for engineering-minded designers. Presenters will discuss various esoteric topics shaping the field of human-computer interaction in the beautiful port city of Yokohama. A workshop on "mechanical papercrafting design" promises to delight attendees.
April
Salone del Mobile Milano
Milan, Italy
April 4–9
With over 370,000 attendees and 2,500 exhibitors, Salon del Mobile is the world's largest furniture showcase. Eye-popping exhibits and a circuit of design-themed event await visitors. Things can get overwhelming in the vast fair grounds—best to wear comfortable shoes and pause for gelato when things get too hectic.
Design for Next
Rome, Italy
April 12–14
Hosted by the Sapienza University of Rome, this provocative forum spotlights new research on design's role in shaping business, technology, philosophy and culture.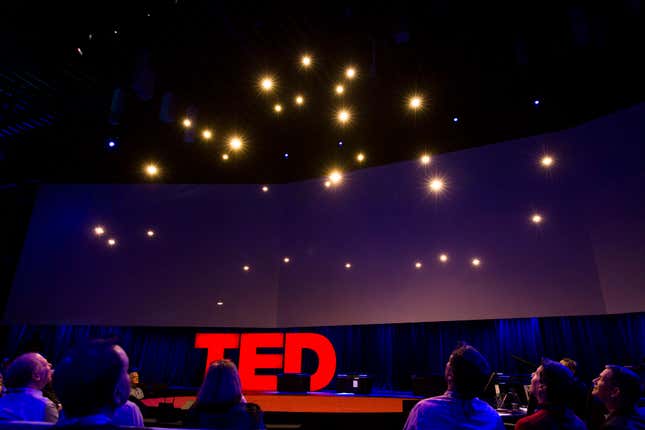 TED
Vancouver, Canada
April 24–27
From the main stage talks, the artful configuration of viewing spaces, to the beautiful graphics in the venue, the D (for "design") in TED is always worth watching out for. This year, TED hired Chee Pearlman as its design curator to invigorate the power gathering's design program. Quartz will cover the conference with a special focus on design and architecture.
May
Pictoplasma Conference
Berlin, Germany
May 10–14
This "playground for collaborative creation" celebrates the best of character design art and animation. Gallery tours, workshops and inspired installations throughout the city.
By Design Conference
Bratislava, Slovakia
May 20
Slovakia's premiere conference about creativity and entrepreneurship offers a refreshing detour from the usual design capitals. "There was nothing happening in central Europe at that time so we've decided to create our own conference…We also wanted to create a network between designers in Slovakia, Austria, Hungary and Czech Republic," explained design consultant Jakub Ptačin, one of By Design's organizers. Industrial design legend Hartmut Esslinger and Barcelona's Mucho studio are among this year's presenters.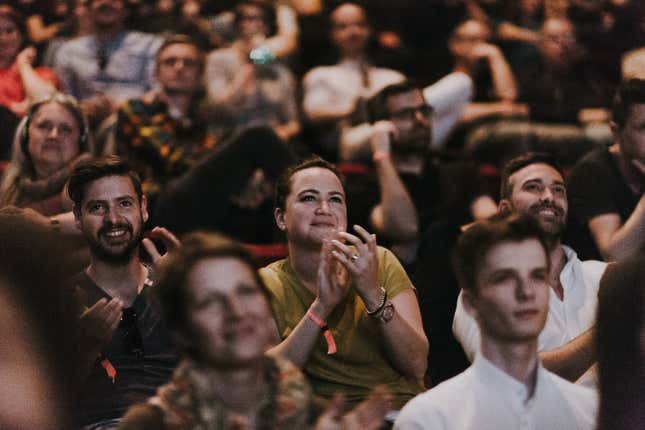 What Design Can Do
Amsterdam, the Netherlands
May 23–24
Like its name suggests, this conference is for social change-minded designers. Aside from the usual round of inspirational talks, What Design Can Do tackles one global challenge each year. Last year, it asked designers to think of creative solutions to address the refugee crisis in Europe. The United Nations and Ikea Foundation are among the conference's partners.
The Design Conference 
Brisbane, Australia
May 25–26
What began as a small university conference six years ago has evolved to a vibrant gathering for professional designers in Australia. An international roster of award-winning designers is expected to regale attendees with their latest projects.
TYPO Berlin
Berlin, Germany
May 25–27
Font lovers, type sophisticates and graphic design pros converge in Berlin for Europe's largest design conference. Embracing the theme "Wanderlust," TYPO Berlin 2017 will delve into creativity-enhancing career segues and challenge attendees to leave their comfort zones. This year's program includes over 60 presenters in 5 different stages.
RGD Design Thinkers 2017
Vancouver, Canada
May 30–31
Convened by RGD, Canada's association for registered graphic designers, this year's conference spotlights design luminaries such as AirBnB's VP of Design Alex Schleifer and book design savant Chip Kidd.
REDO Cumulus  
Kolding, Denmark
May 31–June 1
The biannual conference aspires to "playfully inspire, challenge and develop the role, relevance and scope of design, art and media." Hosted by the Design School Kolding, the roster of speakers include politicians, researchers and professional designers. A "Design Dating" event is planned to pair like-minded attendees working in similar fields.
June
99U Conference
New York City, US
June 7–9
Don't come to 99U seeking lofty ideas. This popular Adobe-sponsored gathering is all about practical career advice, pep talks and useful resources to get designers out of that proverbial creative rut.
NeoCon
Chicago, Illinois, US
June 12–14
Fifty-thousand design professionals are expected at this massive furniture and interior design fair featuring hundreds of top design brands. NeoCon showcases the latest in office furniture, building materials, lighting, and textiles. Attendees can also choose from over 100 free seminars during the fair.
July
New York Times Cities for Tomorrow
New York City, US
July 10–11
This forum is for anyone interested in the design of cities and the urban environment. Among last year's highlights was an illuminating presentation by architect Jeanne Gang about how design could help rebuild trust in communities.
August
IDSA International Design Conference
Atlanta, Georgia, US
Aug 16–19
Hear from legendary product designers, inventors and theorists in this annual gathering organized by the Industrial Designers Society of America. This year's forum explore the rise of chief design officers in big corporations and design's central role in shaping business strategy.
September
Brand New Conference
Chicago, Illinois, US
Sept 14–15
If you love logos, corporate branding or read the design blog Brand New, this is for you. A highlight every year are the custom-designed name badges, bags and banners that are laboriously handmade by the event's husband-and-wife organizers Bryony Gomez-Palacio and Armin Vit.
London Design Festival
London, England
Sept 16–24
This lively city-wide festival testifies to why London is one of the best cities for design. Expect hundreds of imaginative installations, parties and rare access to local studios during the 9-day program. Orient yourself with a visit to the festival's hub at the Victoria & Albert Museum and don't miss its stellar line-up of workshops.
October
AIGA Design Conference
Minneapolis, Minnesota, US
Oct 12–14
Thousands of graphic designers will gather in Prince's hometown where design-centric companies like Target and 3M are headquartered. Expect to meet design heroes, eager design students and lots of design vendors in this long-standing forum.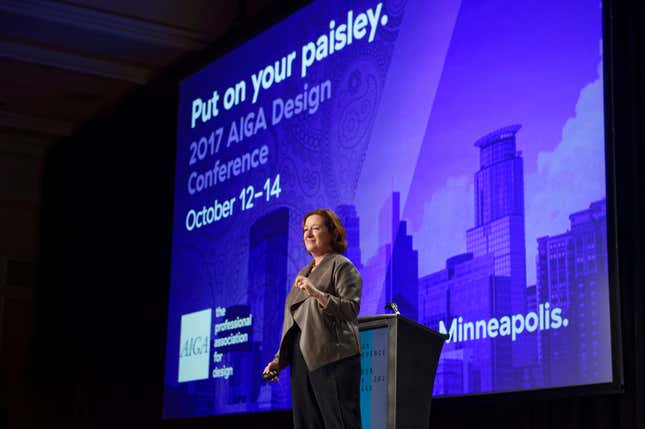 World Design Summit
Montreal, Canada
Oct 16–25
This ambitious, multi-disciplinary forum tackles the oft-discussed theme "how design can shape the future." Designers, policy makers, NGO's and entrepreneurs will be at the 10-day design immersion in Montreal.
Adobe MAX
Las Vegas, Nevada, US
Oct 16–20
Coders mingle with Hollywood filmmakers, photographers and musicians in this five-day production that testifies to how much Adobe's software shapes the creative industry. Bonus: The afterparty usually rocks.
Core 77 Conference
Chicago, Illinois, US
Oct, TBD
Makers, engineers and product designers—many featured on the design blog Core77—will present their newest experiments in the two-day conference.
November
AA Women and Architecture in Context
London, England
Nov 2–7
This year's lecture series marks the centenary of women's admission to London's Architectural Association School of Architecture in 1917. After the death of Zaha Hadid last March, the academic conference promises to be a timely occasion to explore new paths for female architects who are often edged out of their own profession.
December
An Event Apart
Denver, Colorado
Dec 11–13
Web design is the focus of this series founded by the "king of web standards" Jeffrey Zeldman. Hands-on workshops and practical wisdom on UX, coding, and digital design await attendees.