To address the worst refugee crisis in Europe since World War II, one Dutch design organization issued a global call to the creative community: "What can designers do to help?"
This spring, Amsterdam-based conference What Design Can Do partnered with the UN High Commissioner for Refugees (UNHCR) and the IKEA Foundation, to launch a contest seeking ways to foster more welcoming environments for the 60 million migrants currently displaced by war worldwide. "We need the imagination of designers," said Dutch minister of foreign affairs Bert Koenders during the July ceremony honoring contest-winners, emphasizing the direct role designers, architects and all types of "creative trouble shooters" in tackling great socio-political matters of our time.
"Design, to me, means the ability to change things for the better," echoed Markus Engman, IKEA Sweden's head of design and one of the jury members. "I think we can do a lot for refugees actually…to make people feel better in a situation [that] you don't want to be in."
Announced on July 1, these are the five winning ideas from a pool of 631 design proposals from 70 countries.
A welcoming ID card
The Green Card is an RFID-chip ID card linked to refugees' individual asylum petitions. The temporary ID also informs them about language courses, maps, transportation routes and key places in their new communities, to help newcomers orient and acclimate.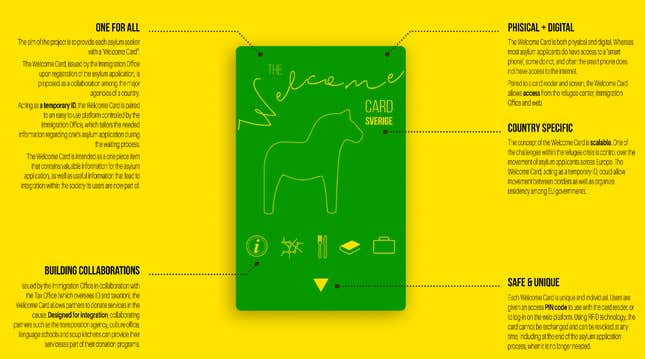 "Hipster" pop-up homes
AGRIshelter is an easy-to-build temporary shelter that addresses the housing shortages. Structures are made from bales of straw and canvas, and incorporate features that encourage occupants to grow their own food—conveniently, something that hipsters also love, notes Milan-based architect, Narges Mofarahian. The 35 square meter units are designed to be erected on vacant urban lots, preventing ghettos from forming at the edge of the city.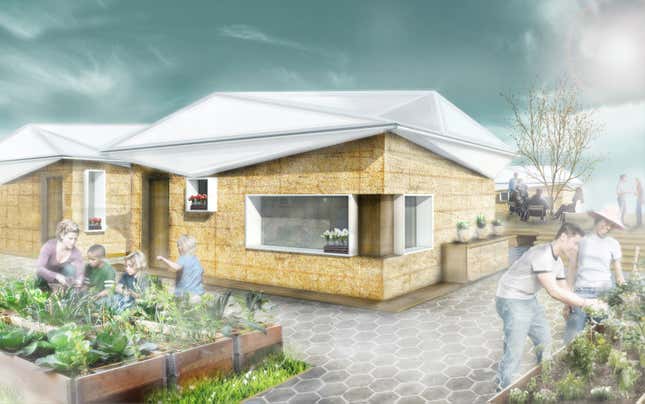 Mobile kitchens and home cooking
Food fosters friendships. Eat & Meet is food truck business where newly-arrived refugees and migrants can cook, sell food and introduce their culture and culinary traditions with their host communities. The Brazil-based interdisciplinary design team explains that Eat & Meet operates on the "age-old natural law that eating a stranger's food is the first form of inter-cultural trust."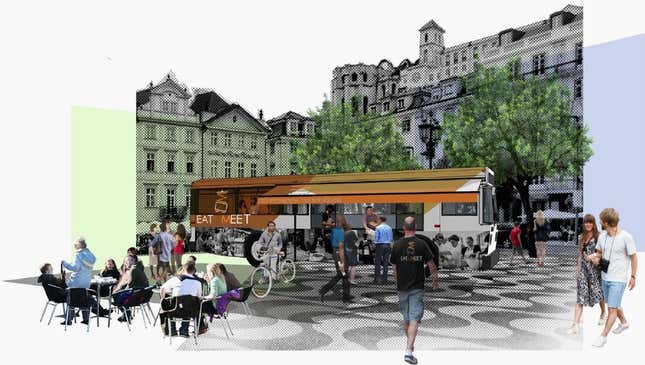 A photo agency by refugees
Reframe Refugees is a stock photo agency produced and published by refugees about their plight. "The photos of refugees shown by mainstream media all look the same and, more importantly, only present refugees in desperate and helpless situations," observed Dutch designers Marie-Louise Diekema and Tim Olland. Reframe Refugees would allow refugees to create their own images and narratives and license them to media companies.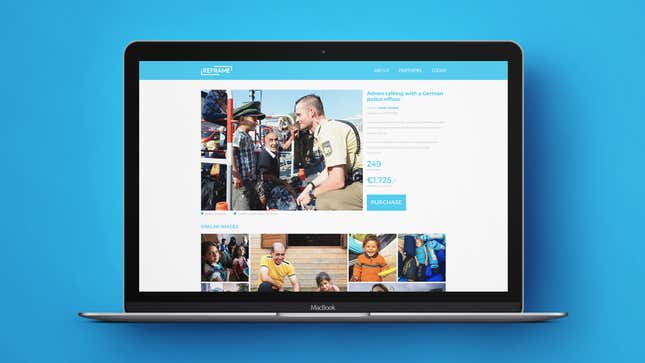 A refugee-run design studio
Makers Unite is a design practice where refugees upcycle materials from the humanitarian crisis, turning life vests to fashionable bags and creative accessories. "Among us refugees living in Europe now, are many designers, artists, makers—creative people," says Syrian architect Hend Charaf in the project video. Makers Unite gives these displaced designers "the first steps for refugees to regain dignity, to connect with locals, to build new networks and to restart their lives."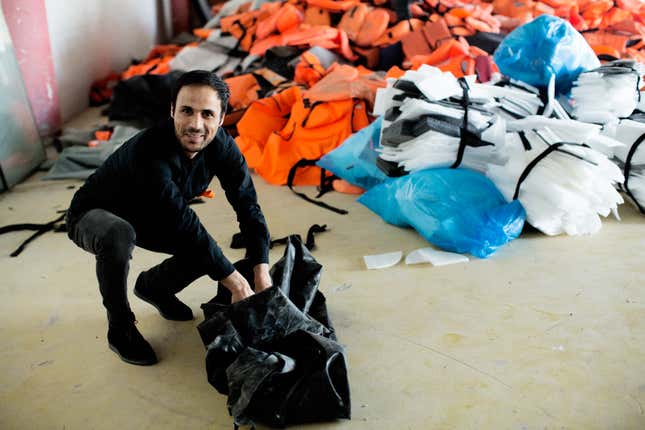 Each winning idea won its creators €10,000 in seed money and expert guidance to develop their ideas. What Design Can Do has committed to deploying one or more of these design proposals by December 2016.
Speaking about the quality of entries, judges commended designers for thinking deeply about the complex issue, instead of focusing on beautiful forms. "It's great that so many designs propose new systems, new processes and new services," says UNHCR's Corinne Gray. "We tend to narrow the scope of design, but this shows just what it can do."