Toys R Us declared bankruptcy in September. Now, court filings show the beleaguered toymaker plans to close about 180 stores, or 20% of its US locations, beginning in early February.
That's a lot of stores, but for Toys R Us it's also a necessary downsizing. In mid-December, a research report from UBS estimated that 183 Toys R Us stores were located within a 15-minute drive of at least one other location. The analysts theorized that nearby Toys R Us stores were eating into each other's business—"cannibalizing," to use their jargon—and that the company might be able to shutter those stores and still "retain sales at an elevated level."
Here's a map UBS included in its report of the roughly 900 Toys R Us stores across the country: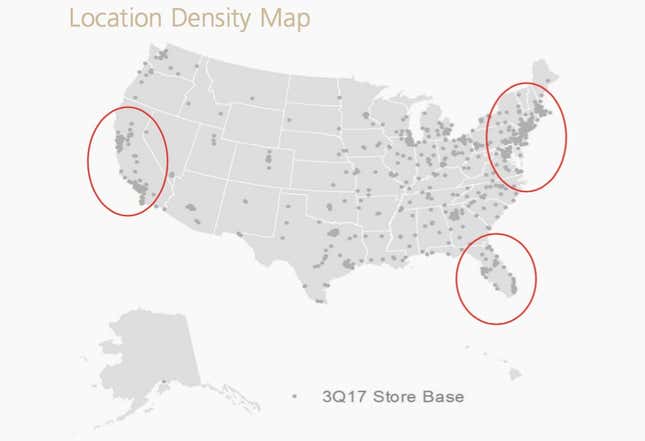 As you can see, the distribution of those locations is similar to the distribution of stores that the company now plans to close (pdf), with the densest clusters around New York, San Francisco, and Los Angeles: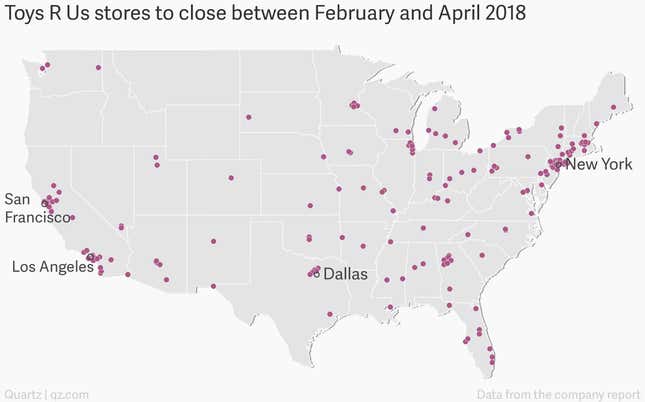 In documents filed Jan. 23, the company explains that an "overwhelming majority" of the proposed store closures have negative sales trends and have failed to hit performance targets. Toys R Us says it conducted an "extensive store-by-store performance analysis of all existing stores," examining everything from historical profitability to the potential to consolidate nearby Toys R Us and Babies R Us locations.