Political messaging has become so baked into entertainment award show culture that an evening without it would be surprising. Last night's Grammy Awards in New York were no exception. Winners and other notables used their prime-time platform to rally for women's rights, affirm support for Dreamers, and even get one last punch in on the 2016 presidential election:
Kesha's #MeToo chorus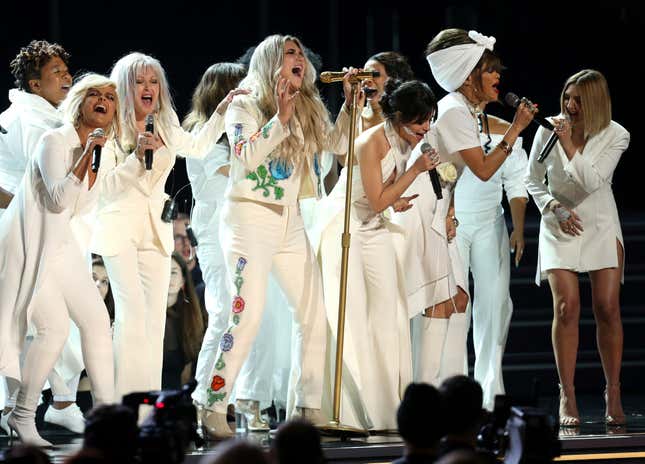 Few performances were as emotional or anticipated as Kesha's, who appeared on stage with an all-women chorus that included Cyndi Lauper, all clad in white. This wasn't just a moment for solidarity and comfort, it was a deeply personal performance—Kesha only returned to performing last year after a years-long hiatus and lengthly legal battle with her allegedly abusive producer and mentor Dr. Luke.
Lorde's flask
The only woman nominated for Album of the Year, Lorde reportedly refused to sing during the award show after learning she wouldn't be performing solo. She used the evening to subtly telegraph her frustration, clasping a flash to match her red dress.
The New Zealand artist's dress was also significant, with a poem by feminist artist Jenny Holzer stitched into the back.
Fire and Fury, 
with a surprise guest
A taped comedy bit featured the show's host James Corden running auditions for the audiobook version of Michael Wolff's Trump exposé Fire and Fury featured multiple musicians, from Cher to Cardi B, reading excerpts from the book. The surprise last reader turned out to be former secretary of state and 2016 presidential nominee Hillary Clinton.
The gag likely marks the first time a US ambassador to the UN felt compelled to weigh in on the Grammys.
https://twitter.com/nikkihaley/status/957813664207245313
Camila Cabello's Dreamer moment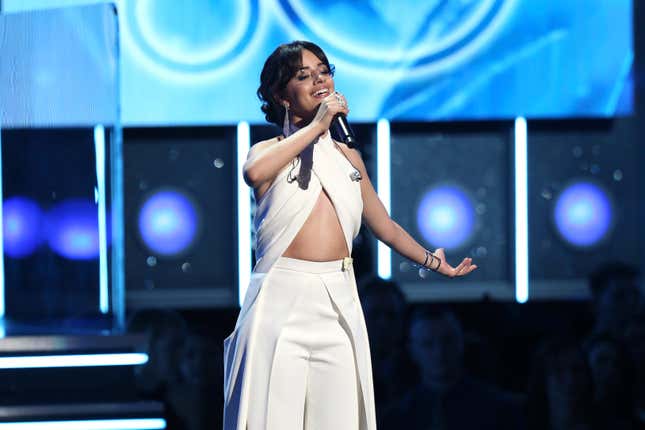 Just days after the White House unveiled a new immigration plan, Camila Cabello, a former member of the group Fifth Harmony, used her moment introducing U2 to tell a personal story of immigration.
I'm here on this stage tonight because, just like the Dreamers, my parents brought me to this country with nothing in their pockets but hope. They showed me what it means to work twice as hard and never give up.
And honestly no part of my journey is any different from theirs. I'm a proud Cuban-Mexican immigrant born in eastern Havana, standing in front of you on the Grammy stage in New York City and all I know is, just like dreams, these kids can't be forgotten and are worth fighting for.
Joy Villa's stunt dress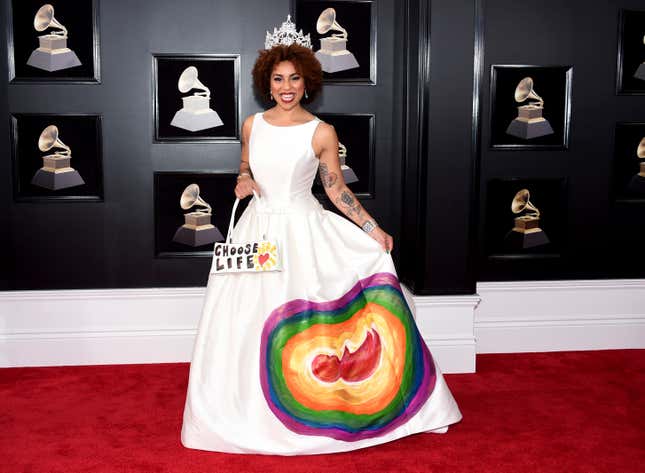 Breaking from the predominantly liberal political positions taken at the Grammys, Joy Villa, a publicity chasing singer and possible congressional candidate, went with a bold statement on abortion rights this year. Her dress featured a painting of a fetus inside of rainbow womb and a small bag that read "CHOOSE LIFE." While it might win her a few plaudits from right-wing spheres, some conservative outlets are calling her bluff, simply labeling her an "opportunist."
At last year's show, Villa wore a long flowing dress emblazoned with "MAKE AMERICAN GREAT AGAIN" and "TRUMP."