Elon Musk has a new $500 toy for you. The CEO of Tesla and SpaceX announced on Jan. 27 that his tunneling startup The Boring Company will be selling branded "flamethrowers" to fans. The company's website allows people to pre-order them for $500 along with an "overpriced" $30 extinguisher.
The company got into the flamethrower business after hawking 50,000 hats, a milestone Musk set on Twitter last December. The company is billing its new toy as the "world's safest flamethrower!" The website jokes the device is "guaranteed to liven up any party!" and may not be used on the "Boring Company dockside munitions warehouse." As a bonus, "the flamethrower is sentient, its safe word is "cryptocurrency" and it comes with a free blockchain," Musk tweeted.
Sales were brisk. Musk announced on Twitter on Jan. 29 that 7,000 of the 19,000 flamethrowers available had been sold within the first few days. It looks like The Boring Company will unload $9.5 million worth of the devices before the week is out.
Before shelling out for one, it's worth noting that the flamethrowers are in all likelihood modified roof torches, essentially propane-powered heaters that melt a sticky layer of asphalt on "torch-down" roofing. The Boring Company has added stickers and a plastic casing. But you too can assemble a "flamethrower" for yourself for about $100 on Amazon (the torch itself is only $50).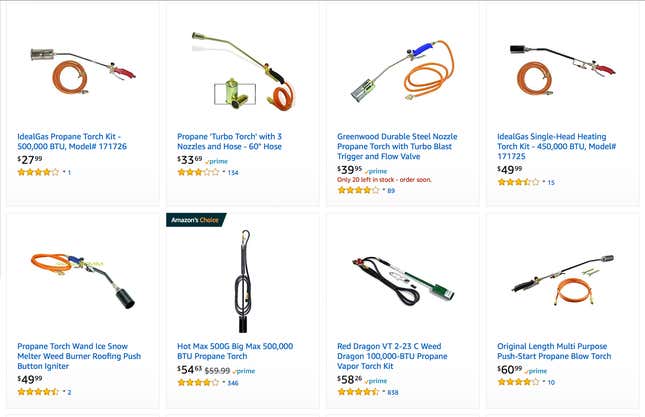 You'll not only be able to show your inventiveness, you'll be able to take a side-hustle as a roofer. Be careful, though, it's one of the more hazardous occupations.
In his Twitter announcement, Musk tried to assuage any safety concerns. "The ATF [US Bureau of Alcohol, Tobacco, Firearms and Explosives] says any flamethrower with a flame shorter than 10 ft is A-ok," he wrote. "Our design is max fun for least danger. I'd be way more scared of a steak knife."