Business-to-business sales reps and marketers beware. Two companies—G2 Crowd and TrustRadius—want to change your job forever.
While consumers can use sites like Amazon.com, Yelp or TripAdvisor to compare products and see what other people have to say about them, that's traditionally been hard for business purchasers. A company like Sage can say on its website that its Saleslogix software is "CRM [customer-relationship management] without compromise" and will help "accelerate your strategic advantage." It can cite a chief information officer who says Saleslogix gave his company's "sales associates a tool they cannot get at any other retailer" and clients "a high-touch experience they return for time and again." Naturally, the less complimentary reviews won't appear there.
There is also the equivalent of the US's Consumer Reports: analysts like Gartner Research, which publish comparisons of business products. But their reports are infrequent and expensive.
G2 Crowd wants to disrupt such analysts and trigger a "consumerization" of business purchasing, says Matt Gormiak, its co-founder. Quite a few of the company's users—who log into the site using their LinkedIn profiles—think differently about Saleslogix. Some have posted pithy distillations: "An old system with outdated thinking." On G2 Crowd, its satisfaction rating is just 8 out of 100, the lowest of the 21 CRM solutions listed.
G2 Crowd isn't the only site trying to capture buyers' attention. TrustRadius runs a near identical service, though it appears to have rather fewer reviews.
Why has it taken so long for business purchasing to catch up to where consumer shopping has been for years? Gorniak has some theories. Unlike consumer reviews, he argues, business review sites can't exist without users who are both willing to share their thoughts and have verifiable and trusted online identities. "Anonymous reviews won't really work in the business world," he says. It wasn't until LinkedIn became widely adopted and accepted in C-suites that this problem was solved.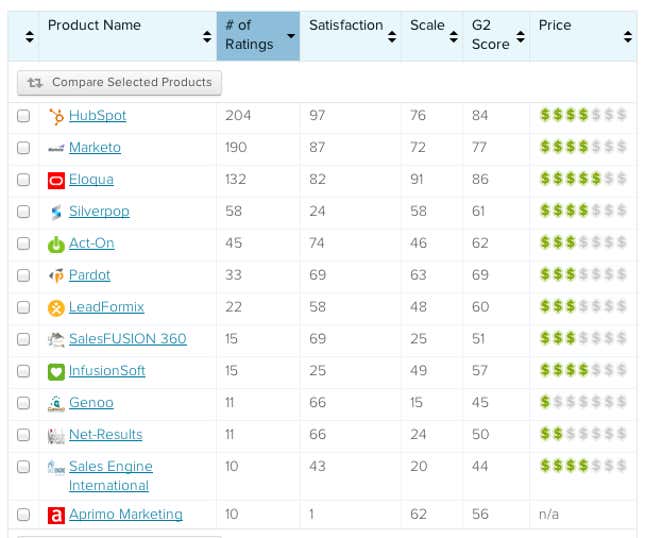 Not surprisingly, companies whose products get high ratings on G2 Crowd like the service. For HubSpot, which has one of the top scores on the site for marketing automation software (above), the uncontrolled customer feedback is alluring. HubSpot's chief marketing officer, Mike Volpe, says he "can send people case studies all day long," but his customers are much more interested in the reviews on sites like G2 Crowd. HubSpot's internal data show that few customers sign up for its service after visiting G2 Crowd, but, says Volpe, its sales reps often hear from prospective clients that they've come across and read the ratings.
Gorniak says his site also shows buyers options they might not find otherwise. "There are more disruptors out there than meets the eye," he says. The site lists 13 marketing automation systems, ranging from Eloqua, made by industry giant Oracle, to Silverpop, a startup with $50 million in venture funding. All have more than 12 reviews, and most have more than 20.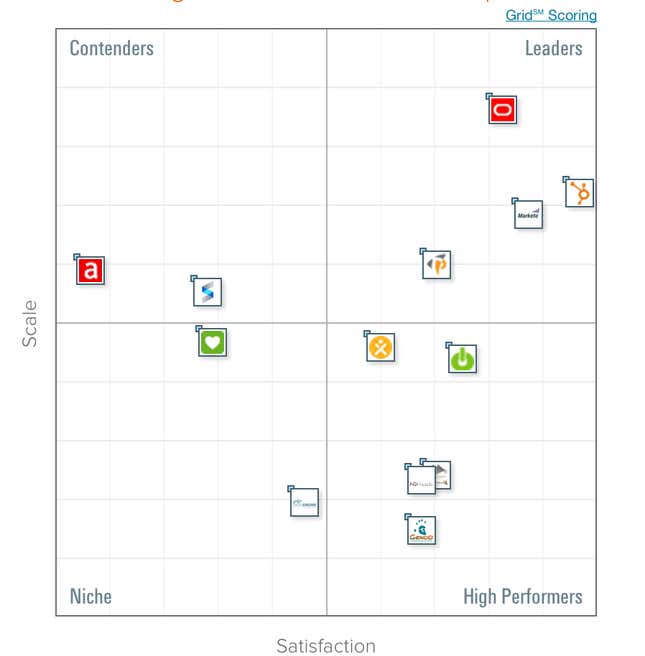 Gorniak says G2 Crowd's users tell him the site has saved them time and simplified their purchasing. Volpe, for his part, sees no point in resisting the trend, even though it opens Hubspot up to the risk of bad reviews. "What our customers want is exactly the information that is there."