Japan has been struggling to wrest itself free of its deflationary spiral since the 1990s.
It looks like may finally be doing that. Prices for consumers grew 0.7% in July—the most they've grown in nearly five years. Here's a look: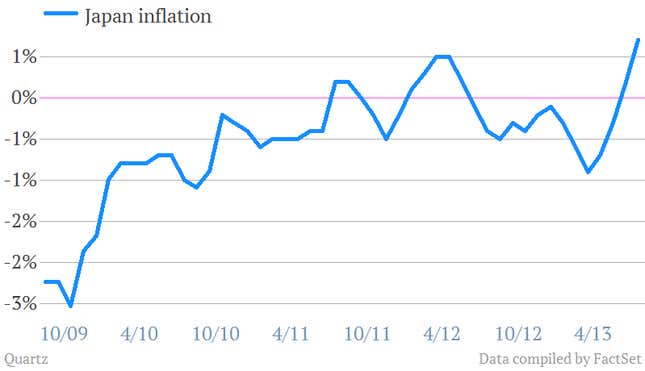 If this continues, it'll be a big coup for Shinzo Abe, whose aggressive economic policies popularly known as "Abenomics" focused largely on escaping deflation's vicious cycle. The Japanese government has been quick to take credit. Economics minister Akira Amari has told reporters that "Japan is escaping from deflation."
But it's worth keeping in mind that good chunk of the price rise came from the rising costs of energy, which isn't the good kind of inflation, since it cuts into consumer spending power. Rising energy costs are the result of one of the "three arrows of Abenomics": the weakening of the yen against other major currencies. (Abe's government may consider this a good thing, since rising energy prices push up other prices too, helping boost the psychological effects of Abenomics.)
Another less-than-optimistic sign is that retail sales fell 0.3% in July, after rising 1.6% in June. That came on the heels of last week's announcement of lower-than-expected department store sales. Though it's too early to read much into that, it hints that consumers aren't as confident as Japan needs them to be: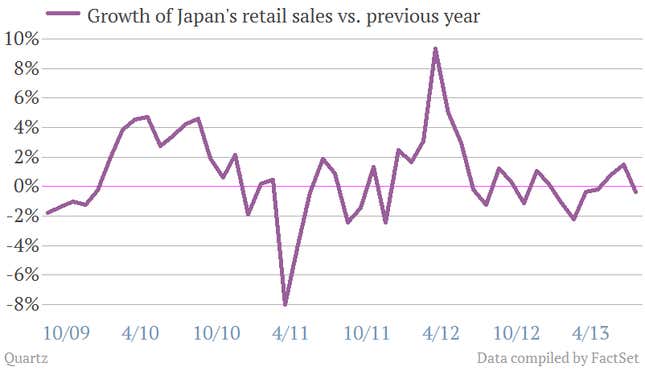 Still, that doesn't mean Abenomics isn't "working." Société Générale's Takuji Aida told the Financial Times that the "pass-through momentum" of rising input prices is "getting stronger" (paywall). Inflation in Tokyo, the trends of which are often seen as a step ahead of the rest of Japan, continued to grow, hitting 0.5% in July, from 0.4% in June: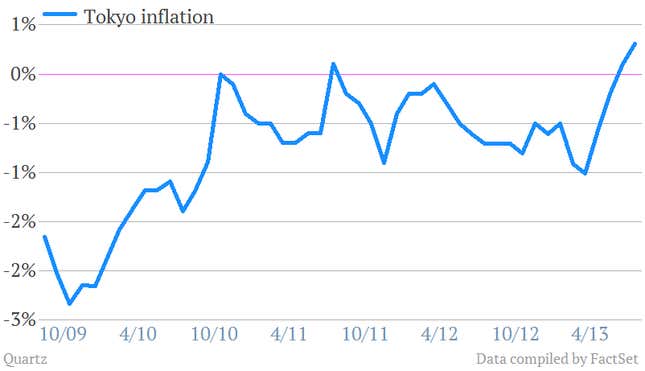 Most importantly, though, wages are beginning to rise, says SocGen's Aida, citing a 1% uptick in salaries in the second quarter. And as we've explained in the past, rising wages are key to growing again.