The latest industry to be upturned by the #MeToo storm? Advertising, a field that has also successfully capitalized on that very movement on behalf of clients.
In the past two months, a string of high-level executives at important global advertising agencies have stepped down, including the creative behind a now-iconic New York Times ad about sexual harassment.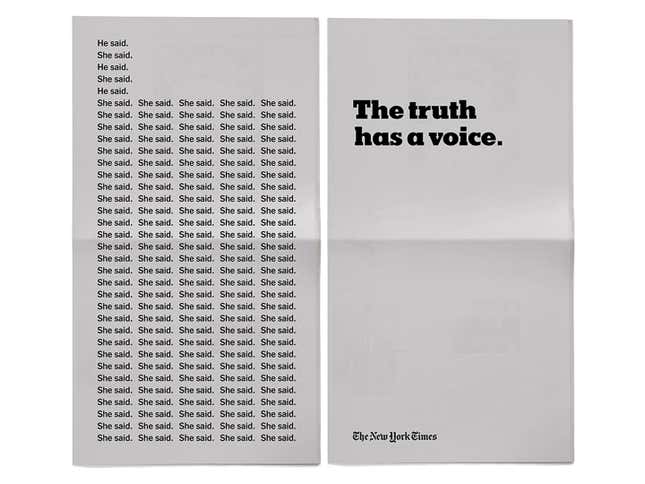 The agencies—Publicis, Wieden + Kennedy, Martin Agency, and Droga5—handle million-dollars advertising accounts for the world's biggest companies. The men fired were instrumental in the promotion of global brands like T-Mobile, American Girl, Nike, TJ Maxx, Warner Bros, Oreo, and others.
Three of the executives fired had previously faced sexual harassment allegations at some point in their careers (some recent, others not), although none of their former employers confirmed that those allegations were the basis for their termination.
Virginia-based Martin Agency ended its relationship with lead creative Joe Alexander on Dec. 7, 2017. According to a lengthy report published by Adweek in December, Alexander was the subject of several harassment complaints about repeated incidents through his career, dating as early as the 1990s. He has denied them, saying that he left the agency to avoid an investigation and "protect my family." Martin Agency responded to requests for comment by pointing attention toward the recent appointment of two women as chief creative and CEO.
Publicis refutes the idea that sexual harassment played a role in its decision to fire its Seattle branch's chief creative officer Andrew Christou in January. A representative told Quartz that "Christou's termination was prompted by business evolution and not related to any prior personnel issue. In 2015, we handled a personnel dispute quickly and effectively." That year, the agency and a former employee reached a settlement over a sexual harassment accusation against Christou.
That month, Wieden+Kennedy's London branch also parted ways with strategy chief and partner Paul Colman, after a 10-year relationship. The agency issued the statement that "W+K does not tolerate harassment of any kind. If harassment or inappropriate conduct is reported, a timely investigation is conducted, and if a violation is found to have occurred, appropriate corrective action is taken." Industry news source AdAge reports that at least one female coworker (paywall) had filed a complaint against him.
Most recently, chief creative officer Ted Royer was fired by New York-based Droga5 on Jan. 30. No misconduct allegations have been publicly made against him, and Droga5 did not provide detail about an investigation it initiated into Royer prior to his termination. The agency has commented only that it is "committed to maintaining a safe and inclusive environment for all our employees." Royer was the creative behind the New York Times' "He said, she said" ad campaign, and promoted Under Armour with the collaboration of the US female gymnasts.
None of the men responded to requests from comment from Quartz.
As in other industries, advertising's upper management has faced both internal complaints and external pressure catalyzed by the #MeToo zeitgeist. The well-known anonymous Instagram profile, Diet Madison Avenue, connects industry firings with past allegations of harassment, and has become an insider's source of #MeToo news in the US advertising world.
The account, which currently counts over 14,000 followers, tracks alleged harassment-linked departures, warns of firings to come, and threatens to expose others. It says it is managed by 17 men and women, and is aimed at "exposing sexual harassment & discrimination in ad agencies since Oct 2017, cuz HR won't." Diet Madison Avenue didn't provide details about their due diligence upon Quartz's request.
Cindy Gallop, former advertising founder and executive, says that Diet Madison Avenue's popularity suggests "that there is tremendous frustration within the industry," and a lack of trust that the industry itself may be able to solve it. "I really wish agencies went public with the reasons why they have fired people, it's massively important and better for morale than letting people speculate," she says.
Others see the account's anonymity as a danger, and fear Diet Madison Avenue could damage the reputations of innocent people (although it has so far only named individuals who have been publicly accused of harassment in the past). Acknowledging the wider debate over anonymous "whisper networks," Diet Madison Avenue regularly polls its followers on whether it should shut down or not.
One CEO told Ad Age:
The "mere existence of Diet Madison Avenue speaks to the very real issue of sexual harassment. But anonymous attacks with unknown evidence can yield stray bullets that hit innocent people. And once an accusation is launched, no matter what a court may or may not find, it's game over for that person's reputation."
Megan Colleen McGlynn, copywriter and the founder of Girlsday, a group of women in advertising, echoes that concern, but says she was reassured by the account's methodology. "I was concerned and curious about [Diet Madison Avenue's] process too, so sent them a message and asked about their methods, and was convinced they do their due diligence when vetting and corroborating stories," McGlynn says.
"I don't think outing these people on social media is ideal," she tells Quartz. "But where do you turn if you don't feel safe at work and after following the proper channels in your agency nothing happens—and you see the person who mistreated you being celebrated and rewarded?"
McGlynn links harassment allegations in the industry to a broader agency culture that she describes as dismissive of women. "I've heard women tell about getting derogatory comments about their appearance, criticisms about their voice, whether they're smiling or not, calling them "Mommy" in a meeting," she says. "A woman risks get labelled angry, difficult or aggressive depending on how they respond [to such comments]."
Strategist Megan Averell has also written of observing a "'bro culture' feeling, or collective behavioral zeitgeist of ad agencies, is a behavioral direction set by the cultural arbiters of advertising agencies—the Executive Creative Directors, Creative Directors, (ECDs and CDs), and the CEOs (who are almost always all men)." According to the 3% Movement, an organization created to promote women in advertising, 11% of the industry's creative directors are women.
Gallop herself has long been outspoken about the obstacles women face in rising within the industry. She claims to have received "hundreds" of stories of misconduct in the wake of the Weinstein scandal, and says the Diet Madison Avenue account is doing something new in advertising—naming names. "Our industry has been running anonymous stories about sexual harassment for years," Gallop said at this year's 3% conference in November.
"All of this is not about sex," says Gallop. "It's about power."
Full disclosure: This reporter worked at Wieden+Kennedy in Delhi, India, between 2008 and 2012.