Google is following Facebook, following Instagram, following Snapchat.
The search giant is the latest tech company to take a page from the millennial-messaging app's storybook. It's rolling out tappable, visual stories that incorporate text, images, and videos in the style made popular by Snapchat. It started widely testing the multimedia format, called AMP stories, today (Feb. 13) in an effort to help publishers engage more with readers on mobile, Google announced in a developer blog post .
Users can now find Google stories in search results—in a box called "visual stories"—when they search on mobile at g.co/ampstories for the names of publishers that have begun using the format, such as CNN, Conde Nast, Hearst, Mashable, Meredith, Mic, Vox Media, and the Washington Post brands. (Note: Stories were not included in the search results on this reporter's device, but did work for others at Quartz.) Google worked with those publishers to develop the format. Desktop users can also get a taste of stories through Google's Accelerate Mobile Pages site.
When a user selects a story, like Cosmopolitan magazine's piece on apple cider vinegar, it displays in a full-screen, slideshow format, similar to those on Snapchat and Instagram.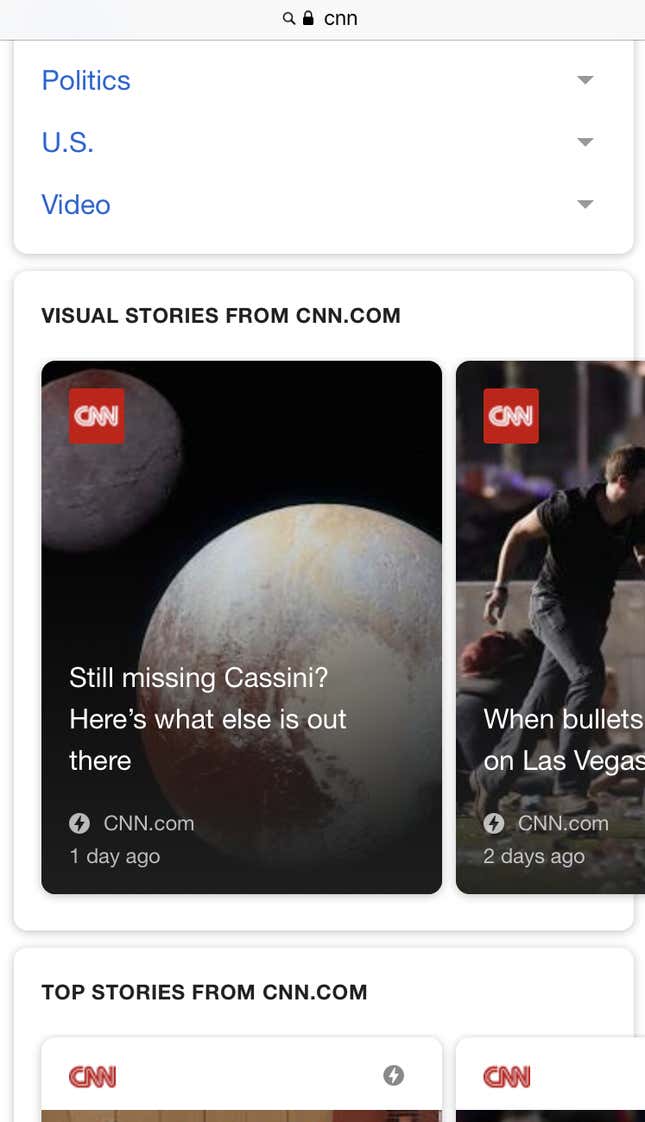 The multimedia format is part of Google's Accelerated Mobile Pages (AMP) project, a competitor to Facebook's Instant Articles that helps load pages faster on mobile devices. Like AMP, the AMP story format is open-sourced, so anyone can use it. However, Google is reportedly only displaying stories from a select group of publishers, including those it partnered with on the development, on its own site at the moment.
The company said it plans to bring AMP stories to more Google products in the future, and expand the ways they appear in Google search.