Passengers looking for a domestic flight with extra legroom in coach at no extra charge should probably consider flying Southwest Airlines, Alaska Airlines, or JetBlue when practical because these carriers have the most daily flights with seats that have seat pitch of 32 inches or greater.
Overall, although it is little-known, 13% of US domestic flights have such roomier than normal seats for free in regular economy with 32 inches from a point on one seat to the seat in front of it.
And, that's enough space to break out a 13-inch laptop and get some work done, or play, even if the passenger in the seat in front decides to put that seat in a reclining position.
These tallies and perspectives come in a new report, "Size Matters: Finding the Best Seats in the Sky," from Routehappy, a flight-search startup that features passengers rating aircraft, seats, and amenities, from in-flight enterainment and Wi-Fi to meals and service.
The following table details Routehappy's findings that Southwest has the most daily flights (996) with roomy seats for free, followed by Alaska (752), and JetBlue (582). Routehappy defines roomy seats as those having a pitch of 32 inches or greater, while standard pitch is a relatively cramped 31 inches.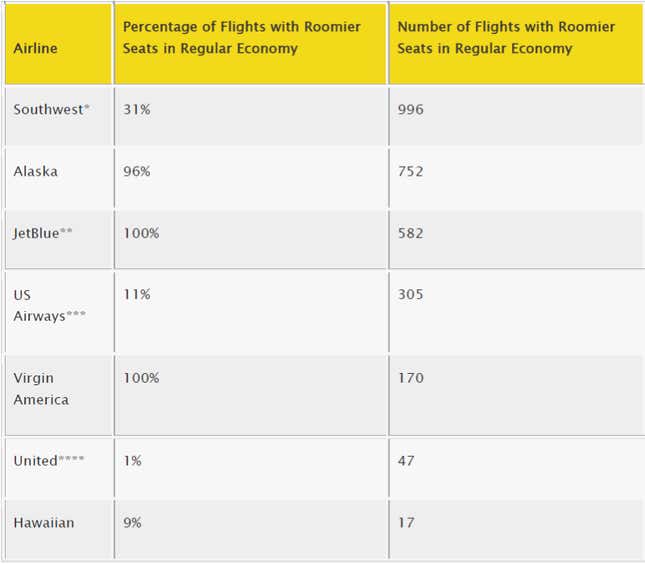 Note: Seats have 32″ of pitch unless specified otherwise. Seats indicating +w are have extra elbow room, up to an inch wider than average. * Southwest roomier seats on some 737s ** Jetblue roomier seats of 34″+w on 329 flights on a320s; 32″+w on 253 flights on e190s *** US airways roomier seats of 32″ +w on 278 flights on a321s; 32″ on 27 flights on some 757s **** United roomier seats on 757-300s and 787s ***** Hawaiian seats 32″ +w
You can see from the above table that although Southwest has the most US domestic flights per day with roomy seats on some 737s, only 31% of Southwest's flights feature roomy seats.
At the same time, though, Southwest is busy reducing seat pitch to 31 inches, from 32 inches, and is cramming in more seats, on its Boeing 737-700s. So Southwest's lead in roomier seats without fees may be a very temporary phenomenon.
On the other hand, 100% of JetBlue's and Virgin America's flights have some seats with a pitch of 32 inches of pitch or greater. As a bonus, some JetBlue, US Airways and Hawaiian flights come with extra elbow room in addition to greater-than standard legroom.
What about seats for an extra fee?
OK, so far the discussion has been about roomier seats in coach that you don't have to pay extra for. What about the seats in coach with extra legroom for a fee?
The Routehappy study found that 40% of US domestic flights now include seats in coach that you have to pay for, or need to buy with miles, and that's more "than ever before."
So when flyers look for available aisle, window or exit row seats when they check in online before their flights, on 40% of US domestic flights some of these seats are taken out of the mix of free seat assignments because they are being sold as Delta Economy Comfort, American Main Cabin Extra, United Economy Plus, JetBlue Even More Space or Virgin America Main Cabin Select, for example.
The airlines with the most US domestic flights where extra legroom is available for a fee in coach include Delta (3397), United (2945) and American (1474). See the rankings in the following table: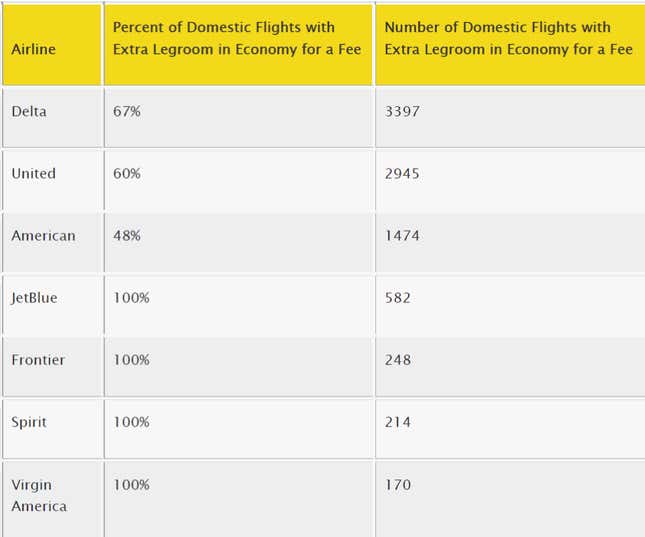 As is apparent in the above table, 100% of US domestic flights on JetBlue, Frontier, Spirit and Virgin America offers such premium seats for a fee—but their respective numbers of flights are small compared with those of Delta, United and American.
On the other hand, Southwest, US Airways, Alaska, AirTran and Hawaiian have yet to introduce any assigned seats with extra legroom for a fee on US domestic flights, Routehappy points out, although Southwest, for example, offers other perks such as early boarding.
Don't expect this airline quintet to be sitting on the sidelines forever, though, because there is too much money in selling extra legroom. IdeaWorks Co. estimated that global airlines generated $2.7 billion in ancillary fees—including bag fees, premium seats, meals and Wi-Fi etc.—in 2012, and that was a 19.6% increase compared with 2011.
Among other findings from the Routehappy study:
47% of international flights originating from the US sell extra legroom in coach or premium economy seating;
More than 100 flights within the US have international-style flat seats of various types in business class or first class, and nearly 20% of these are from JFK to LAX or SFO;
More than 50% of international flights from the US now offer flat seats;
More than half of the flights of more than five hours now offer full-flat beds or full flat pods with direct aisle access, each with 180 degrees recline; and
Virgin America is the only US domestic airline that offers seats with 32 inches of pitch, Wi-Fi and in-seat power outlets in coach without extra fees.
It's clear that an airline seat is no longer just an airline seat. On that issue Routehappy, of course, has a pitch of its own.
"For day flights or shorter trips, says John Walton, Routehappy's director of data, "flyers who want to fly in comfort can use services like Routehappy to decide whether to buy up to a flat bed or conversely whether an older angle-flat seat, cradle sleeper or recliner is worth it."
There's a lot of choice out there now, and lots of decisions on seats to make.
Dennis Schaal is a news editor at SKIFT.
This originally appeared at SKIFT. More from our partner site:
Top 25 most popular destinations for Chinese tourists
In-flight pilot naps are now allowed in India