Australia's September 7 elections could prove seminal for local car manufacturers. If the ruling Labor party wins, the industry will get an additional 700 million Australian dollars (US$632 million) in subsidies on top of the existing A$5.4 billion support promised for the decade ending 2020. But if the Liberal-National opposition coalition wins, as opinion polls suggest, existing subsidies could be cut by A$500 million by 2015.
Australia's domestic car industry, dominated by local units of Ford, General Motors (through its subsidiary Holden), and Toyota, has survived for years on generous government assistance. Carmakers have received around A$19 billion in aid during the last decade. They also enjoy large government contracts and restrictions on importing second-hand cars. Yet, the industry has struggled; local vehicle manufacturers have posted annual losses ever since 2004, and account for just 13% of domestic car sales in 2012.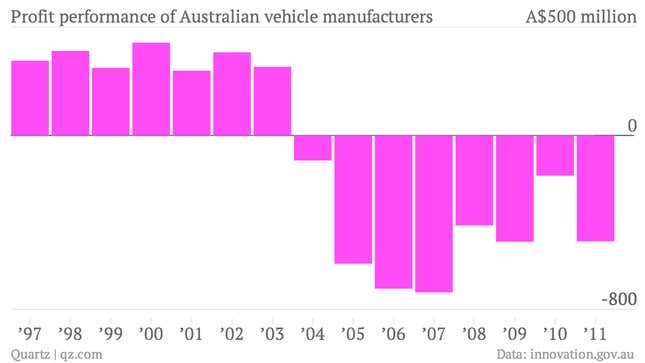 The biggest drag is is a strong Australian dollar, which is making local manufacturing uncompetitive compared to imports. Over the past 12 months the currency has traded about 30% above its three-decade average. Its strength has pushed up manufacturing costs, making Australia the third most expensive country to do business in, according to the IMF.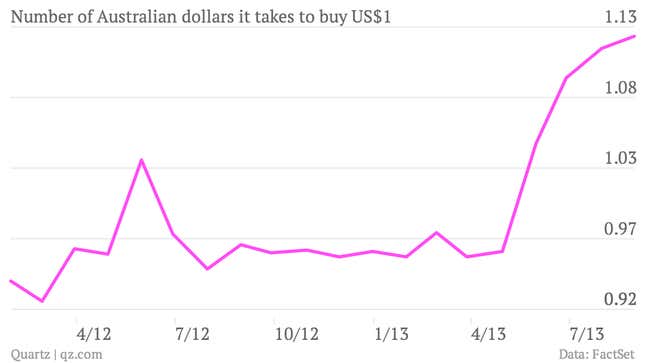 In May, Ford announced that it would shut production in Australia by 2016, blaming operating costs that were "double that of Europe, and nearly four times Ford in Asia."
Now it looks like GM too is weighing its options. The company that laid off 12% of its local workforce in April told Bloomberg that it would consider future investments in the country only after "detailed discussions with the next government." The Australian unit's operating costs are up 60% in the last ten years, making it one of GM's most expensive divisions.
If GM follows its Detroit peer and pulls out of Australia, Toyota will have to follow suit, as the local car industry will become too small to support an efficient manufacturing base for components.  Also, the Japanese carmaker exports 70% of its output from Australia to markets in the Middle East, and the Aussie dollar's strength has made that strategy has much less attractive.