You might assume that little has changed in the world of curling, a winter sport tracing back to medieval Scotland. That would be wrong. As in other sports, mounting competitive pressure and new technology are taking their toll on the game.
Consider the nerve-racking broom controversy of 2015. Purists railed against the introduction of high-tech brooms—with their special fabric and carbon-fiber shafts—which they argued made it too easy to influence the stone as it headed toward the target.
Yes, curling involves brooms, which you'd know if you'd seen Men with Brooms, a 2002 Canadian film that didn't do well. Squeegee-like brooms, to be precise. Players referred to as sweepers frantically sweep the ice in front of the slowly gliding stone. They do not look silly at all. Unfortunately the new brooms made their efforts a little too effective, so the World Curling Federation stepped in with new rules restricting the types of brooms allowed (paywall). Now, fans can rest assured that sweeping has just the right mix of futility and industriousness.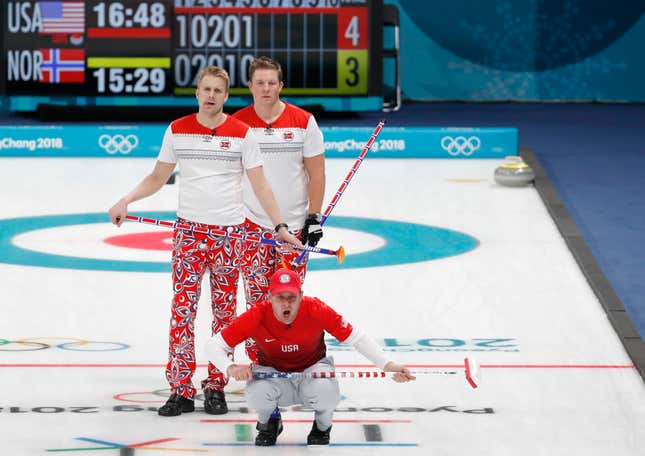 Though it survived that scandal, the sport—nicknamed "chess on ice"—has faced other threats, including this week at the Winter Olympics in South Korea. Alexander Krushelnitsky, a curling athlete from Russia who had won a bronze medal with his wife in mixed doubles at Pyeongchang, left the games after suspicions arose he used the banned substance meldonium to gain an advantage. That's right: These days curling has its very own doping allegations, including in past competitions at the Paralympics.
The use of banned substances is egregious to the many fans for whom curling and beer-drinking go together. Chugging brews does the opposite of enhancing one's performance, so ingesting something to boost it seems perverse. Olympic athletes can be forgiven for not drinking beer while competing for medals, of course, but surely it's wrong to go to the other end of the spectrum.
Elite curlers, of course, want their sport to be taken seriously. "It's not just out-of-shape people eating pizza and drinking beer to pass the winter," Craig Brown, an alternate on the 2014 US Olympic men's curling team, told NBC in December. As if to prove his point, there's now the 2018 Men of Curling Calendar, featuring buff players with ripped abs (paywall).