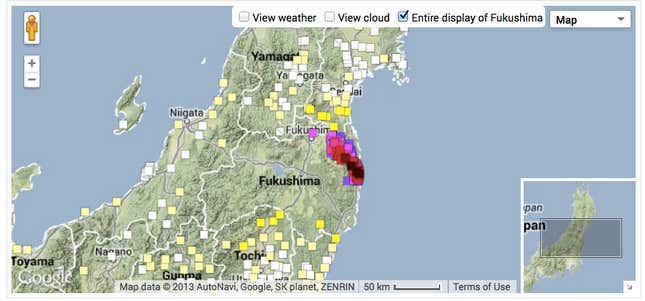 As the operators of the Fukushima nuclear power plant embrace the crazy-sounding (but not) plan to build an ice wall to contain radioactive water after a series of leaks and mishaps, concern is growing about the levels of radiation spreading to the surrounding area.
ATMC.JP has created a searchable radiation map for the country, which it says is updated every ten minutes with data from the Nuclear Regulatory Authority. As of Thursday evening in Asia, it shows somewhat higher levels of radiation, above 3.8 microsieverts per hour, more than 20 kilometers away from the coastal plant. These figures are still low—as a comparison, a flight between Tokyo and New York could expose passengers to 7 microsieverts per hour.
Japanese citizens and expats have been picking up their own, sometimes hand-soldered, Geiger counters and collecting radiation data since the Fukushima nuclear accident happened more than two years ago. Much of that data has been gathered and collated by SafeCast, a radiation-tracking project funded by donation, but it can only be updated as often as people physically go to areas and collect new readings.
What isn't available right now is real-time data about the spread of radiation in the sea water at the Fukushima site and beyond. Tepco, the much-maligned "whack-a-mole" plant operator, publishes data about the water regularly but it is seriously delayed—the most recent is from the end of July.
Scientists in Hawaii and Alaska have been keeping a close eye on the radiation levels in the Pacific, but don't expect a "plume" of high-radiation-concentrate ocean water to arrive until 2014. "Station Aloha," 100 miles north of the Hawaiian island of Oahu, has already detected some radiation from Fukushimi, although was very heavily diluted. There is some evidence that the ocean is the best place to dispose of Fukushima's radioactive leakage, but it would still be nice to know where it's spreading.