In a heartbreaking scene from the 2015 Chinese documentary Under the Dome, Chinese journalist and documentary producer Chai Jing asked her six-year-old daughter about the sky.
"Have you ever seen a real star?" Chai asked. "No," her daughter replied. "What about blue sky?" Chai asked. "I've seen one that's a little blue," the child said. "What about white clouds?" Chai tried. Again, a resounding no.
The 143-minute long documentary, which illustrated China's suffocating levels of pollution, was censored by the Chinese government within weeks.
In recent years, China has worked to cut pollution by reducing congestion on its city roads, measured by the number of hours drivers spend in rush hour traffic (the hours between 7am-9am and 5pm-7pm). In spite of rising populations, its efforts appear to be working.
Quartz analyzed the change in congestion levels of China's largest cities from 2016 to 2017 using data from Alibaba-owned software company AutoNavi's annual traffic report. More than half of the top 30 most-congested cities in 2016 saw a decline in the time drivers spent in rush hour traffic one year later. The cities with the worst congestion problems saw the greatest declines. In Hangzhou and Shenzhen, traffic declined 12.5% and 9%, respectively, even when population grew by 3% and 5%, respectively.
In US cities, using data from traffic analytics company INRIX, the number of hours drivers spent in rush hour traffic (7am-9am and 3pm-6pm) fell in 14 of the 30 most congested cities, but the magnitudes were lower. They also were not concentrated among the cities with the worst congestion, indicating a lack of national coordination.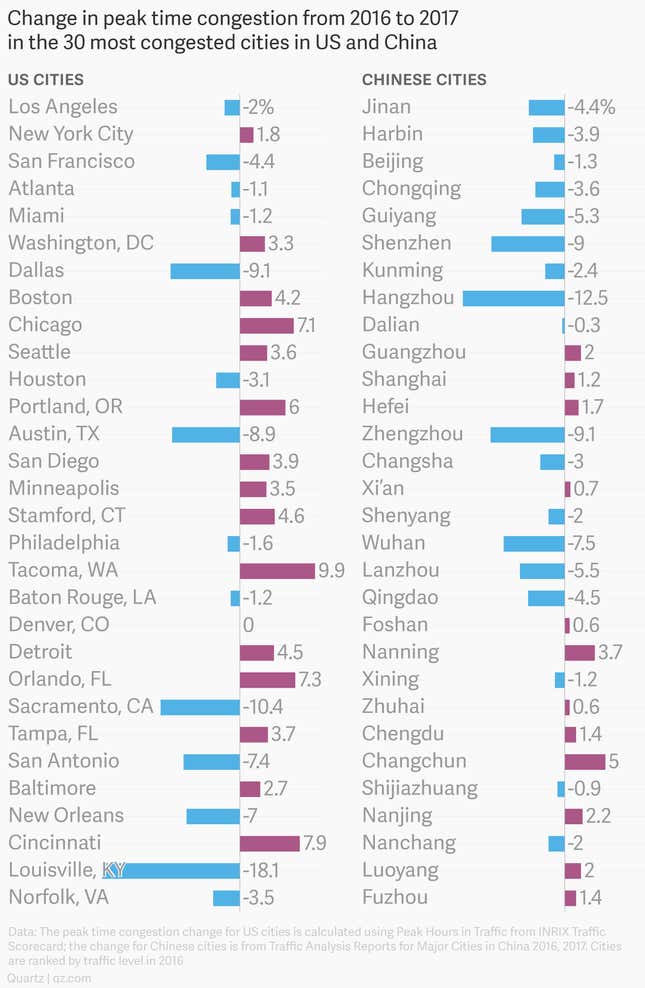 China's success in fighting urban traffic is due to several factors. According to AutoNavi's report, license plate restrictions, the rapid growth of bike sharing, and the use of data in city planning have all helped alleviate traffic. Strategies to restrict population growth could also have played a role in lowering the number of cars on roads.
China also has advantages to stemming congestion over the US, Graham Cookson, chief economist and head of research at INRIX, told Quartz. Two common ways for cities to tackle congestion are to build more public transport or build more roads. "In highly developed countries and cities, [both strategies are] very expensive and very difficult to do because you've built everything already," Cookson said. "In new cities in China, it's a lot easier." In just a decade, China built city metro networks six times the length of New York City's subway system.