New Zealand prime minister Jacinda Ardern will lead a delegation to South Pacific islands on March 4-9, taking in Tonga, Samoa, Niue, and the Cook Islands. The main goal is to see how Tonga and others are recovering from last month's Cyclone Gita, but Ardern and her ministers are also worried about another force that's hit the region: China.
As elsewhere, Beijing has been increasing its influence with Pacific island nations by providing aid and low-interest loans, often for infrastructure projects of questionable use. Meanwhile, concerns mount that the recipients are taking on debt they can't afford to repay—potentially giving future leverage to China.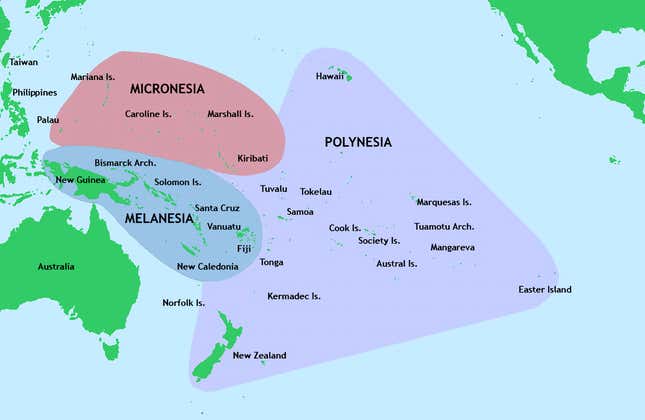 Remote Pacific islands are more important than they might seem. There's speculation China might use its growing clout to establish a naval base in Micronesia, for instance. That would weaken the strategic advantage that the US derives from its military presence on Guam, also in Micronesia.
"Whilst these countries might be small, and disparate and isolated, in reality they occupy a serious part of the world's space which is becoming more important every day," said New Zealand's foreign minister, Winston Peters, while speaking at the Lowy Institute in Sydney on March 1.
New Zealand must boost its aid to Pacific island nations, he said, to "improve their resilience, and through that their autonomy." But nations like New Zealand and Australia should "pool our energies and resources to maintain our relative influence," he maintained, as "we know we cannot help the Pacific solve its problems on our own, as there will always be someone with deeper pockets than ours, and some Pacific leaders are attracted to easy sources of funding."
However, the strategic effectiveness  of the free-trade agreement New Zealand and Australia have in place with Pacific island nations, called PACER Plus, came under criticism this week ahead of Ardern's trip. The agreement as structured amounts to "bullying" and can make the island nations poorer and less resilient, making it more likely they'll accept soft loans from China, argued Cleo Paskal, an associate fellow with the Chatham House think tank, at a New Zealand Institute of International Affairs conference. Nations like Fiji and Papua New Guinea declined to join the deal, Paskal noted, over concerns it would harm their economy. She warned that New Zealand risks being a "strategic nincompoop," accidentally acting to shore up China's influence in the region, rather than its own.
"Times are too tense at the moment for such an obvious and avoidable own goal," she said.
Evidence of the competition could be seen this week in Beijing, where Chinese president Xi Jinping hosted Tonga's King Tupou VI. The two sides agreed to further promote their strategic partnership, and China offered its economic and technological assistance, with, as usual, no political conditions attached.
Ardern will be visiting an area that's been changed in more ways than one.