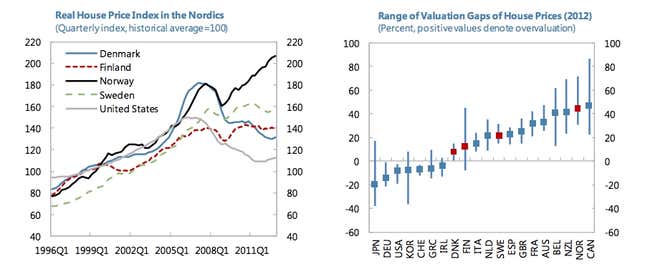 In its latest assessment of the Nordic economies, the IMF singled out Norway's housing market as especially worrying. Prices for residential real estate in the oil-rich country paused only briefly during the world financial crisis, before soaring higher. The average Norwegian hjem has doubled in price over the past decade, leaving its Nordic neighbors—and most of the developed world—in the shade.
By the IMF's reckoning, only Canadian houses are more overvalued. (Must be something in that brisk arctic air.) An analysis by the OECD in May also ranked Norway second only to Belgium in terms of frothy property markets. By the OECD's and the IMF's reckoning, Norwegian real estate is overvalued by around 40%.
Other "safe haven" countries in Europe, like Sweden and Switzerland, have imposed restrictions on mortgage lending when their property markets overheated. Norwegian economic officials planned similar moves, but may not get around to putting them in place. Ahead of September 9th parliamentary elections, the leading parties have rejected the bubble talk. In fact, they claim that banks ought to be lending more to home-buyers, particularly first-time ones, and are proposing looser standards so they can do so.
How to explain this apparent denialism? Erna Solberg, the leader of the opposition Conservative Party and likely next prime minister, told Bloomberg in August:
We're not the US; in Norway, people don't get away from paying their loans—we don't have that type of dysfunctional system.
Of course not. The Danes may also have thought something similar, but their banking system is still trying to recover from the collapse of a housing bubble that, until 2008, followed a remarkably similar path to Norway's. Even now that it's 30% below the peak, Danish property is still slightly overvalued, according to the IMF. Norway's average home price has risen 10% further since Denmark's cratered. Here's the last few years of Danish housing prices, in percentage-change terms: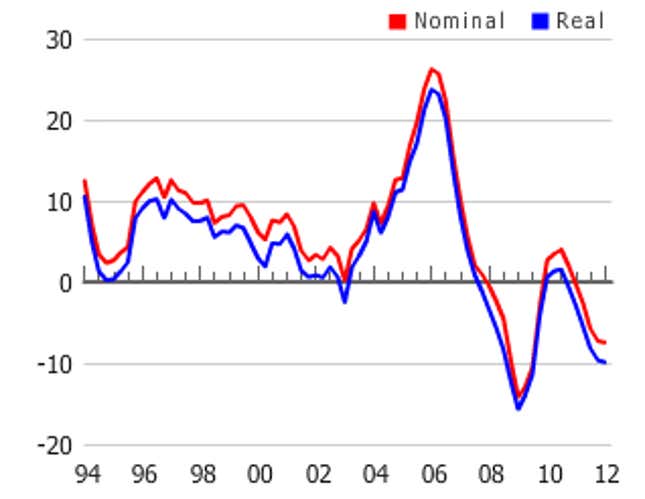 If Solberg's coalition gets its way, Norway may soon top the property bubble rankings. That's a dubious honor. We tried to contact Solberg for her thoughts on the IMF's assessment of Norway's housing market, but she was unavailable for comment.