Austin, Texas
Much of the South by Southwest Interactive festival is bluster: startups launching buzzy apps that will be big for a week and then never heard from again, or panels that inflate the egos of those speaking. But at a rather unassuming house near the bottom of the main exhibitor area at SXSW, Bose showed off one of the most interesting things Quartz has seen this week at the festival. Or heard, perhaps.
The audio company, once known for the ubiquitous Wave Radios seen on countless infomercials, and now for high-quality headphones, is moving into augmented reality. But its interpretation of the technology—which we've seen in rudimentary forms in things like Pokémon Go and Apple's ARKit—is wildly different. Instead of using mobile devices to overlay visual information in front of our eyes, Bose is exploring how sound can be used to augment our lives.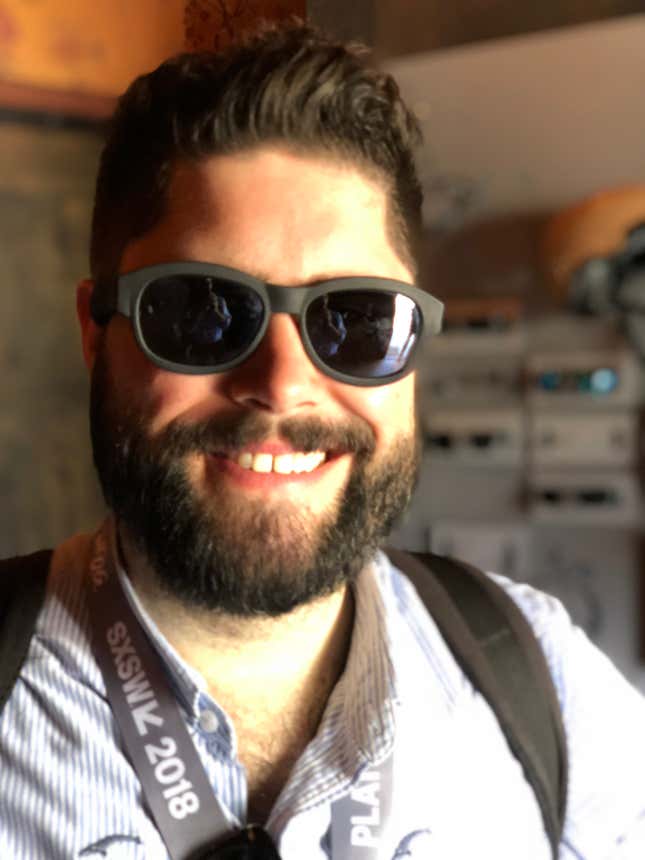 Bose demonstrated a new technology it's calling Bose AR at SXSW, with a fully functional 3D-printed prototype of the sunglasses that it plans to develop into a product over this year.
I slipped them on and was surprised they weren't really any heavier than the (admittedly large) glasses I wear every day. I was also expecting to have to put headphones in my ears to be able to hear whatever sounds came from the glasses, but I didn't. On both arms are a proprietary type of speaker that emits surprisingly loud and clear sound to the wearer's ears, but not to the world around. I could hold a conversation with someone while music played from the glasses, and hear both easily.
Bose took me on a short trip down Austin's Rainey St. to show me how it sees this technology being used in the future. As I walked, I turned my head to look at a restaurant or building, tapped on the arm of the glasses, and was given restaurant hours and menu information. The glasses have accelerometers and other sensors to figure out which way your head is pointed, and when that's paired up with the GPS in a smartphone, the device can guess pretty accurately what's in front of you.
There are no distracting and awkwardly opaque visuals floating above your eyes as there are in other augmented-reality concepts that have generally underwhelmed (think Google Glass). With Bose's glasses, there's just a small voice, almost like a personal assistant, in your ear. It's easy see how this technology would be extremely useful in museums, on walking tours, for the visually impaired, or in any situation where you want to know more about the world around you as you move through it.
The glasses can also provide directions to the wearer, using stereo sound: If you're turning left, the voice chimes in on the left ear, and on the right if you're turning that way. Bose said it's looking at using this technology in other form factors, like embedding it in a bike helmet to keep riders aware of the world around them as they bike, but provide them with useful information, like directions.
Bose is working with partners including Strava and TripAdvisor to develop a useful platform of services for its future glasses, as well as a $50 million venture fund to develop and promote uses for the technology. There's no timetable on when Bose plans to ship a final product. We can only hope it doesn't fizzle out—the fate of so many startups and technologies announced at SXSW before.