What games do women play?
In China, it really depends on who you ask. Some women are obsessed with dating four fake boyfriends, while others are busy feeding an adventurous frog. Some enjoy chopping off their enemies' heads in battle arenas, while others like shooting everyone else to death on an abandoned island.
Mobile games designed especially for women have proven to be huge hits in China in recent months, while violence-laden games also have record numbers of female players competing alongside men. Women now account for almost half of the players in China's mobile gaming industry, the world's largest and estimated to have raked in some $16.4 billion in revenue last year, according to Beijing-based research firm TalkingData. By comparison, women accounted for 41% (pdf) of all gamers in the US in 2017, according to the Entertainment Software Association. And while female gamers dominate in genres like casual puzzle and simulation games, worldwide they are still largely underrepresented in more "hardcore" games.
The success of recent hits highlights the way that women are becoming the new driving force in China's gaming market, thanks to a mix of good game design, social media, and a generation of young people addicted to their smartphones. With the doors of the gamer community in China now wide open to women, companies are eager to make sure women keep spending on games.
Feminine instincts
The two biggest mobile games for Chinese women these days involve being a good girlfriend, or being a good mother.
In Love and Producer, players star as a female TV producer who must save her late father's production company by reviving a hit show, while having romantic encounters with four heartthrobs with superpowers. By January, the dating-simulation game had attracted more than 2 million daily active users, with the overwhelming majority being women in their early 20s. Players are estimated (link in Chinese) to have spent at least about $32 million on the game in January.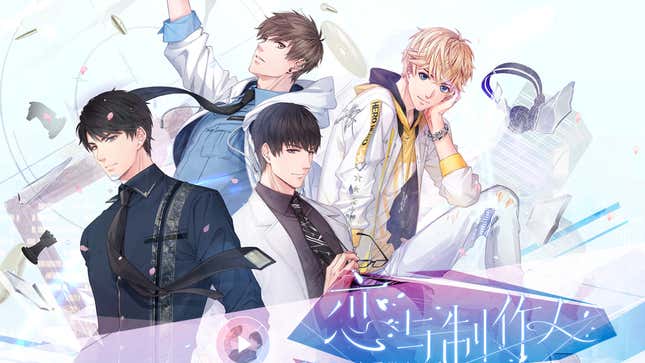 Soon after Love and Producer's release in December, Shen Tianyuan, 24, who works for a trading firm in Shanghai, picked up the game, in part because she thought it would help her get over a breakup. On the first day she downloaded the game, she played it for six hours nonstop, and completed almost a third of the storyline. "At the beginning I was playing on my bed, and I felt my arms going numb. Then I moved to the sofa, then a chair, and then my bed again," she says.
Shen's favorite character is Bai Qi, a special forces police officer who has the superpower to control the wind and fly in it. She says he is a "chivalrous" and "considerate" man who always makes her feel protected. Thirsting for more than just a virtual relationship with Bai, Shen went in search of fan-fiction and comics about him on social media.
Some other players take their imaginary boyfriends much more seriously. In January, fans of character Li Yanze, a young founder and CEO who's able to freeze time, bought a $39,000 ad on a Shenzhen skyscraper to celebrate his birthday.
Another recent hit among Chinese woman is Travel Frog, a pet-rearing game that has been compared to Pokemon Go and Tamagotchi, and created by the same people behind the wildly popular cat-rearing game Neko Atsume. In the game, players collect clovers in exchange for food for their frogs. The frogs then leave for journeys at any time that could last for hours or days. There's nothing much left to do after that, except wait for your pet frog to send holiday snaps back home. According to its Japanese developer Hit-Point, Travel Frog hit 10 million downloads in Apple's App Store by January, and Chinese users alone contributed 95% of the downloads.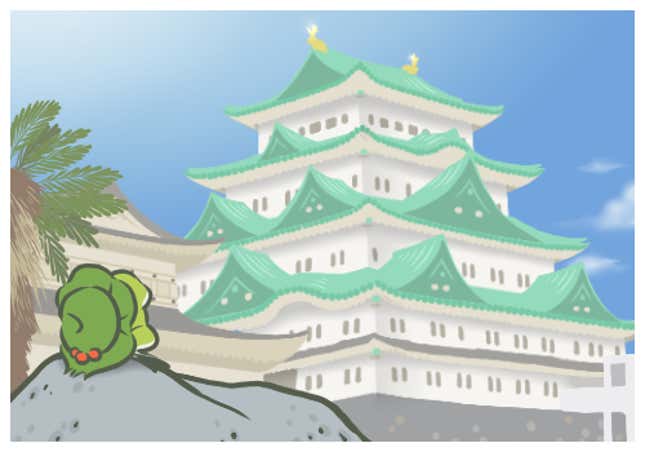 Many players say Travel Frog prompts them to think about parenting: Packing food for a little creature that travels afar and waiting for its return anxiously helps them relate to their own parents. Chinese players call themselves "old mothers" and the frogs their "frog sons." "My parents definitely love me more than I love my frog… nevertheless I'm emotionally devoted to it," says Shi Wenqi, 25, an assistant manager at a property firm in Shanghai, who checks on her frog about every other hour.
"Female players are especially active within mobile games which are easy to operate, relaxing to play, and have more feminine content," says Turian Tan, a gaming analyst with research firm IDC in Beijing, adding that simulation and collection are popular themes among women.
The previous hit from Pape Games, the developer behind Love and Producer, is a fashion game called Miracle Nikkie, where players collect fancy clothes, shoes, and hairstyles while traveling around a fantasy world. Onmyoji, which was released by tech giant Netease in 2016 and lets players collect adorable monsters inspired by Japanese mythology, is also extremely popular among Chinese women.
Hack, shoot, and hang out
Beyond pet-rearing and virtual dating, women are also getting into more violent games. In May, women overtook men as the top players of Tencent's Honor of Kings, the top-grossing mobile game in China with more than 200 million users, though the ratio of male and female players is now roughly equal, according to research firm Niko Partner. That stands in contrast to similar battle-arena titles like League of Legends on PC and Vainglory on mobile, where men still outnumber women.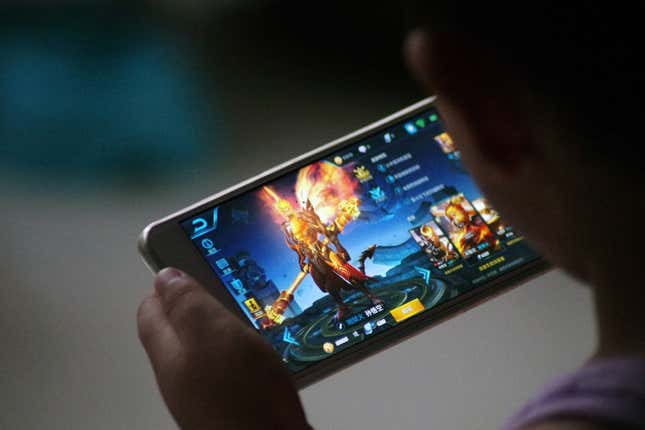 Honor of Kings's success is Tencent's WeChat, the most popular social-media app in China. WeChat users can download the game via the app, see their friends' rankings in the game, and team up with them to play. That in part explains the game's appeal among women: Most female gamers discover new games through their friends, family, or social circles, while men rely more on gaming sites or online video channels, according to a 2017 survey by research firm NewZoo.
Honor of Kings has become one of the key ways for Shu Linqun to stay in touch with about a dozen of her closest friends from childhood who now work in different cities. The 25-year-old manager for a Shanghai-based video portal typically hops on WeChat voice calls with her friends while playing with them. She calls these sessions "online gatherings."
Shu is not a gifted player at all. During game play, she says, "it makes no difference whether I'm at the battle scene or not." But unlike random teammates, her friends would never blame her for losing a game, and she simply enjoys spending some quality time with them, she adds. "Otherwise we would probably only meet once a year."
Many female players have also flocked to the mobile remakes of PlayerUnknown's Battlegrounds, one of the world's hottest survival shooter games. In the game, up to 100 players are parachuted onto an island to scavenge for weapons, from frying pans to AK-47s, to fight each other until just one player remains. In November, NetEase and Chinese smartphone maker Xiaomi launched their own mobile copycats of PUBG. Later, Tencent signed a partnership with PUBG's South Korean developer Bluehole, and created two official mobile versions of the game. Since their launches in January, the two Tencent titles have altogether signed up more than 75 million players.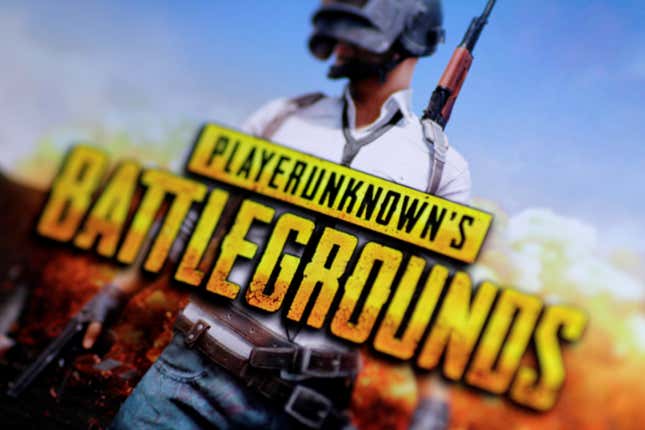 Yuan Lijia, 24, who works for an advertising agency in Shanghai, has tried all of the four PUBG remakes but settled on the Tencent versions. Though she admits she's not a fan of shooting games, she got into the PUBG remakes mostly because she doesn't want to feel left out by her friends. "I used to hang out with them by watching films or having dinners. Now I just need to use my phone in order to socialize, chat, and play games with people," she says.
She only later realized that she, in fact, has a steady hand with guns. In the last 10 games she played with friends, Yuan says, her four-player team won seven times.
Still, Yuan doesn't feel completely comfortable playing alongside male gamers other than her friends. Some assume women are inferior to men in the survival genre, she says, and one of her male teammates once complained over a voice call even before the game started: "Fuck, we got a woman. It's over."
Building loyalty
It's one thing to attract female players, but it's another thing to make money off them. "I'm not someone with a lot of loyalty to games. I'll play whatever is the hottest of the moment," says Yuan, whose bottom line is never to pay for any video games.
Shen, the Love and Producer player, has spent around 50 yuan ($8) to draw the cards necessary for a successful date in the game. Now, however, she seldom plays it, after realizing that she could never encounter a guy as perfect as the four male characters in real life.
Fei Qiwen, 24, who works in advertising in Shanghai, has shelled out around 3,000 yuan ($475) for Miracle Nikkie, the most she has spent on any game. But in just six months, she got tired of collecting the new clothing items that were being added to the game. "Suddenly I lost interest in it. What do those beautiful clothes have anything to do with me? If I have them, that's great. If I don't, I'll just look at other people's [collections]," she says.
In general male gamers still spend more than women, says Daniel Ahmad, a London-based analyst with Niko Partners. But the issue for small viral-game developers, Ahmad notes, is that "they don't have the ability to continue to update the games, or to put in more content which can be consumed further on."
Ahmad predicts that while Chinese gaming giants like Tencent and Netease will make more effort this year to develop games targeting both genders, there'll be an emphasis on trying to entice female gamers with constant new updates.
"That's one of the ways we'll see more female gamers [get] into the ecosystem, and continue to play," he says.