Most analysts thought that the new, "cheaper" iPhone 5C would be priced to move in emerging markets, where $400 and up is out of reach of all but the richest consumers. But Apple stayed true to its roots and priced the cheapest new iPhone 5C at $549 without a mobile plan in the US, and a painful 4,488 RMB, or $733 in China.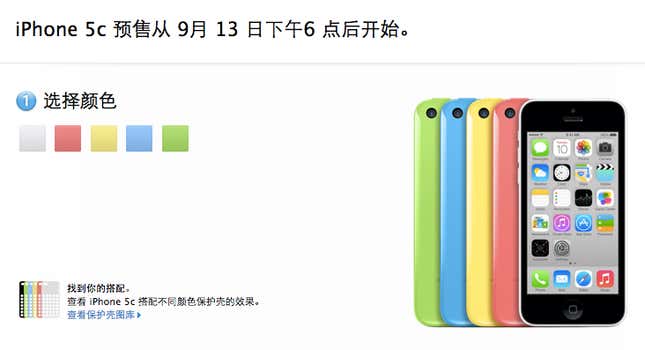 That is hundreds of dollars more than would be competitive with, for example, the hit phones made by Xiaomi, the "Apple of China," which unveiled its latest flagship phone, the Mi-3, for $327, or half as much as the iPhone 5C will sell for in China. (Xiaomi has global ambitions for its high-end, low-priced phones.)
Since most phones in emerging markets are sold without the subsidy that comes with a monthly plan, people must pay the full cost of a phone upfront. At $549 even for the base model, the iPhone 5C remains a luxury item in China and other emerging markets. This also means that Apple is likely to continue to see robust sales of the older iPhone 4 in emerging markets, where it's quite popular—because of its price.