A propaganda film about Xi Jinping's push to make China great again has become the highest-earning documentary ever shown in the country.
Amazing China, a 90-minute documentary produced by China's state broadcaster, touts China's achievements in areas including science, technology, infrastructure, and military modernization since Xi came to power in 2012. It has grossed 270 million yuan ($42 million) in ticket sales since its release on March 2, surpassing a 2017 film about China's surviving wartime sex-slaves to become the country's biggest documentary of all time, according to data from researcher Entgroup.
The film is the latest example of how patriotic movies are an increasingly sure bet for box office success in China. Last year's Wolf Warrior 2—which tells the story of a Chinese special forces agent saving a war-torn African country from the hands of Western mercenaries—is the country's top-grossing film of all time. In second place is a recent film about the Chinese navy rescuing hostages from terrorists in a fictitious Arab nation, Operation Red Sea.
Amazing China also comes at a time when the personality cult of Xi—the most authoritarian Chinese leader in generations—is intensifying rapidly in China. The film was released a day before the opening of China's biggest annual political gatherings, which saw the legislature pass a constitutional amendment that removes the term limit on the presidency, potentially paving the way for Xi to rule for as long as he desires. In the film, as the AFP news agency puts it, "every few minutes, Xi materializes to offer fresh wisdom and drive home the message."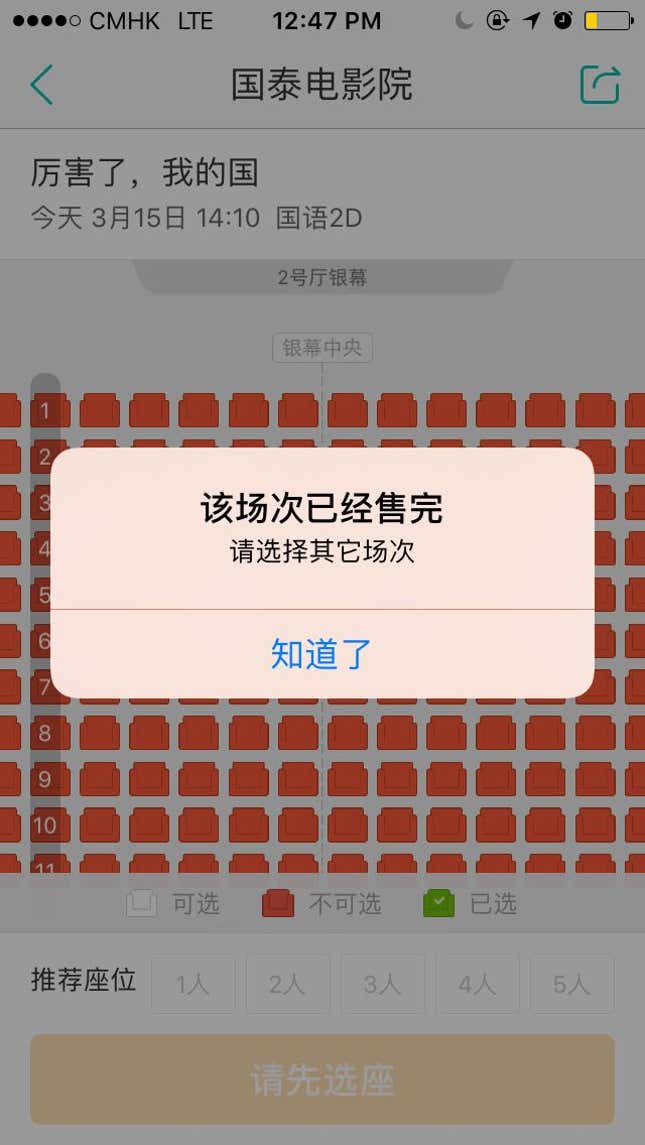 Mandatory screenings may have played a big part in Amazing China's success—Hong Kong's South China Morning Post reported that some state companies and government-affiliated organizations required employees to watch the film. Today (March 15), the film's afternoon screenings at Shanghai's major theaters are mostly fully booked, according to ticket-booking platform Maoyan—which is unusual for a workday.
On Maoyan, the film currently holds a 9.6/10 rating. But the more trustworthy movie-review site Douban disabled the comments and rating functions of the film.
On movie database IMDb, Amazing China is rated only 1/10 by around 70 moviegoers. "I cannot rate a zero star here in fact this so called movie worth it, it's nothing but a propaganda makes you feel vomiting," one commented. Another person joked that for the film's efforts to burnish Xi's image, it should be called "Amazing Winnie" rather than "Amazing China," a reference to the way in which Chinese internet users have compared Xi with Winnie the Pooh.
The documentary is also part of the Communist Party's drive to better engage China's youth through its propaganda machinery. Videos featuring rap music, cartoon characters, and other elements of pop culture have been used in recent years to spread the party's doctrine and ideology.
At the big political meetings this week, the party also created a new super-regulatory body governing media, entertainment, and online communications, a move that some argue could help China bolster its soft power abroad.