China's Communist Party is trying to do a better job of engaging younger generations through slick propaganda efforts like rap songs and comics. Now, it wants to liven up your chats with communist stickers.
Yesterday (Dec. 3), the party's top discipline watchdog published a set of stickers free to download on WeChat, the country's most popular chat app. The Central Commission for Discipline Inspection (CCDI)—which is at the center of president Xi Jinping's sweeping anti-corruption campaign—released a total of 16 animated GIFs with slogans taken from Xi's "eight-point regulations" on fighting corruption, in celebration of the fifth anniversary of the guidelines' introduction.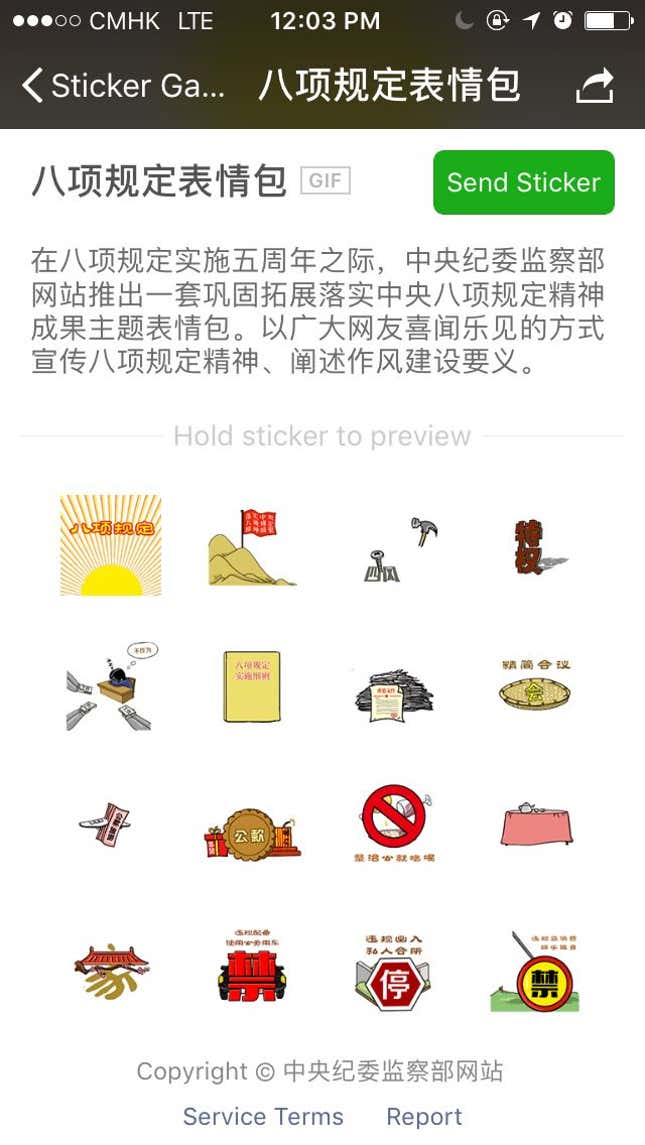 The stickers are a way to "narrow the distance between internet users and the CCDI," said the body in a statement (link in Chinese).
The stickers are straightforward: One of them shows the two Chinese characters for the word "privilege" crushed by a fist from above. Another depicts a golf club with the Chinese word for "banned" over it, as Chinese officials are now essentially banned from playing the sport.
But many Chinese internet users are not impressed by the CCDI's latest propaganda efforts, because they find it difficult to use the stickers in daily conversations and because the GIFs are apparently shoddily made. "These are stickers? Is it actually PowerPoint?" one wrote under a post by China's state broadcaster on social network Weibo (link in Chinese) that was promoting the stickers.
Whether the stickers become popular or not, it's likely that China's internet users will see more communist elements popping up all around the internet, as the Party seeks to both expand and control the country's tech industry. Recently, a Chinese mobile knockoff of the popular game PlayerUnknown's Battlegrounds added slogans with Xi's catchphrases into the game.