China's wealth gap is widening, and the middle class is griping. But the weird thing is, the wealth gap is growing even within the ranks of the wealthy, according to a new report by Wealth-X and UBS.
China was the only Asian country where the super-wealthy class declined between 2012 and 2013 (pdf, p. 50-51). The number of "ultra-high-net worth" (UHNW) residents—those worth over $30 million—fell by 5.1%, and their combined wealth shrank by 4.1%.
However, people worth $500 million or more now own 40% of that wealth, up from 37% in 2012. Here's a more detailed look: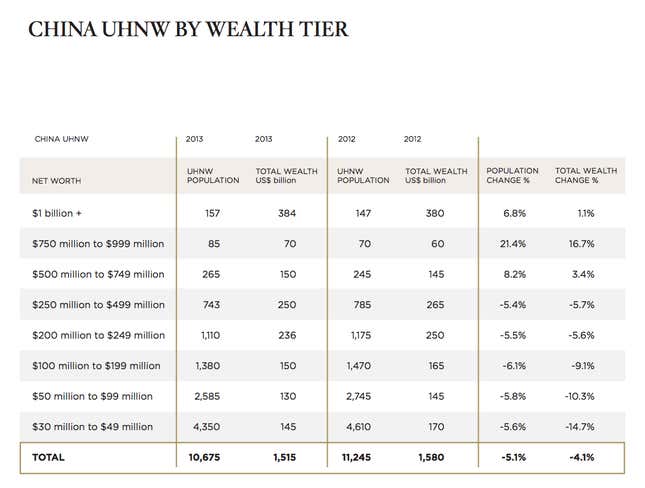 Compared with 2012, the ranks of those worth $500 million or more grew by 9.7%, and they added a cool $19 billion to their wealth. Meanwhile, some 617 people fell out of the ranks of the $30 million-$500 million set. That group also lost $84 billion.
The fluctuations in China's top 10 cities, where 75% of its wealth is concentrated, reveal some intriguing quirks as well. Only Beijing, Shenzhen and Guangzhou saw their super-rich populations grow, while some others lost dozens of members: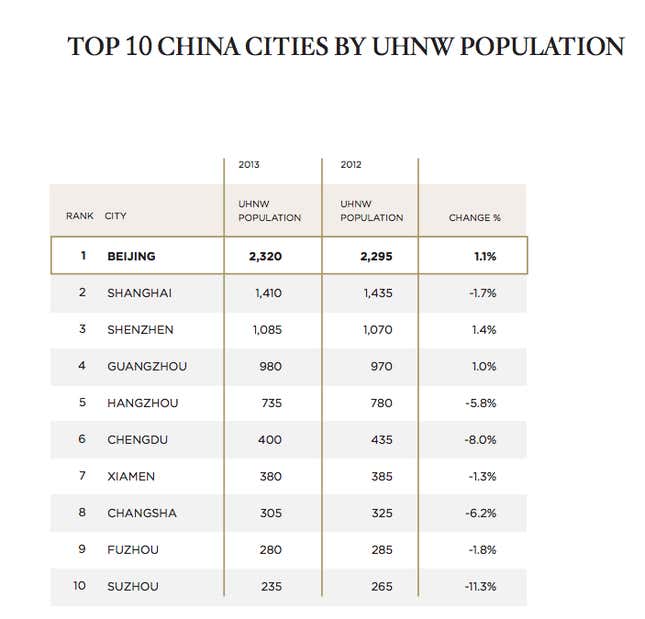 It may be that economic slowdowns simply wiped them off the charts. In a recent look at another report on China's super-wealthy, the Hurun Report, we noted a similar trend of "missing millionaires"—provinces whose millionaire populations shrank in 2012 (defined as those with assets of more than $10 million):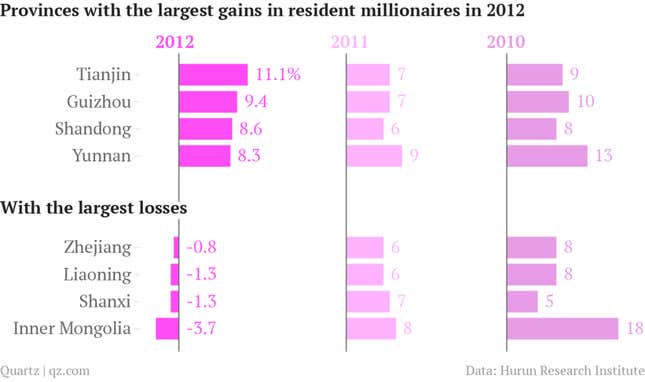 There's another possibility as well, though. Wealth-X and UBS noted that "many wealthy Chinese from Mainland China are diversifying and moving their assets to Hong Kong, where the city has witnessed an increase in UHNW population and wealth."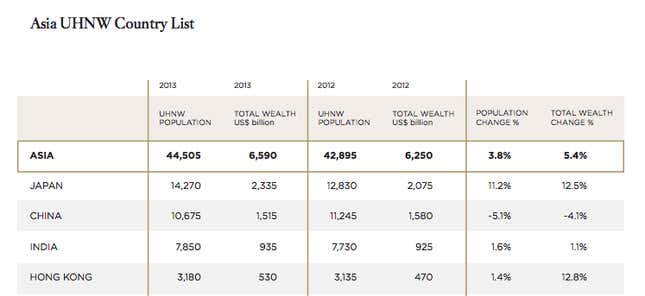 As you can see, lot more money sloshed into Hong Kong; though the territory's Hang Seng stock index rose only 3.2% in the year since July 2012, the total UHNW wealth went up 12.8%. That works out to 45 people adding $1.3 billion apiece. That means that as increasing numbers of Chinese people are struggling to make money, China's super-rich are not only getting even richer—they're also taking their winnings elsewhere.