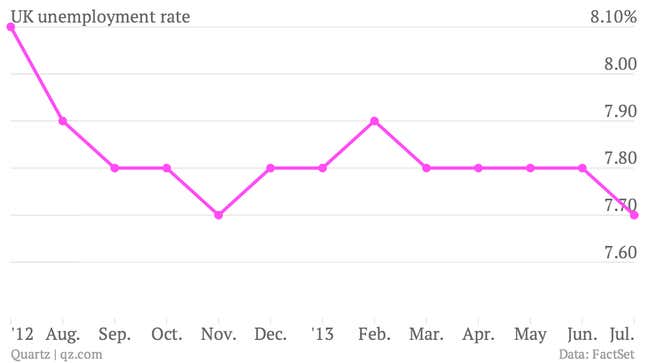 The good news keeps coming for the UK economy. The latest jobs report, released today, showed the unemployment rate dropping to 7.7% in the three months to July, down from 7.8% in the previous month's reading. Analysts expected no change in the rate.
But beyond the glowing headlines, there is some gloomier news. Average weekly earnings rose by only 1% according to the latest data, a third of the prevailing rate of inflation. This will fuel the debate over "zero-hour" contracts and other employment practices that critics—especially the opposition Labour party—say exploit workers.
The jobs report is the first since the Bank of England unveiled its "forward guidance" policy, explicitly tying its actions on interest rates to the unemployment rate. The central bank has pledged to keep its benchmark rate at the historic low of 0.5% until the unemployment rate falls to 7%. In its August outlook for the British economy, the bank's forecasts suggest that its first rate hike will come in 2016 at the earliest. And although it acknowledged the improving labor market, it also said it expects the unemployment rate "to remain above 7.5% in 2013."
This now looks too cautious. In August, the number of people claiming unemployment benefits also fell more than expected, suggesting further improvement in the jobless rate in the next report. The Bank of England's rate-setting committee, led by governor Mark Carney, will appear in a hearing before members of parliament tomorrow. They are sure to receive a grilling about how this stronger economic data will affect the timing of future rate hikes. The steady rise in bond yields and strengthening of the pound in recent months reflect the market's belief that a rise in interest rates will come much sooner than the central bank has signaled.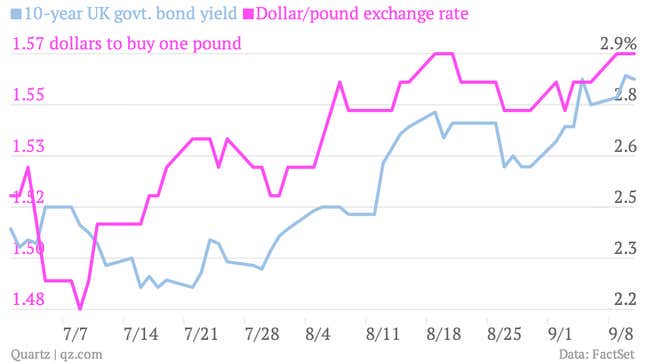 Britain's north-south divide comes through in the latest numbers, with the unemployment rate in the southeast plunging to 5.8% in the three months to July, from 6.6% in the previous three months. In the northeast, by contrast, unemployment stands at 10.4%, up from 10.1% in the previous reading. Thus, jobseekers in Sunderland will be less encouraged by the latest statistics than their counterparts in Surrey.