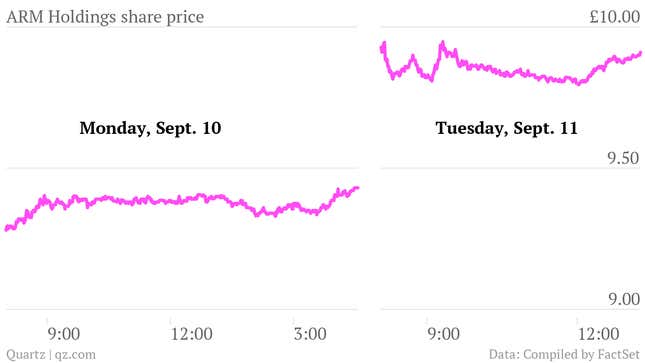 Apple's share price fell nearly $20, or 4%, yesterday when it announced two new iPhones that will cost more than many analysts expected.
But disappointment for Apple doesn't equal disappointment for ARM Holdings, the company that will design the new, 64-bit chips for Apple's iPhone 5S . The old models of Apple phones all used 32-bit chips. ARM is up over 5% in London trading today.
This is huge news for the chip designer for two reasons. First, ARM's 64-bit chip is still new to the market, but its inclusion in the new Apple phones could help make it the future industry standard. The 64-bit chip "should make the [iPhone 5]S version both much quicker and less battery hungry, likely helping with [the chip's] adoption in other products," Mike van Dulken, head of research at Accendo Markets, wrote in a client note this morning.
And here's the double whammy: ARM is likely to charge higher royalty fees for the new chips. Andrew Dunn, an analyst at RBC Capital Markets, explained in a note, "Should this mark the beginning of 64-bit in smartphones, this should help underpin ARM's upward trajectory in overall royalty rate following a decade of declines."
ARM has had a killer year. As my colleague Christopher Mims has written, ARM is getting royalties on its chip designs from a rapidly-growing number of companies, sending revenues soaring. Little surprise, then, that ARM's share price has risen more than 80% in the last 12 months.
Even so, murmurings that competitors—Intel, in particular—could take a bite out of ARM's market have taken a toll on the stock over the last four months. But a new boost in royalties from the smartphone market could overshadow those concerns, at least for now.
Correction: A previous version of this article incorrectly stated that ARM Holdings was a chip maker. ARM is a chip designer, and the article has been edited to reflect that.