China's rubber-stamp legislature just endorsed a slew of top government appointments before the conclusion of its annual gathering in Beijing. On Saturday (March 17), Xi Jinping was re-elected as president with zero objections from 2,970 lawmakers.
With Xi now set to rule for as long as he wishes after term limits on the presidency were scrapped, the president further bolstered his position by installing only those loyal to him in key government positions. Here's what you need to know in the latest government reshuffle in Beijing.
Xi Jinping, president
Xi was reappointed China's president with no limit on how many more terms he can serve. Last week, the legislature approved a constitutional amendment that removes the 10-year, two-term limits on both the presidency and the vice-presidency which had been in place since 1982. With absolute power, Xi wants to accomplish ambitious but difficult tasks over the next decade and beyond, including turning China into the world's foremost superpower. In this round of reshuffling, clearly Xi's name is the only one that matters: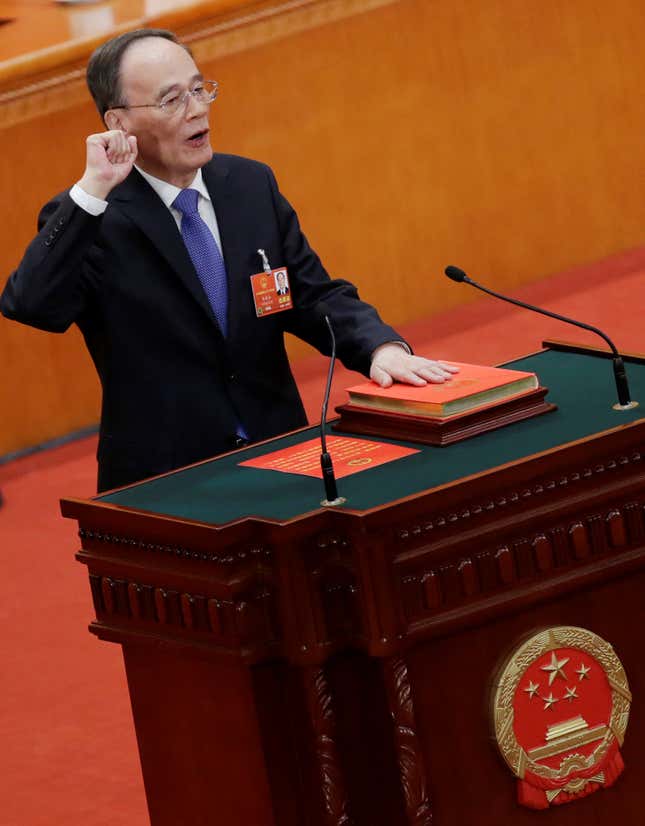 Wang Qishan, vice-president
One of Xi's most trusted allies, Wang was appointed the deputy head of state as expected. In October, Wang stepped down from the Communist Party's top rank under informal retirement rules, after spearheading Xi's relentless anti-corruption campaign that has punished over 1.5 million officials over the past five years. While the vice-presidency has been seen as largely ceremonial, Wang is expected play a big role in shaping US-China relations in his new job.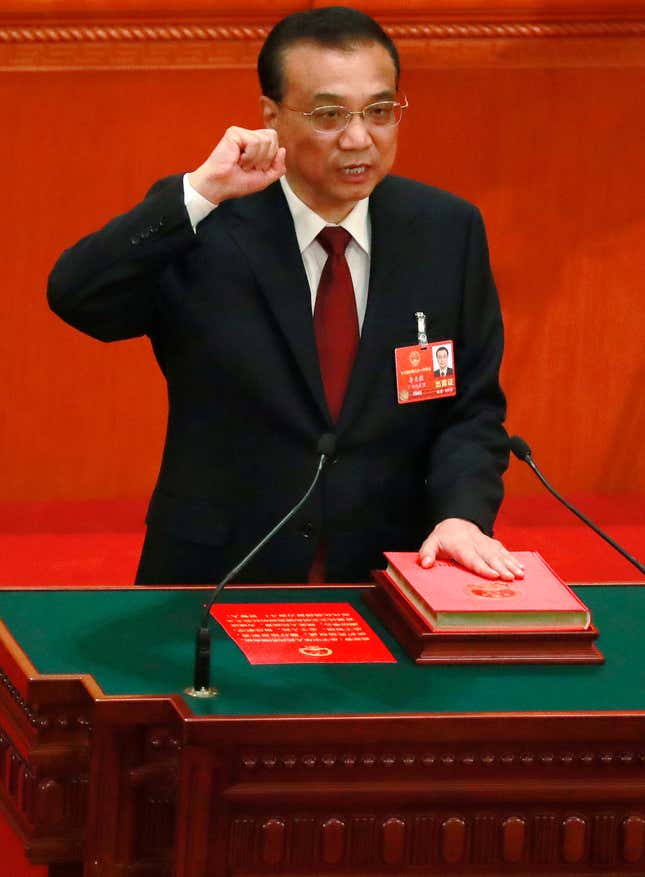 Li Keqiang, premier
In the shadow of Xi's power play, Li, who was reappointed, effectively became the weakest Chinese premier in decades. Although he is nominally the party's No. 2 leader in charge of steering China's economy, Xi has undermined many of Li's key roles by appointing himself as head of a number of secret party-organs that guide economic and financial affairs. Li's diminishing stature is also reflected by the opposition votes he received for his reappointment (two), compared to Xi (zero) and Wang (one).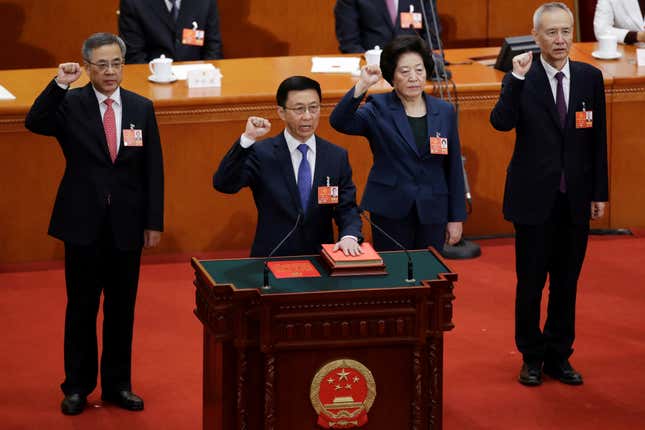 Han Zheng, Liu He, Hu Chunhua, and Sun Chunlan: vice-premiers
Of the newly elected vice premiers, Han is Li Keqiang's No. 1 deputy. Sun is the lone woman sitting among the top of the government and the Communist Party. Liu, meanwhile, is seen as Xi's right-hand man, and has been widely described as the mastermind of China's economic policy.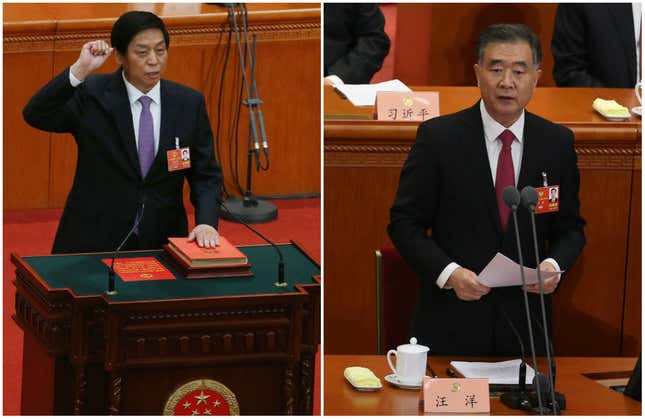 Li Zhanshu, head of the legislature; Wang Yang, head of political advisory body
Li Zhanshu was appointed chairman of the National People's Congress, China's national legislature, while Wang Yang was elected chairman of the Chinese People's Political Consultative Conference, the top political advisory body. The appointments follow the pair's elevation to party's first tier of power in October, and were widely expected.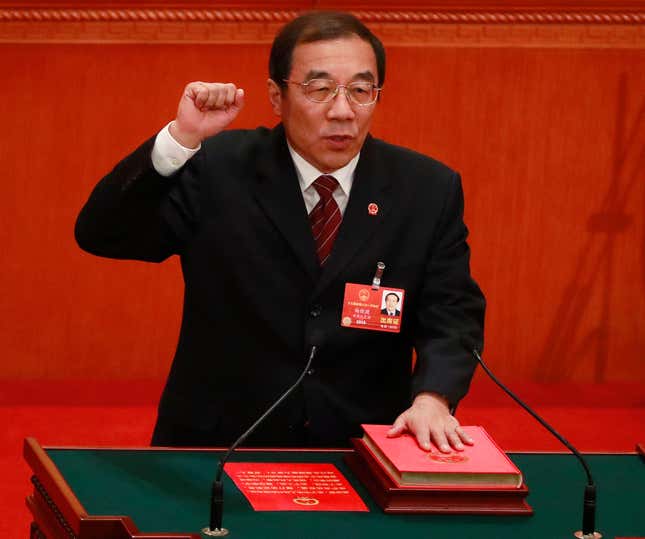 Yang Xiaodu, head of China's new anti-graft super agency
The setting up of the National Supervisory Commission (NSC) is one of the most important aspects of Xi's government overhaul, and is written into the country's constitution. While Xi's anti-graft drive had until now been run by the Central Commission for Discipline Inspection (CCDI), the party's internal anti-graft watchdog, the new state agency will allow him to punish civil servants and other public-sector workers who don't belong to the party. The NSC is given a status higher than China's top court and top prosecutor, adding to concerns about suspects' rights.
Yang, the No. 2 official at the CCDI, was appointed head of the NSC, though his boss Zhao Leji was previously tipped to co-head the new supervisory body. This means the party, rather than the government, remains in control of the anti-corruption campaign.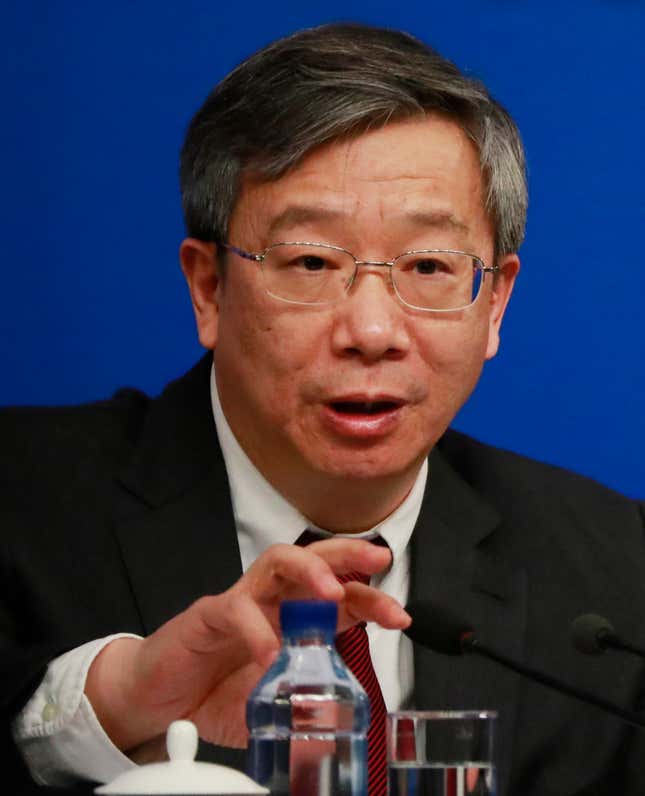 Yi Gang, head of the central bank 
Yi replaced Zhou Xiaochuan as governor of the People's Bank of China, after serving as his deputy for a decade. The personnel change is a sign of policy continuity at the bank, whose main tasks include lowering China's overall debt level and opening up its financial markets. The central bank was also given new powers in forming laws and regulations covering the country's banking and insurance sectors.