China just unveiled its new leadership for the Communist Party. It consists of two dozen men in black suits, with hair to match—and only one female face.
She is Sun Chunlan, 67, head of the party's United Front Work Department, the organ that is in charge of spreading party influence abroad and at home—for example by undermining Taiwanese interests overseas, or ensuring students studying overseas in countries like Australia toe the party line. Sun, the only woman in the 25-member Politburo, was also in the body during president Xi Jinping's first term, which began in 2012—the other woman, Liu Yandong, just retired from the Politburo.
Ahead of the congress there was speculation that Li Bin, minister of the National Health and Family Planning Commission might join Sun, but that didn't happen.
The make-up (link in Chinese) of the new Politburo was made public Wednesday (Oct. 25), after the conclusion of the 19th party congress, and as Xi publicly introduced the most elite rung of power in the party, the seven-member Standing Committee of the Politburo, which has never had a woman on it.
Xi now begins the start of his second five-year term (with a third term on the cards). In an era when Xi's crackdown on civil society has encompassed everyone from lawyers to tycoons to feminists, it perhaps isn't a surprise that gender equality isn't at the top of his agenda.
In the Central Committee of the party, a decision-making body of over 200 members, women are also faring worse under Xi than in previous governments. There were 13 women in the Central Committee in 2007 during the reign of president Hu Jintao. That number just dropped to 10.
Zhao Litao, a researcher at National University of Singapore who studies female political participation in China, said that women are disadvantaged from the start in politics in China. Female politicians are typically placed in less important positions at lower levels, which means that their "CVs look much weaker than that of their male counterparts."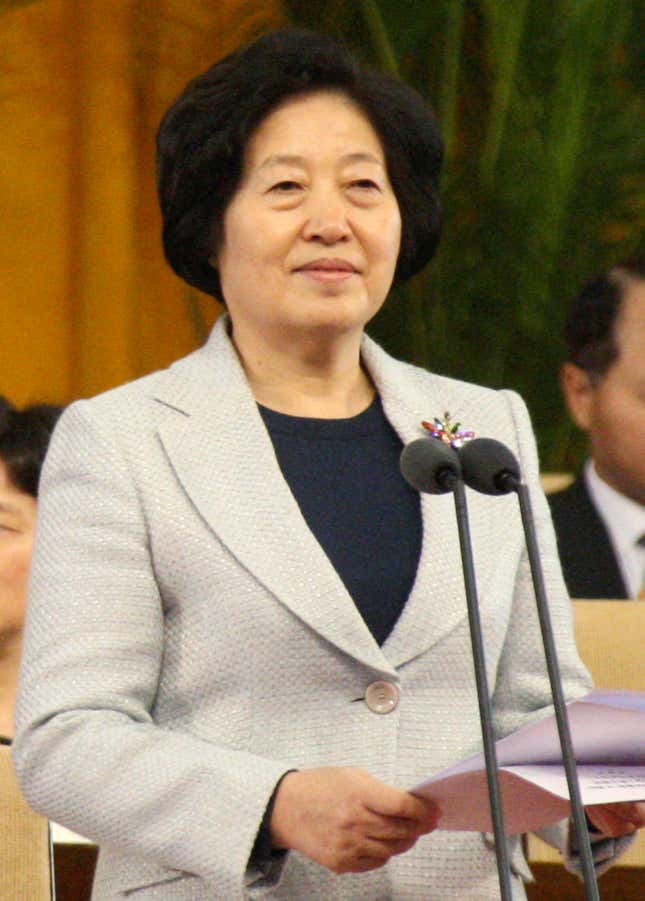 Sun took over as chief of the United Front Work Department from Ling Jihua, the right-hand man of former president Hu, in 2014. Prior to that, she served as party chief in two politically important areas of China. One was the northern port city of Tianjin, where she succeeded Zhang Gaoli, one of seven members in the 18th Politburo, in late 2012. She was also party chief in southern Fujian province from 2009 to 2012, where she was lauded for her ability to attract foreign investment, particularly from Taiwanese businesses, thanks in part to her time as deputy head of the government-backed All-China Federation of Trade Unions.
Sun is also said to be a long-time foe of Bo Xilai, the charismatic former Politburo member and party chief in Chongqing who was sentenced to life in prison in 2013 in what many saw as the outcome of a vicious power struggle inside the party. Sun had succeeded Bo as party chief in the northern port city of Dalian in 2001.
There have only been a limited number of powerful women in the Communist Party. The most notable is Jiang Qing, Mao Zedong's fourth wife, who was a Politburo member (paywall) and effectively ran China (paywall) during the Cultural Revolution. A more recent name is Wu Yi—known as China's Iron Lady, Wu participated in negotiations for China's eventual entry into the World Trade Organization in 2001. She also led the country's health bureau during the 2003 SARS outbreak as vice-premier.
Fu Ying, the female vice-minister of China's foreign ministry, said in 2010 at a forum on women and urban development held in Shanghai that even though China has made great strides in advancing gender equality, the thinking that women are inferior to men (link in Chinese) continues to stymie female political participation. According to Fu, "For many women, their sky is still low and their wings and furs are still thin."