Like any corporate chieftain, Apple CEO Tim Cook casts his company's performance in the best possible light. At yesterday's product announcement, he enthusiastically shared a chart of what could be best described as the iPhone odometer.
But an odometer logs total miles, and obscures speed, which is a better measure of a company's health. As I noted yesterday, iPhone sales have slowed over the last three quarters, since the initial surge caused by iPhone 5 sales during last year's holiday shopping period. (Only two of those quarters, visible in the chart below, have been officially reported.)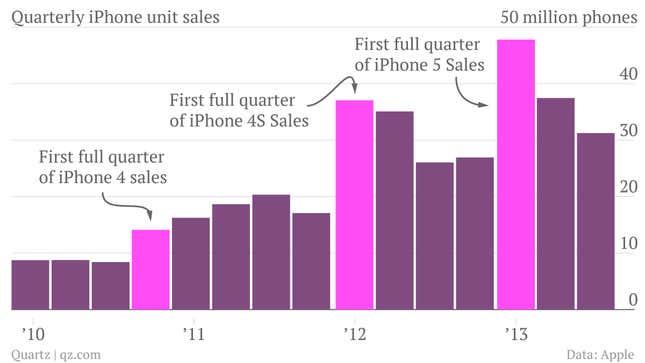 Of course, as many people pointed out, slowing iPhone sales in more recent quarters could have more to do with product cycles and seasonality than declining consumer interest. To account for that, we can look at the acceleration of sales each quarter on a year-over-year basis—that is, comparing each quarter with the same quarter a year prior.
In both units and dollars, iPhone sales acceleration is declining.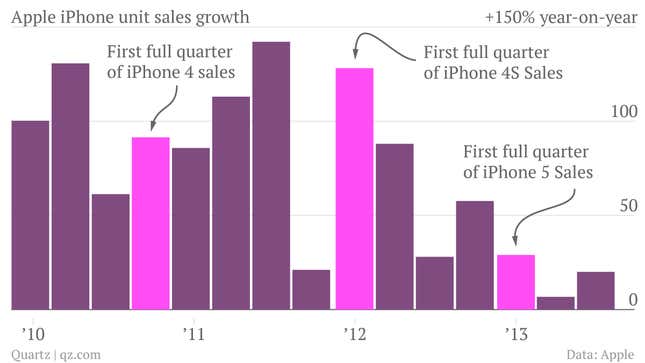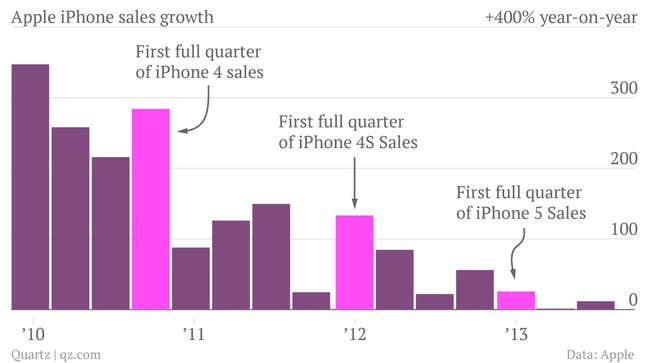 Among all iPhone releases, the falloff in unit sales after the iPhone 5's initial quarter is the fastest Apple has seen.
This is where the introduction of the iPhone 5C could be crucial. By providing an iPhone option that is cheaper but still new—as opposed to discounted versions of old phones—Apple is clearly hoping it can achieve a net gain in unit sales. It now has two viable phones in the market that are fresh off conveyor belt and at top of consumers' minds.
And as the charts above demonstrate, some iPhone sales growth is sorely needed.