Tesla has been pretty much alone in blazing a trail in the high-performance electric car segment, but it's soon going to have some company. Porsche, the iconic German sports car maker, is gearing up to launch its new Mission E sports car at the end of next year.
At a press conference at Porsche's home base in Zuffenhausen last week, Lutz Meschke, deputy chairman of the executive board, quoted Giuseppe Tomasi di Lampedusa's The Leopard: "If we want things to stay as they are, things will have to change." And change they will, as Porsche has earmarked €6 billion ($7.4 billion) for its leap into e-mobility between now and 2022.
In response to a question on whether he sees the Mission E as a direct competitor to the Tesla Model S, Porsche CEO Oliver Blume said he had a "lot of respect for Elon Musk" (Tesla's founder and CEO) and how he has changed the world, but that Tesla isn't a benchmark for Porsche. "Everything we do has to be typical of us," he said.
Porsche is plowing around €1 billion into building a production facility on the the site of its main plant near Stuttgart in Baden Württemberg, to make the Mission E cars. The company is flush right now, having just reported the most successful year in its 70-year history, with a 4% rise in year-on year deliveries, to a record total of nearly 250,000 cars, and profit after tax up 19% on the year, to €3.1 billion.
The Mission E sedan, which will be comparable in size to the Panamera, is set to roll off the line at the end of next year, and has been already billed as a Tesla hunter.
Indeed, the Mission E's power and performance will make it a direct challenger to Tesla's Model S. It's expected to have a similar price-tag—around the $80,000 or more mark. Porsche says it will go from zero to 60 mph in 3.5 seconds, and cover 310 miles on a single charge, with no loss of performance over long stretches. Tesla's S can do 0-to-60 in under 3 seconds in "Ludicrous" mode.  
If that doesn't give Elon Musk pause, the Germans are also going to launch an SUV—the Cross Turismo—that could be appealing to potential customers for Tesla's Model X.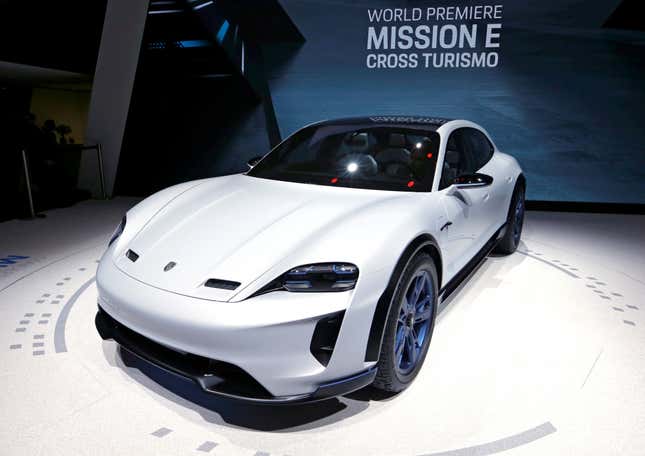 Porsche is setting up its own super-speedy charging network too, at its dealerships in the US and with other automotive partners in the EU, where customers will be able to plug in for 15 minutes on 800-volt fast chargers and get another 250 miles of driving.  
The car company is keeping schtum about what the new electric car will sound like, apart from saying that it will have its own unique sound that's different from the distinctive Porsche growl. "We will not go down the path of having have an electric car with the sound of a combustion engine," said Blume.
There's "no doubt," Blume said, "that the car of the future will drive out the combustion engine, but different regions of the world are developing at different rates." By 2025, Porsche predicts combustion engine cars will make up just 65% of all its cars.