I'm sitting in a very strange motel in northern Austin, Texas, trying to get some work done, but Dunder Mifflin regional manager Michael Scott keeps distracting me. Eventually, I give up and give him my full attention.
I've brought with me a new device from Anker, the Chinese electronics company best known for making reliable power packs and cables, called the Nebula Capsule. It's a small, soda-can shaped projector with a built-in Android computer that doubles as a Bluetooth speaker. I've been using it on the (far too frequent) conference reporting trips I've been on recently, watching reruns of The Office for the 75th time, in my hotel rooms, instead of turning on the hotel TV, forgetting about it, and watching the promotional videos made by the hotel on an endless loop. This is a wacky, unnecessary device, and I totally love it.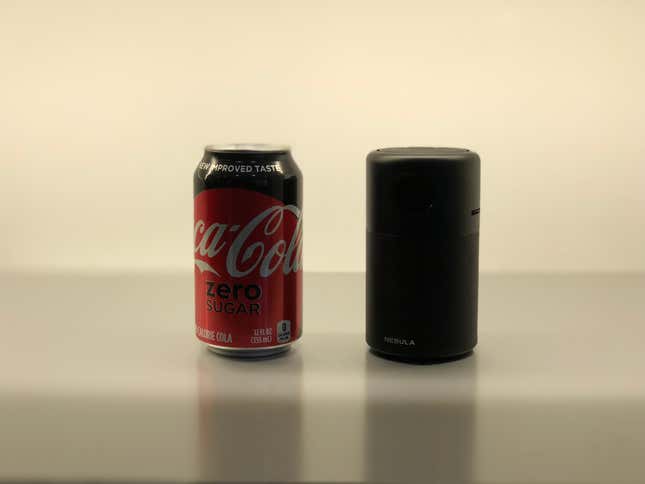 The Nebula can be used three different ways: It works as a standalone projector, where you download apps and stream content right from the device over wifi; as a wireless second screen, connecting via AirPlay or Miracast; or it can be connected up to a computer through an HDMI cable.
When Anker first told me about the product, I envisioned using it as a virtual second screen, hooking it up to my laptop and projecting it on the wall next to my computer wherever I was. You can totally do that, but the difference in brightness levels of a computer screen, compared to the Nebula, makes it an awkward experience. Where I found the Nebula shines (literally) is when you need a screen and don't have one. It's literally a pocket TV.
I've used the Nebula in hotel rooms, projecting it against a wall when I want to watch something on one of my streaming subscriptions, and in my own apartment, when my own TV didn't feel quite as impressive. The Nebula can apparently project an image up to 100 inches wide, literally double size of the TV I have, but be warned: You'll probably have to be in quite a dark room to see it projecting that large. It'll work fine on smooth surfaces in bright rooms projecting at a smaller size—say the size of a 30-inch screen—but you'll need to be in a veritable cave to project at full size. But still, that's quite impressive, given how small this projector is. I've not seen many other devices that are this small and powerful.
The Nebula comes with a remote, which you can use to control its basic functions, but it also has a companion mobile app that's much easier to use if you're trying to type in text or mouse around a screen. The system runs Android Nougat, but it doesn't have access to the regular Google Play app store, instead using Aptoide TV, a version of the store that only shows apps optimized for a TV screen.
That means the selection of apps is a little more limited, but I downloaded Netflix, YouTube, Spotify, Amazon Video, and the Opera web browser. There were tons more I could've downloaded, like TNT, Vimeo, Starz, CBS Sports, Hulu, and the Food Network. There are also many of the popular Android games that you can download and play on a massive scale. The Nebula is sort of like carrying a Google Chromecast or Roku player, as well as the TV it's hooked up to, wherever you are.
Should you get one?
The Nebula isn't without its flaws. The operating system it runs is still a bit rough around the edges. There are translation and spelling errors throughout the app ("download successfully," "the battery is not enough," to name a few), and Anker's website suggests I should be able to get about 4 hours of video playback from the device's battery, but in reality I was probably getting close to half of that. The internal speaker is very loud for a device this size, but sound gets clipped at full volume.
The device projects 100 lumens, which doesn't produce the brightest images, as you can see here projecting it onto a screen at Quartz' office with the lights on and off:
This pocket projector also costs $349, which some may consider quite costly, given that you could buy an external monitor and  decent wireless speaker would probably run you about half as much. But then, it's a lot more difficult to jam a computer screen into your backpack.
I love the Nebula for its Skymall-esque jamming together of multiple devices into one that no one really needs, but many people would probably love to get as a gift. If you travel a lot, or you just want to project the goings-on of the Scranton branch of Dunder Mifflin on as large a surface as one can, then this might a product for you.