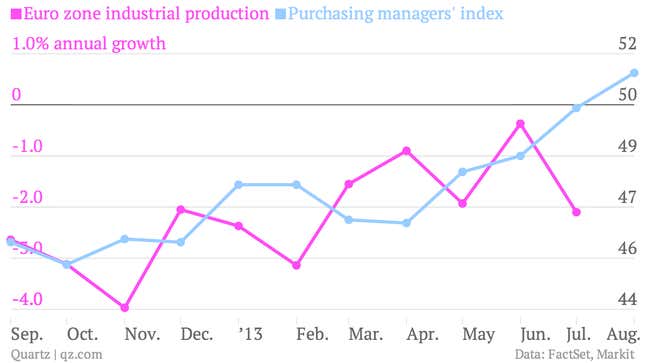 Never mind what you may have heard about reviving factories in Europe. Signs of a recovery in euro zone manufacturing took a knock today, with industrial production (pdf) plunging by 1.5% in July. Analysts expected little change. The previously reported gain in June was also revised down a touch, to 0.6%. Year-over-year, July manufacturing was down by 2.1%, much worse than the 0.4% annual decline registered in the previous month.
The latest data is somewhat out-of-step with upbeat purchasing managers surveys, which indicate stronger growth in the region's factories. Some think the discrepancy has to do with a "structural break" between these polls and actual economic activity. If production managers cannot put their plans into action because credit is scarce, as is the case in the euro zone right now, the traditional relationship between confidence surveys and "hard" statistics weakens.
One thing the latest industrial production numbers do confirm is the recent wobble in Germany. German manufacturing activity fell by 2.3% in July, reversing a gain of 2.2% in June. Among the euro zone's large economies, a modest gain in July production in Spain (0.1%) was the brightest spot in the latest report, but this wasn't nearly enough to offset declines elsewhere.