Could you get by with a single toilet flush every day? Or a 90-second shower?
Today, this is a stark reality for four million Cape Town residents as the city works feverishly to avoid the distinction of becoming the first major world city to exhaust its supply of running water. Thanks to the region's worst drought in over a century, Cape Town is facing what's known as Day Zero—when the region's reservoirs run so low that city officials will be forced to shut off municipal taps.
Severe water restrictions are in place, and residents are now limited to 50 liters (about 13.2 gallons) of water per day. To conserve water, city officials are recommending residents hand wash laundry, minimize the use of soap to save on rinse water, and reuse bathwater for flushing toilets, among other drastic steps.
Meanwhile, commercial buildings in the coastal South African city have been required to reduce water consumption by 45%, and it's now illegal to use city water for watering lawns and gardens, or washing cars. A black market for water is even taking shape in Cape Town, with British newspaper The Independent reporting that "for enterprising gangs—supplies of fresh drinking water is South Africa's Bitcoin."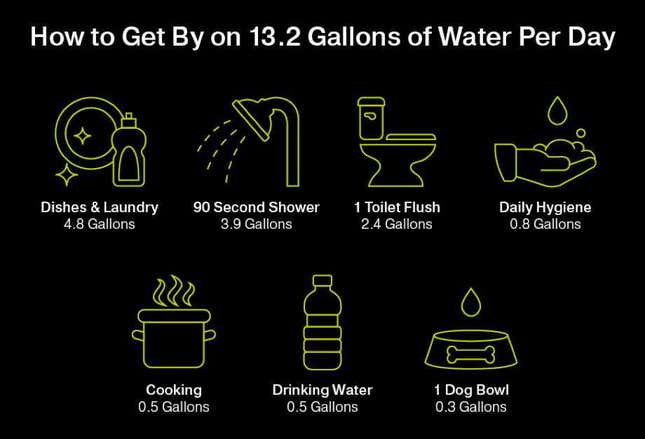 Unfortunately, Cape Town isn't the only major world city to suffer the effects of a severe drought in recent years, and water shortages and restrictions have become frighteningly commonplace around the world.
In 2015, 20 million São Paulo residents endured daily water shutoffs as the largest city in the western hemisphere endured the effects of that region's worst drought in 80 years. That same year, a record multi-year drought prompted California Governor Jerry Brown to order cities and communities to reduce water consumption by 25 percent. Mexico City has dealt with its own water crisis throughout the last decade, and Melbourne is actively working to stave off a water crisis that could take shape 10 years from now.
As human beings, we've had to grapple with droughts and water shortages throughout the millennia all over the world. But each of these present-day scenarios is a sobering reminder that we must adopt sustainable practices as our world copes with the impact of extreme weather events and a growing global population.
A launch point for a frank talk about environmental and sustainable investing
Today there is growing awareness among companies, governments, and investors that climate risk is a legitimate threat to the bottom line. Look at Cape Town as an example. Tourism accounted for nine percent of South Africa's economic output in 2017 with 10 million tourists visiting Cape Town that year.
But in February, government officials admitted the water crisis is a threat to the nation's economy. Credit rating agency Moody's recently said Cape Town is on track for a downgrade as the crisis threatens tourism and agriculture, two of the city's most critical industries. In addition, city businesses are devising strategies to remain operational if a worst-case scenario occurs.
However, for advisors to wealthy families—and particularly those who work with high-net-worth Millennials—this crisis offers a great opportunity to engage on a topic that a growing number of investors are passionate about. Day Zero is indeed a dire situation—however, it also offers advisors a launch point for a discussion about the opportunity to invest in companies that are working to solve the world's environmental and sustainability challenges.
The stars are aligned for environmental and sustainable investments
Today, the stars are aligned for sustainable and environmental investments as governments and companies around the world invest heavily in the development of sustainable products, services, and infrastructure.
Consider the case of smart cities. Cities are beginning to leverage data and technologies like the Internet of Things to manage water, electrical, and waste management systems more effectively—to the tune of big savings and increased revenues.
For example, Barcelona is now saving $58 million a year through smart water technology which uses sensors and cloud servers to monitor irrigation and water levels, according to Cisco. The city is also enjoying a $50 million annual increase in parking fee revenues, thanks to smart parking technology. Forty-seven thousand new jobs have been created as a result of its smart city efforts.
Precision agriculture is another area of opportunity. This technology can help farmers optimize their use of fertilizer, chemicals, seeds, and irrigation resources, which can significantly reduce costs while maximizing production. A 1,000-acre farm could save up to $13,000 in variable costs with precision agriculture. Within a year, the system would pay for itself for a single farmer. And if only 10 percent of U.S. farmers used GPS systems to plant seeds, 16 million gallons of fuel, four million pounds of insecticide and two million quarters of herbicide can be saved annually.
There is even a new class of exchange-traded funds that enable investors to invest in companies with strong environmental, social, and governance (ESG) scores. In addition, impact investments now allow you to invest in companies with the aim of delivering a measurable, beneficial impact on the environment (or social issues) while earning meaningful returns.
Through our own research here at OppenheimerFunds, we know that wealthy women and Millennials have a particularly strong interest in impact and sustainable investing. And last fall McKinsey & Co. reported that sustainable investments have risen to 26% of all professionally managed assets around the world, noting that the asset class is "a large and fast-growing major market segment."
The key takeaway for advisors here is simple. Sustainable and environmentally focused investments aren't niche anymore. They are cutting edge companies that are solving some of the most pressing issues of our time, and advisors would be wise to use Day Zero as a call-to-action, both for burnishing their own knowledge about sustainable investing, and to begin the conversation with clients about the opportunity these investments represent.

This article was produced by OppenheimerFunds and not by the Quartz editorial staff.
Mutual funds and exchange traded funds are subject to market risk and volatility. Shares may gain or lose value. The stocks of companies with favorable ESG practices may underperform the stock market as a whole.
These views represent the opinions of OppenheimerFunds, Inc. and are not intended as investment advice or to predict or depict the performance of any investment. These views are as of the publication date, and are subject to change based on subsequent developments.
Carefully consider fund investment objectives, risks, charges, and expenses. Visit oppenheimerfunds.com or call your advisor for a prospectus with this and other fund information. Read it carefully before investing.
© 2018 OppenheimerFunds Distributor, Inc.