A troubled YouTube user who opened fire at the Google-owned company's campus on Tuesday was apparently upset with the way she was paid by the platform.
The suspected shooter, who police identified as 39-year-old Nasim Najafi Aghdam of San Diego, California, was a long-time YouTube user and accused the video-sharing site of discriminating and filtering her videos to cut her earnings. Her father said she "hated" the company, and that she told her family that YouTube had stop paying her for the content she posted to the site, in an interview with the The Mercury News.
YouTube creators earn money from advertisements that air alongside their YouTube videos. They only get paid when viewers watch in full, click on, or otherwise interact with the ads. Google takes a cut of the earnings, as part of the YouTube Partner Program's revenue-sharing model. In other words, you need strong, steady viewership to make real money on YouTube. Some accounts with big followings supplement their advertising revenue with things like sponsorship deals and merchandising.
YouTube channels need at least 1,000 subscribers and 4,000 hours of watch time within the previous 12 months before ads can run in their videos. That's new. Before February, channels only needed 10,000 total views to be eligible for ads. The stricter guidelines were put in place to discourage bad actors from making money off inappropriate videos without outright censoring them. The platform, which has billions of user-generated videos from around the world, has been trying to rein in hateful, exploitative, and disturbing content that has proliferated on the site.
YouTube said in February that the majority of creators affected by the change were making under $100 per year, and Recode reported that could be "tens of thousands" of accounts.
Big advertisers, who are wary of appearing in just any video, are drawn to the Google Preferred program to place their ads. It includes the 5% most-viewed content on YouTube that has been reviewed by the company to make sure it's advertiser-friendly. As of this month, the Preferred program has real people who review each of the YouTube videos before advertisements can run in them.
Additionally, YouTube suspends or bars ads from channels that repeatedly fail to meet its community guidelines. That's what recently happened to popular vlogger Logan Paul after he posted a series of videos to the platform in poor taste. It is unclear whether ads were barred or suspended from Aghdam's channels, which have been taken down by YouTube. Google did not immediately return Quartz's request for comment.
It's unclear how many subscribers and views Aghdam had across the four YouTube channels she claimed on her website to run, including accounts in Farsi, Turkish, and English, and one devoted to hand art; they have all been taken down. Screenshots from 2016 suggest that at least one of her accounts had more than 2,000 subscribers while others had in the hundreds.
Aghdam reportedly said in a March Instagram post that her videos were being filtered and weren't getting many views, which would have hurt her revenue. It's unclear what kind of filtering she was referring to. Recommendations from YouTube's algorithms drive most of what people watch on the platform.
She also said in a January Instagram post that an ab workout video she posted to YouTube had been age-restricted. Age-restricted videos aren't eligible for ads. Videos can be age-restricted by either the uploader, or YouTube, after the video has been flagged to the platform and reviewed.
Aghdam's issues with YouTube stem from at least 2016. Screenshots of her YouTube dashboards from 2016, which were posted to her website, purported to show she had received more than 300,000 video views in a 28-day period and had an estimated revenue of 10 cents. She claimed the platform was filtering them to keep them from getting views."There is no equal growth opportunity on YOUTUBE or any other video sharing site, your channel will grow if they want to!!!!!" she wrote, comparing the company to a dictator and quoting Adolf Hitler. She also complained that one of her videos had been age-restricted.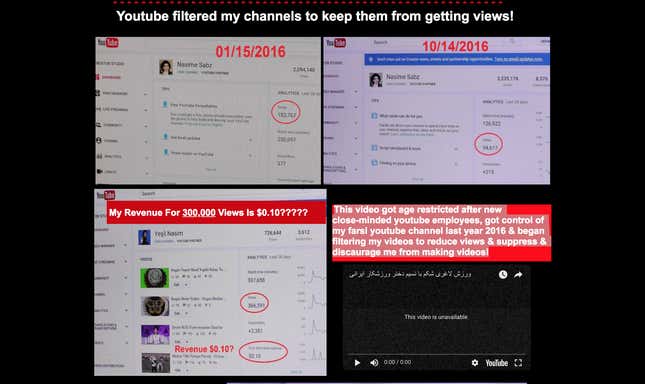 YouTube's CEO tweeted about the attack.