Making fun of the president or any Communist Party official on China's tightly controlled internet might be near impossible. Tech execs, however, don't get a pass.
From Jack Ma's seemingly unconvincing display of humility to a broken promise by LeEco chief Jia Yueting, no interview or passing comment goes unnoticed by China's internet users. As a result, Ma, Jia, and others are widely known on China's internet by their seven-character monikers, a style that is suggestive of classical Chinese poetry.
Here are five of China's biggest tech entrepreneurs and their unflattering nicknames.
The one who respects privacy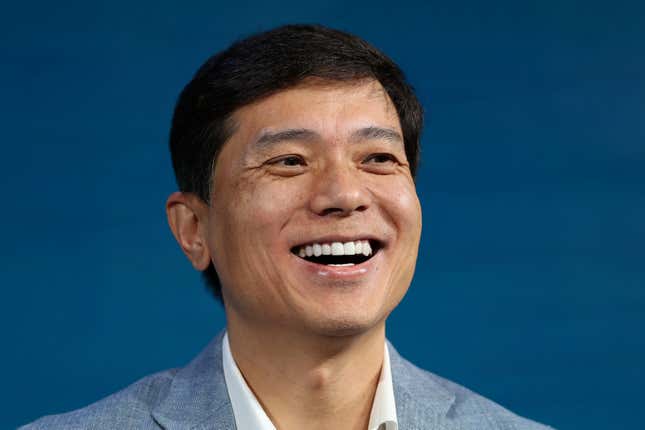 As Mark Zuckerberg comes under fire from all directions over how Facebook handles user data, Li Yanhong, founder of China's biggest search engine Baidu, doesn't seem too bothered about data privacy.
Speaking at a forum in Beijing last month, Li, whose English name is Robin, said that although Chinese people are starting to care more about privacy, they are happy to give up their personal information if it benefits them in other ways. In his own words:
I think the Chinese people are more open or less sensitive about the privacy issue. If they are able to trade privacy for convenience, for safety, for efficiency, in a lot of cases they're willing to do that.
Li's views sparked an online outcry, with critical comments flooding Chinese microblogging site Weibo. Some said that privacy does matter in China—a recent survey suggests that more than half the nation's internet users think issues involving personal data breaches are "severe." Others noted that they are often simply forced to disclose their information by online service providers.
As a matter of fact, all of China's three biggest tech giants, Baidu, Alibaba, and Tencent, have attracted scrutiny over how they handle user data in recent months—but it's Li's cavalier attitude that's earned him the nickname "Privacy-respecting Li Yanhong" (尊重隐私李彦宏).
The one who regrets founding Alibaba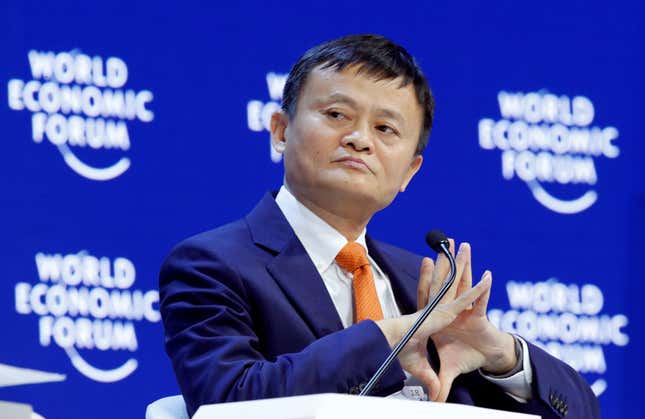 When asked at a 2016 forum what his biggest mistake was, Jack Ma, founder of e-commerce giant Alibaba, gave an unlikely answer:
My biggest mistake was I made Alibaba. I never thought that this thing would change my life. I was just trying to do a small business and grow that big, take that much responsibility and got so much trouble. Everyday is like as busy as a president, and I don't have any power! And then I don't have my life.

So I said in my next life, if I still can have a next life, I will never do a business like this. I will be my own self, I want to enjoy my life.
Later, during an interview with China's state broadcaster (video in Chinese) in 2017, Ma said, "I never touched money, and I'm not interested in money." He said the "happiest moment" of his life was when he was a poor school teacher who made a monthly salary of just 91 yuan, which is roughly $15 in today's terms. While Ma was speaking, the interviewer, standing next to him, tried hard to keep a straight face.
Even if Alibaba really was a mistake, it's a $500 billion one that has turned Ma into the 13th richest person in the world. Those with little sympathy for Ma's so-called predicament refer to him by the nickname "Regret founding Alibaba Jack Ma" (悔创阿里杰克马).
The one who comes from an ordinary family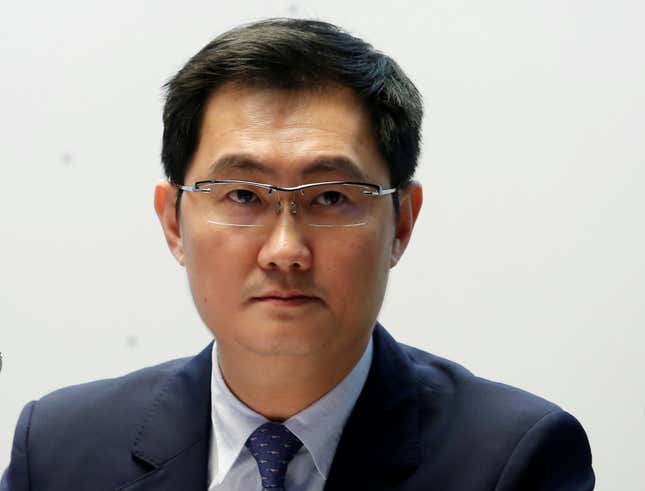 Like Jack Ma, Pony Ma Huateng, founder of tech giant Tencent, also set an example of modesty. When asked when he came to realize that he was rich during an interview in 2008 (link in Chinese), Ma said: "I don't think I'm very rich. I come from an ordinary family, and for so many years my family's living habits haven't changed greatly—at most our house is a little bit bigger."
It turns out that Ma's family is not that ordinary. State news agency Xinhua reported (link in Chinese) that his father Ma Chenshu is a retired senior official with Shenzhen's transportation bureau, who also served as a board member of one of the city's biggest state-owned port groups in the 1990s. According to Xinhua's account, the senior Ma often drove his Mercedes-Benz to Tencent to help his son with accounting during the early days of his business.
In 2009, Ma paid HK$480 million (around $62 million) for a seaside luxury villa with three studies, a tennis court, and two fish ponds in Hong Kong, according to local media (link in Chinese).
Ma, who clearly comes from no ordinary family, is known to China's internet users as "Ordinary family Ma Huateng" (普通家庭马化腾).
The one who doesn't know that his wife is pretty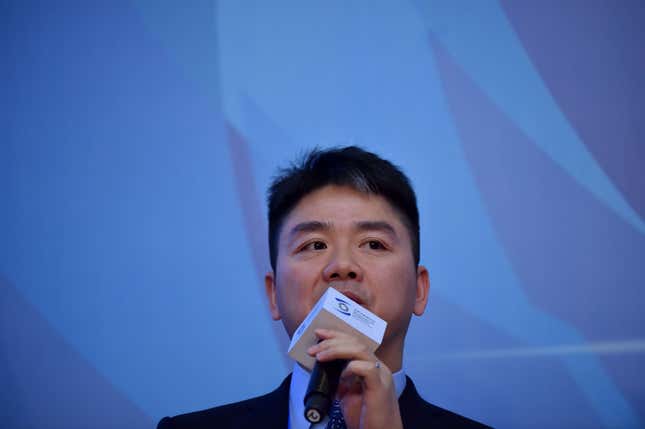 Liu Qiangdong and Zhang Zetian are one of the most attention-grabbing celebrity couples in China. Liu, 44, who also goes by Richard, is founder of Chinese e-commerce giant JD.com, while Zhang, who is 19 years his junior, shot to fame in 2009 as a 19 year-old over a viral photo of her holding a cup of milk tea in high school.
Charmed by her natural beauty, she was given the nickname "Milk Tea Little Sister" on the internet. Soon after graduating from the prestigious Tsinghua University in Beijing, Zhang married Liu in 2015 and gave birth to their first daughter the following year. Now she acts as the unofficial face of JD's luxury brands and charity projects, making the rounds at international fashion events.
Speaking about his wife in a televised interview in 2017 (link in Chinese), Liu said he was a guy with "face blindness." He added: "To be honest, I'm with her not because she is pretty. That's because I can't even tell whether she is pretty or not."
China's internet users didn't buy into his theory, and started calling him "Doesn't know his wife is pretty Liu Qiangdong" (不知妻美刘强东).
The one who will come home next week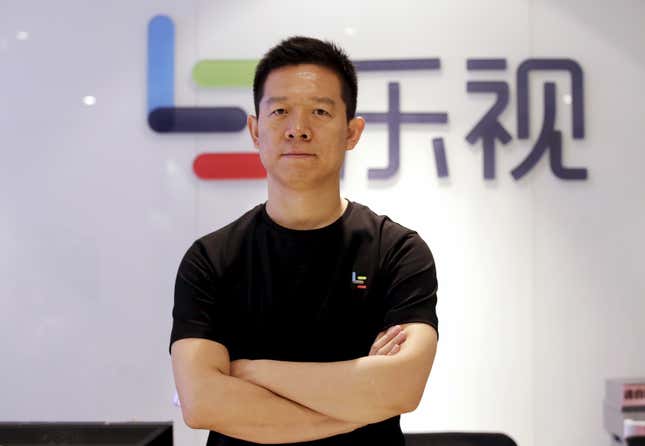 Jia Yueting was one of the few tech entrepreneurs who was seen as China's answer to Steve Jobs. The founder of LeEco, which started off as a video-streaming business, once vowed to build an empire to rival Apple, Netflix, Amazon, and Tesla all at once. Now his company is running out of cash, and Jia has been blacklisted by Chinese courts as a defaulter, with $220 million of his assets frozen.
Amid the ongoing spat with LeEco's creditors, Jia secretly traveled to the US in July last year, claiming to raise funds for an electric-car startup which he backs. Soon afterwards, LeEco told the press (link in Chinese) that Jia will likely return to China in one or two weeks. In fact, Jia never did return—he said in November (link in Chinese) that he would "not return home temporarily." Chinese internet users now ridicule him as "Home next week Jia Yueting" (下周回国贾跃亭).