Reddit's r/funny is the social media company's second-most popular forum, where users share memes about current events, celebrities, and of course, corgis and the like. It's also a preferred target for Russia's armies of trolls to spread propaganda.
On the same day that Mark Zuckerberg testified before the US Senate over the company's data security practices in the wake of revelations that user data was illegitimately accessed by the Trump campaign-linked British political consultancy Cambridge Analytica, Reddit CEO Steve Huffman revealed that it had identified and shut down 944 accounts potentially linked to the Internet Research Agency, a Russian online propaganda mill (paywall) that employs individuals to spread divisive content on foreign social media outlets.
According to Huffman, Reddit had already shut down about half of the accounts before the 2016 election. The remainder, it seems, were discovered when it began its investigation last month. Huffman also reveals that most of accounts targeted some of Reddit's most popular forums for jokes and memes, particularly r/funny.
Reddit made public a list of all the accounts deemed suspicious from its investigation. Parsing through their activity shows that many of them posted memes to r/funny highlighting divisive issues in American culture like gay marriage, police brutality, and US foreign policy. Some of the accounts make use of both liberal and conservative talking points. It would be extremely difficult for a casual reddit user to stumble upon a single meme and recognize it as part of a propaganda initiative.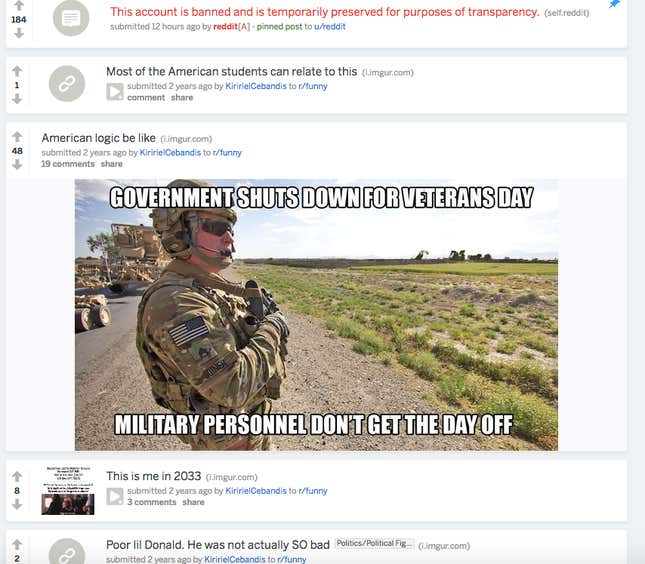 Reddit's revelation comes over a month after special counsel Robert Mueller accused 13 Russian individuals linked to the Internet Research Agency of committing fraud to support the Donald Trump campaign. On April 10, in his Senate hearing, Mark Zuckerberg confirmed that Facebook was cooperating with Mueller's investigation into Russian propaganda's influence on the election.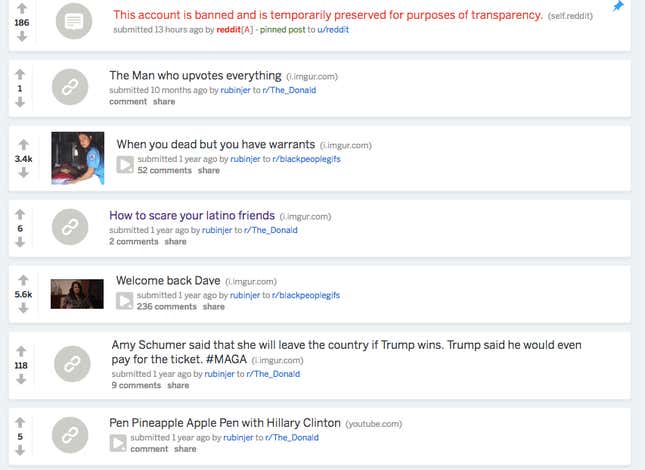 In the comments section of Huffman's post, one Reddit user asked the CEO if he was happy to not be Mark Zuckerberg, "on a scale of 1 to 944." Huffman replied he'd put himself at 943.
"In all seriousness, we feel somewhat vindicated. We have avoided collecting personal information since the beginning—sometimes to the detriment of our business—and will continue to do so going forward," he wrote.
Yet many Reddit users complained that Huffman and Reddit haven't done enough to combat hate speech and propaganda on politically-loaded forums like The_Donald, the site's most notorious pro-Trump hub. Others expressed doubt that he'd handle himself better than Zuckerberg were he himself forced to defend some of the posts circulated on Reddit. "Speech represents power. Giving fascists an in-road to legitimate politics and the ability to spread their genocidal ideology will end in blood," wrote one commenter.