Europe's largest Jewish communities are enduring a level of mainstreamed anti-Semitism "not seen since the Second World War," the European Jewish Congress said yesterday (April 11), placing blame on both the left and the far-right.
On the same day, Tel Aviv University's Kantor Center Report on Antisemitism Worldwide 2017 noted that while the number of violent anti-Semitic incidents dropped in 2017 by 9%, to 327 cases, all types of incidents—ranging from harassment, vandalism, to assaults—have jumped.
In France, home to Europe's largest Jewish community, anti-Semitic violence has reached new levels of intensity, including that of a Jewish woman who died after being thrown out of her apartment window and a Holocaust survivor was stabbed and burned in her home last month. In Germany, which has the world's fastest-growing Jewish community, the number of all types of anti-Semitic acts grew to 707 in 2017. Among them were 24 violent cases, compared to 15 in 2016.
Dr. Moshe Kantor, founder of the Kantor Center and president of the European Jewish Congress, which represents democratically elected European Jewish communities throughout Europe, told Quartz the trend is a result of anti-Semitism becoming more normalized.
"The general feeling shared by Jews, as individuals and as a community, is that anti-Semitism has entered a new phase, and is widespread in most parts of the world," he said. "In many parts of Europe, Jewish communities and institutions can only operate under strict security measures. Fences, surveillance and police and military protection have become part of our daily lives."
"In parallel, as our institutions become bunkers, helpless individuals become more vulnerable to isolated attacks. What evil can compel someone to commit some gruesome, despicable crimes? The answer is very clear, anti-Semitism de-humanizes Jews. And when people, Jews, we are de-humanized, anything goes."
Horrific acts of violence may stick in our minds, yet day-to-day acts—and the sometimes muted response to  them—are what help usher anti-Semitism into the mainstream, he said.
"The direct memory of the Holocaust had to some extent immunized European society from the worst manifestations of antisemitism," Kantor said. "As this memory fades, we risk forgetting, and if we do then there is a very real risk of the past repeating itself."
The growth of populism in Europe is fueling anti-Semitism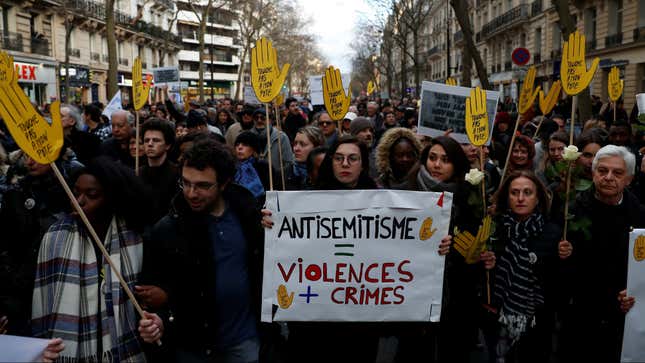 The rise in the populist movement in Europe has been stoked by anti-immigration sentiment, mostly from right-wing parties.
In Germany, the Bertelsmann Institute has said populist anger wasn't about smashing the elite—it was purely about opposing immigration. In Italy, the vehemently anti-immigration Northern League did even better than expected in the recent elections. In France, Marine Le Pen managed to push the National Front party and its far-right politics into the mainstream, despite losing the election. In Austria, chancellor Sebastian Kurz struck a deal to bring the far-right Freedom Party into government. And, in Britain, the nation voted for Brexit, mostly based on anti-immigrant sentiment.
"Right-wing populist parties are resorting to both anti-Semitic and anti-immigrant discourse to gather political support. However, the normalization and mainstreaming anti-Semitism does not only come from the right, it also comes from the left," Kantor said.
In Germany, anti-Semitic crimes averaged four per day last year. Earlier this year, the country said it has a "special responsibility" to fight anti-Semitism due to the Holocaust, which saw the murder of 6 million Jews during the Third Reich. It has just appointed a new commissioner to fight anti-Semitism.
But Kantor said more eyes should be turned to Britain, which has reached "another new level" in the form of antisemitic discourse in mainstream politics.
The issue with Corbyn and the Labour party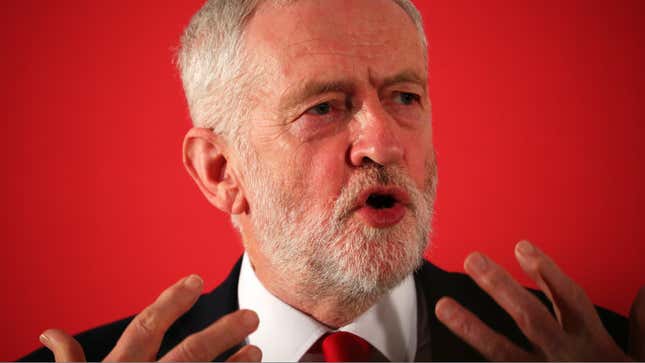 The main opposition party in Britain, Labour, has been led by far-left politician Jeremy Corbyn since 2015. And ever since, he has come under fire for his alleged support for organizations such as Hamas and Hezbollah.
For the past three years, he and the party have tried to bat away allegations of anti-Semitism. However, the allegations keep mounting.
In 2016, Corbyn asked the human rights and civil liberties campaigner Shami Chakrabarti to lead an inquiry into allegations of anti-Semitism in the party. But when the report was released (pdf), which largely said there was no issue, it was deemed a "whitewash" by the Board of Deputies of British Jews—especially after Chakrabarti received a peerage from Corbyn following the publication. Corbyn has continually been accused of failing to adequately address anti-Semitism among his supporters as well as answer to accusations that he is anti-Semitic himself. Even Momentum, the grassroots party that fueled so much support for Corbyn that it got him elected as the Labour leader, said Labour has "failed" on anti-Semitism.
"His followers and supporters openly share on social media some of the most malevolent Holocaust denial and international Jewish banking conspiracies reminiscent of the Protocols of the Elders of Zion, some of this is sometime even condoned by Corbyn himself. It leads us to believe that this normalization of Jew-hatred has reached the highest levels," said Kantor.
The issue has heightened recently when Corbyn backed an artist who created an anti-Semitic mural in London that depicted Jewish financiers playing a board game on the backs of naked people. Despite the criticism, Corbyn ended up meeting up with radical Jewish anti-Zionist group Jewdas. On April 10, the Labor Party in Israel suspended relations with Labour in Britain.
According to the Community Security Trust, there was an increase of 34% in anti-Semitic physical assaults in Britain last year.
"Corbyn has systematically failed to take a strong enough line on anti-Semitism, aligning himself with people and groups that hold openly anti-Semitic views and seek to spread their offensive messages throughout our society. When Corbyn consistently refuses to seriously acknowledge his party's anti-Semitism problem, it becomes clear to many that anti-Semitism is acceptable," said Kantor.
Trump's recognition of Jerusalem had an impact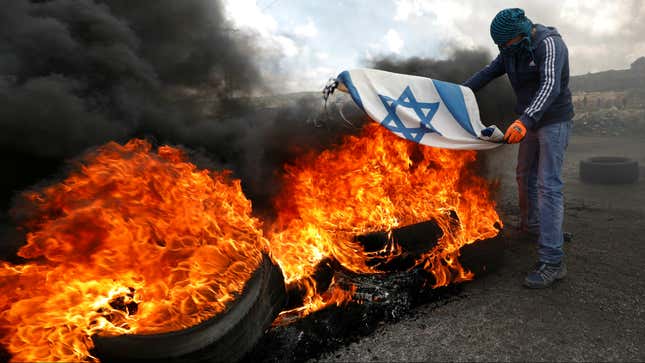 The Antisemitism Worldwide 2017 report notes that last December, US President Donald Trump recognized Jerusalem as the capital of Israel and that subsequently the last few weeks of 2017 were "characterized by a large number of anti-Semitic incidents worldwide."
Trump's recognition of Jerusalem "was often used as a pretext for stormy demonstrations accompanied by attacks on Jews, by anti-Semitic slogans including calls for murder, and by the burning of the Israeli flag," said the report.
Kantor said "if in previous years we saw different types of anti-Semitism—anti-Semitism of the far-right, anti-Semitism of the far-left, and an anti-Semitism masked as anti-Israel—now it has transformed more openly into classic anti-Semitism. There has been an increase in open, unashamed and explicit hatred directed against Jews. The Jew as exploiter, the Jew as killer, the Jew as banker. It is like we have regressed 100 years."