Update at April 17 at 3:27pm ET: National Transportation Safety Board chairman Robert Sumwalt said in a press conference one person who was onboard had died.
A Southwest Airlines plane made an emergency landing in Philadelphia today (April 17) after one of its engines was damaged.
Reports say part of the covering from the left engine had ripped off, damaging a window and the fuselage. One passenger was injured and transported to the hospital after the plane, which was flying from New York to Dallas, landed at 11:20am local time. US National Transportation Safety Board chairman Robert Sumwalt later said at a press conference one person had died, and seven people were treated for minor injuries.
"Shrapnel hit the window, causing a serious injury," Kristopher Johnson, a passenger onboard, told CNN. Another passenger, Marty Martinez, told CBS "there was blood everywhere." Southwest has not released any information about the injured passenger, but others on board said a woman was "critically injured."
An image of the aircraft after it landed shows a window was blown out, and a photo from Martinez shows the same window from inside.
Southwest says that 143 passengers and five crew members were onboard flight 1380. The NTSB and US Federal Aviation Administration are investigating the incident. The flight-tracking website FlightAware shows the plane diverted from its route to Dallas, and instead landing in Philadelphia.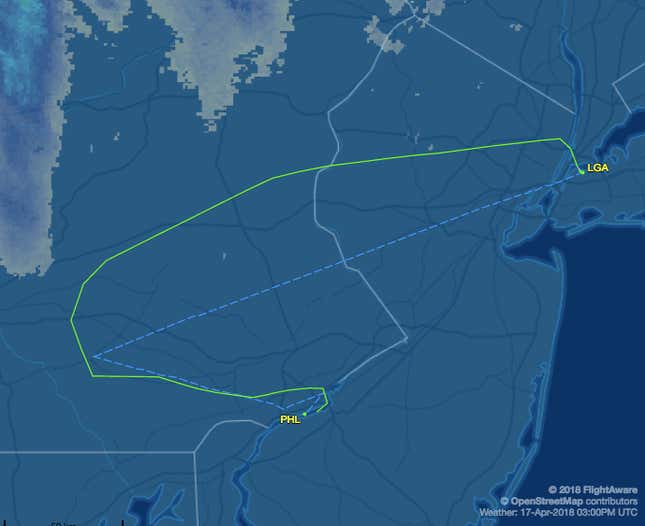 Johnson said oxygen masks dropped from the ceiling after he heard a loud bang and rattling sounds. After Martinez put on his mask, he started a short broadcast on Facebook Live with the caption:
Something is wrong with our plane! It appears we are going down! Emergency landing!! Southwest flight from NYC to Dallas!!
The video, which was grainy and paused at times, was viewed more than 80,000 times in the three hours after it was posted. He shared additional videos (1, 2) and photos after disembarking in a subsequent Facebook post.