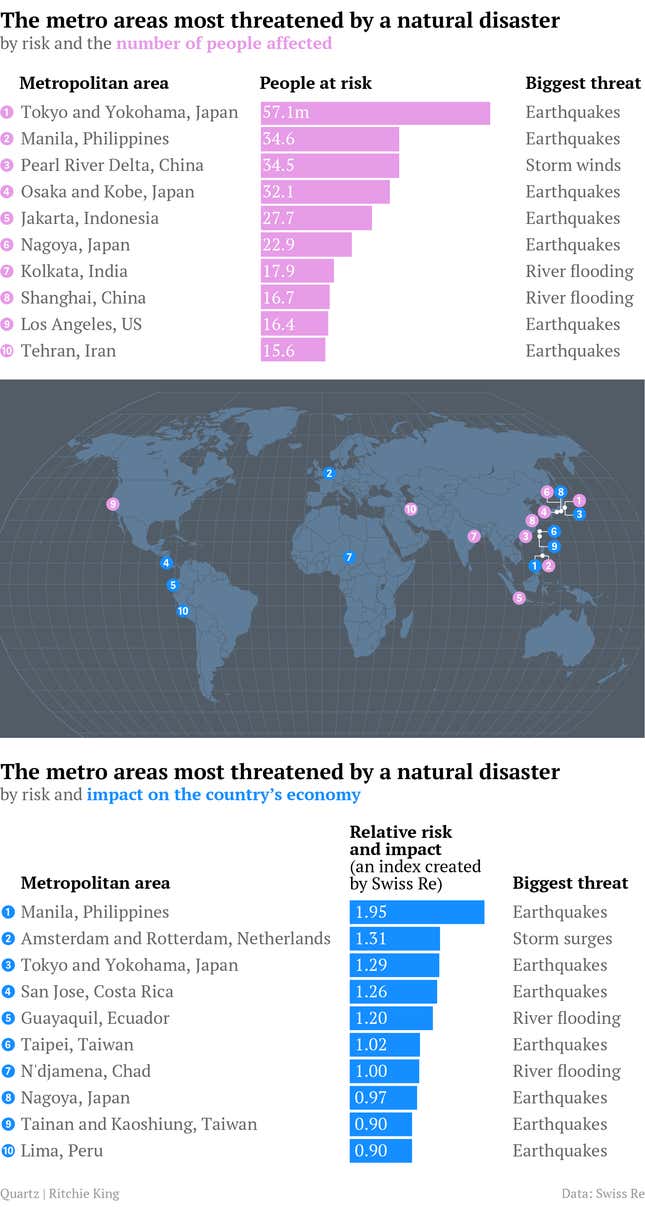 Consider these two major worldwide trends:
The global population is becoming increasingly concentrated in urban centers.
Climate change is increasing the intensity of natural disasters, and thus probably making the damage they inflict worse.
When you mix the two together, the unfortunate result is that the $60 to $100 billion lost every year to hurricanes, earthquakes and floods is probably going to get larger. Bigger storms plus more people in big cities—which are unusually near the water—add up to a greater potential for damage.
Recent natural disasters in major cities have individually met or even dwarfed the average figures above. Hurricane Sandy cost New York $67 billion in 2012, and the Tohoku earthquake and resulting tsunami in Japan in 2011 caused an estimated $210 to $300 billion in damage, in addition to thousands and thousands of lives lost. (It's worth noting that there is no evidence climate change will cause stronger earthquakes.)
So, which cities face the biggest risk today? The graphic above answers that question, both in terms of the number of people at risk and the impact on the country's economy. The results are based on a new report by the reinsurance company Swiss Re. Many of the cities in the top ten (in terms of human impact) are in Asia, which has been exposed to the widest array of natural disasters of all the continents, according to the report. And there are more at-risk cities in Japan than any other country, because Japan lies on one of the most active fault lines on earth.