It's tough finding cheap stocks out there, even for the pros.
In fact, Berkshire Hathaway CEO Warren Buffett—a god among value investors—told students at Georgetown University yesterday that he's having a dickens of a time tracking down shares of undervalued companies.
"They're probably more or less fairly priced now," Buffett said of the US stock market. "We're having a hard time finding things to buy."
Of course, there are always shares one could buy. But the key to Buffett's success—and that of many other value investors—is asking 'at what price'? Pioneered by Columbia University's Ben Graham in the 1930s and 1940s, value investing emphasizes buying shares in undervalued companies in a dowdy market.
That's hardly the case in today's stock market, which has been on a tear—with some periodic soft patches—since early 2009. In fact, since the S&P 500 bottomed on March 9, 2009, it has risen 155%. This year alone it's up 21%. (And that's just the price of the shares, which doesn't count dividends.)
That rise has pushed the price-to-forward-earnings ratio of the S&P 500—a closely watched gauge of valuation based on analyst expectations of company earnings over the next 12 months—up to a multiple of about 15, which has long been considered a benchmark for "fair value."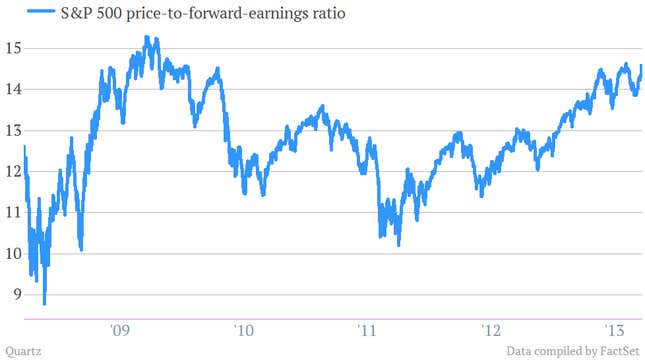 Now, just because the market is "fairly valued" doesn't mean it stops in its tracks. Markets can move quickly from morose to overly optimistic, driving valuations to ridiculous heights.
Value investors like Buffett have learned to sit out those frothy periods. They miss some of the most ectatic moments of the party. But they often avoid the hangover, too.