The cartoon character Peppa has become an internet darling in China. But the country's censors have taken notice—and, it appears, they don't particularly like her.
Peppa is the main character of a British preschool show called Peppa Pig, an international hit. In China it was introduced by state broadcaster CCTV in 2015, and then became viral last summer on popular sites like Douyin and Kuaishou that specialize in short-format videos and live-streaming.
Last year, licensing revenue from the Chinese market increased over 700% (pdf, p.5) from April to September, the fiscal first half of rights holder Entertainment One, based in Canada. In a sign of the show's popularity in China, two Peppa theme parks are being built, one in Beijing and another in Shanghai. Their openings are set for 2019, the year of the pig in China.
After becoming big on sites like Douyin, Peppa Pig earned the nickname Shehuiren, a slang term for gangster. Fans began posting drawings and tattoos featuring the character, linking the works to gangsta rappers, and remaking the cartoon though their own editing and dubbing. One fan-created remake, in which Peppa learned to whistle (link in Chinese), gathered some 1.6 million views on the video-streaming site Bilibili in December alone.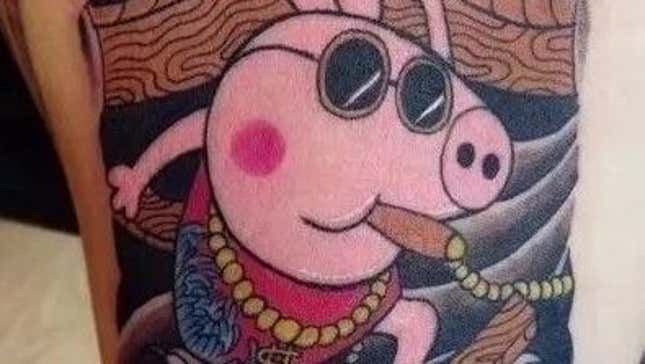 The gangsta image, heavy on tattoos and gold necklaces, contrasts sharply with Peppa's cuteness. Combining the two, for many Chinese, creates a sense of freedom and being unrestrained, something to aspire to when faced with life's pressures, explained one user on Zhihu (link in Chinese), China's answer to Quora.
The saying "Get your Peppa Pig tatt, shout out to your frat," has since been making waves. As of April 25, more than 30,000 videos with the hashtag #小猪佩奇, or Peppa Pig, had been downloaded on Douyin, according to Sixth Tone.
Many entrepreneurs are seizing upon the chance to sell Peppa Pig products, in some cases unlicensed ones. On e-commerce site Taobao, watches, toys, and books have been the most popular items. One vendor has sold over 10,000 watches (link in Chinese) advertised with Shehuiren. In March, Entertainment One announced a plan to work with Alpha Group, a Chinese toymaker. The two firms plan to roll out play sets, figurines, and other products later this year.
But the popularity of Peppa, and the tweaked versions of her, seems to have caught the attention of authorities. Yesterday, Zhihu users who maintain a list tracking content banned on Douyin—usually porn or violent material—reported that Peppa Pig had been blocked too (link in Chinese). A Quartz search on Douyin today using the keyword 小猪佩奇 returned no results in sections where there are usually many.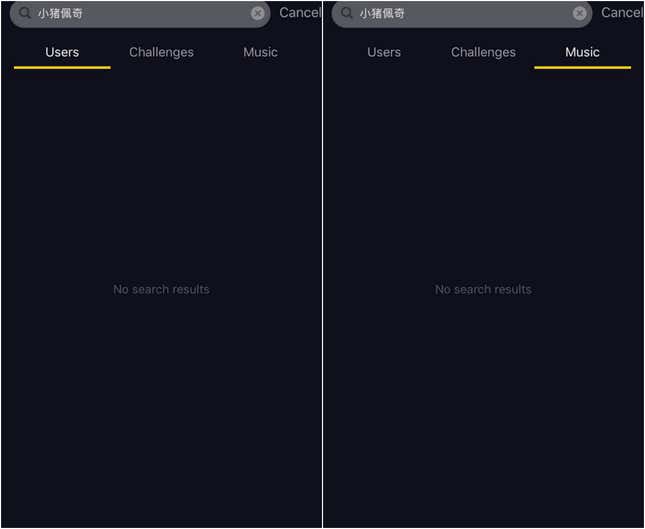 It's unclear if the ban will affect the planned theme parks. Authorities are strengthening their grip over the internet, targeting not only political offenses, but, increasingly, entertainment they deem inappropriate as well. Douyin's parent company Bytedance was among the biggest victims in a crackdown on vulgar humor earlier this month that forced it to briefly shut down commenting and live-streaming functions on the video site.
Quartz has reached out to Douyin and Entertainment One but has so far received no replies.